Duke Basketball Team Drill: Transition Post Elbow Read
by Nick Bartlett, on Sep 3, 2019 8:44:37 AM
In this drill, Coach Sam Miller of Duke Women's Basketball demonstrates a great drill that utilizes their Dr. Dish CT away from the basket!
Here, we simulate a transition scenario where the wing passes ahead to a player near the post/short corner area for a jump shot. On the opposite side, we have two players on the wing and slot that exchange. The Dish then makes a second pass to the top of the key for another jump shot.
This drill works best with a coach/managing under the hoop contesting the shots to make it more game-like and helping rebound.
Remember, Dr. Dish is the ONLY shooting machine brand designed with a swivel net to work on game location and post passing. This is the most game-like way to use a shooting machine to receive passes from where you'd actually get them in games.
We'd like to thank Coach Sam Miller for providing us with this great drill!
Like this team drill? Check out this Team Shooting Drill with a Curl Action!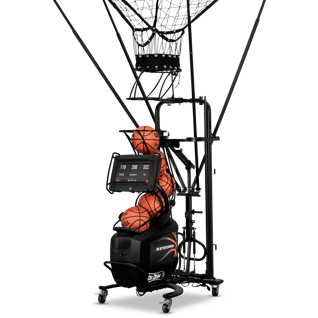 Click here for more info on Dr. Dish basketball shooting machines.
For more drills and workouts using Dr. Dish, click here: https://www.drdishbasketball.com/resources
Follow us on social media for daily basketball drills, tips, and inspiration!
https://www.facebook.com/drdishbball
https://www.twitter.com/drdishbball