Checking in With The Winner of the 1st 2017 Dr. Dish Sweepstakes!
by Nick Bartlett, on Feb 24, 2017 5:12:20 PM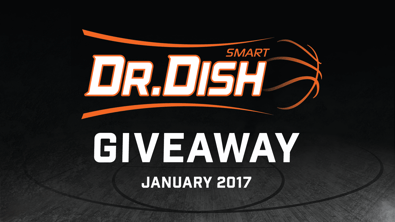 At Dr. Dish Basketball, we wanted to start 2017 off with a bang! That's why we launched our first 2017 Dr. Dish Sweepstakes. We already had hundreds of entries from clinics and events that we attended last year. However, we opened the Sweepstakes for the entire public from January 4th-11th, 2017.

Entering was as simple as filling out a form on this landing page. In this contest, we also allowed for extra entries on our social media platforms - Twitter and Instagram. The entries simply needed to follow us and either comment or retweet a specific post in order to receive their extra entries.

Much like our previous Dr. Dish Sweepstakes, the response was overwhelming! Our Twitter and Instagram accounts were blowing up and our traffic skyrocketed. It was fun seeing entries from all over the world with coaches, trainers, players, parents, booster club members, etc.

However, in the end, there can only be one winner. We compiled all entries and put them in a massive spreadsheet. The total amount of entries was near 7,000!
And the winner is...
Congrats to Coach Marlo Saunders and the Bay City Girls Basketball program! We know the addition of their new Dr. Dish All-Star will help push the program to the next level! As the most advanced shooting machine in the world, Bay City High School can now track their progress in the Dr. Dish Training Management System and train their post players and game-like actions with our swivel net technology.
Just a couple weeks after receiving their Dr. Dish All-Star, Coach Saunders let us know he's already seeing improvement in the program! Check out what he has to say about the program's new machine.
On behalf of the entire Dr. Dish Basketball team, we'd like to thank everyone who entered the contest! We wish the Bay City Black Cats the best of luck for years to come as they utilize their Dr. Dish All-Star.
As always, at Dr. Dish Basketball, we remember to train hard, train smart, and train with a purpose!
---
See why a high school coaching legend uses Dr. Dish!