Why A Basketball Coaching Legend Chooses Dr. Dish
by Nick Bartlett, on Nov 8, 2016 10:28:28 AM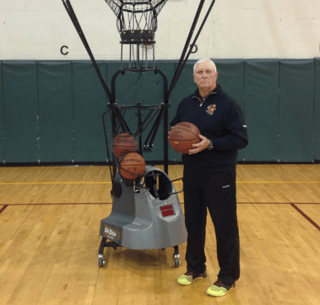 When it comes to high school basketball coaching, I challenge you to find anyone who has near the credentials of the legendary St. Anthony (New Jersey) Coach, Bob Hurley. With over 1,100 wins, 28 state championships, 5 first round NBA draft picks, over 150 D1 players & 200 college players developed, and countless other absurd statistics, Coach Hurley has built a legacy and winning culture like none other! See his full resume here.
Yet, after 50+ years of coaching, Coach Hurley continues to look for ways to improve. This is one of the many reasons he and St. Anthony's program maintains success year after year. As long-time Dr. Dish users, St. Anthony recently upgraded to the Dr. Dish All-Star and are now training smarter than ever. Coach Hurley said:
"Success is not easy. You have to work hard at it, but you also have to work at it intelligently. Our Dr. Dish All-Star allows us to be much more efficient when we train and practice."
Dr. Dish machines are designed for maximum game-like reps and holding players accountable. Between the integrated Polar Heart Rate tracker to track intensity and the ability to use the machine away from the basket to make game location passes, Dr. Dish is undoubtedly the most advanced machine on the market.
"Everything we practice is specifically emphasized to simulate game actions. With our Dr. Dish we can work on virtually every action in our offense in a high repetition setting. There's no substitute for the game-like reps Dr. Dish gives us especially when our players are working individually. It's the best tool I've come across in my 50 years of coaching to simulate game speed shooting drills."
Every drill and workout should have a purpose behind it. At Dr. Dish Basketball, we're here to serve all basketball coaches, trainers, and players who are looking to gain an edge and improve faster than ever. We're honored to have Coach Hurley as a part of the Dr. Dish family and look forward to helping St. Anthony sustain many more years of success.
"I love having our players use Dr. Dish especially when coaches are not allowed to be in the gym. We also plan to use it heavily during the season as well. We recognize the importance of skill development and know that Dr. Dish will continue to enhance our program."
Listen to Coach Bob Hurley talk about Dr. Dish
---
Shooting machines are changing with the times! Check out 6 ways they are advancing: