Why Basketball Players, Coaches, Trainers, and Parents Choose Dr. Dish
by Kendra Franck, on Dec 28, 2021 1:30:00 PM
We know that purchasing a shooting machine is a big decision for many. Parents, Coaches, Trainers, and Players all around the world are constantly looking for ways to level up their training.
At Dr. Dish, it's easy for us talk about the value we believe our products provide, but we'd rather let you hear from customers who day in and day out train with our various models to help take their training to new heights.
Check out what our #DrDishFam has to say about the Dr. Dish Home, iC3 Shot Trainer, Rebel+, All-Star+, and CT models below!
---
Dr. Dish Home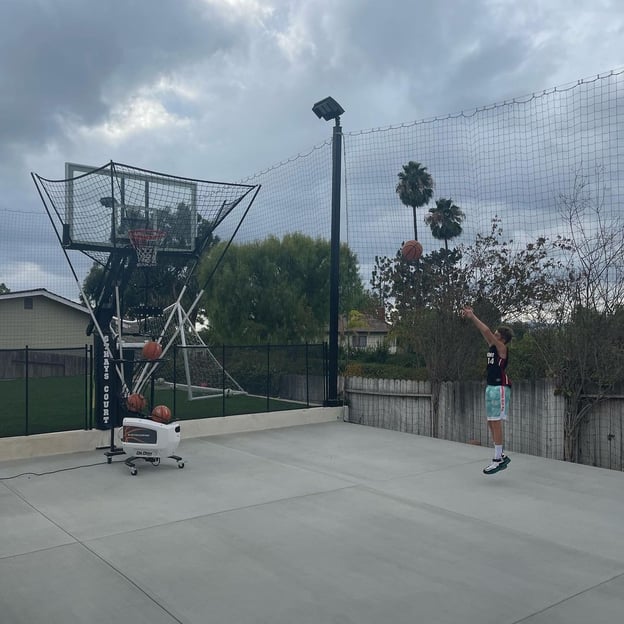 Image via @branchwestbasketball/IG
The Dr. Dish Home allows players to train at 1,000 shots per hour in their home court (indoor or outdoor!). It's compact design allows for easy storage and setup/take down. Players will see improved shot arc, develop muscle memory, and spend less time chasing rebounds all over the place. Read what our Dr. Dish Fam has to say about their Dr. Dish Home machines!
Love this Product! Best Decision Ever! It's been 4 months since I got the Dr. Dish home. I've watched my son's basketball improve dramatically. His shot percentage is now about 68% and improving, his ball handling, his footwork and workouts offered by all the coaches in the app. The support team also made us feel like family in resolving any issues we have had. I have recommended this to everyone who needs to help their child excel in basketball." -Alyk M.
Noticeable improvement in shot mechanics. Within a month my son's form was noticeably smoother and he became more consistent in games. Makes shooting fun! Looking forward to using it more!" -Michael R.
Super Happy! Our son is 11 years old and has been playing travel basketball for several years. We got him the Dr. Dish home unit this fall and he absolutely loves it! Set up and teardown is simple and he can select from a large number of terrific workouts. Ryan and the team were a pleasure to work with. We couldn't be happier!" -Tony O.
Dr. Dish iC3 Shot Trainer
Image via @basketballmorris/IG
The Dr. Dish iC3 Shot Trainer is a rebounder designed for hassle free setup and take down. Our patented design forces players to proper form. Check out why it's a fan favorite for players, parents, coaches, and trainers below!
We bought this for my daughter to use who is in 7th grade. Prior to this she would go out and shoot for 15-20 minutes and then get sick of chasing the ball around, across the street, neighbors yards etc.... But with this we find her out there for an hour at a time. She really is able to focus on the shot and form not chasing the ball after a miss. We love this. Even our 7 year old is starting to ask to have it up while he shoots." -Tim W.
The IC3 trainer has significantly increased our efficiency around shooting drills. We can get up and .are 100 3s for each of my kids in the time when we would have likely not had a single kid get 100 shots. Love this product!" -

Robert M.
The iC3 Basketball Shot Trainer is Great. I am not sure who enjoys it more my boys or me. With the iC3 my boys and I are easily able to 3x the number of shots you can get. The other thing I really like about the iC3 is that if forces my boys to shot with an arch, which has helped improve their form. I would highly recommend, well worth the investment." -Brad K.
Dr. Dish Rebel+/All-Star+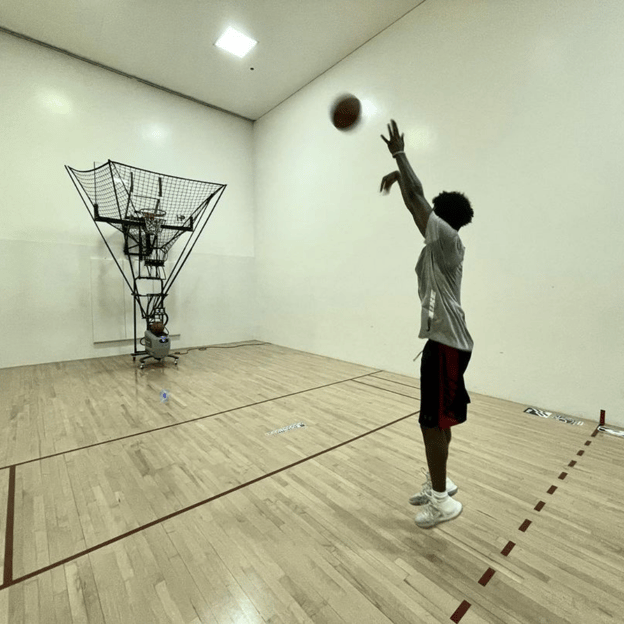 Image via @hoop.prodigy/IG
Our Rebel+ and All-Star+ machines are our latest models (2021). They allow coaches, trainers, players, and parents to build and save custom drills, features an 8" touchscreen, and shots made counter. Learn more and compare the models. Check out what people are already saying about the all new Rebel+ and All-Star+ below!
Love the product and sales team was very helpful in making my decision an easier one." -Chris M.
We have had it for 2 months and so far all has worked well. Our athletes love it." -Craig L.
Dr. Dish CT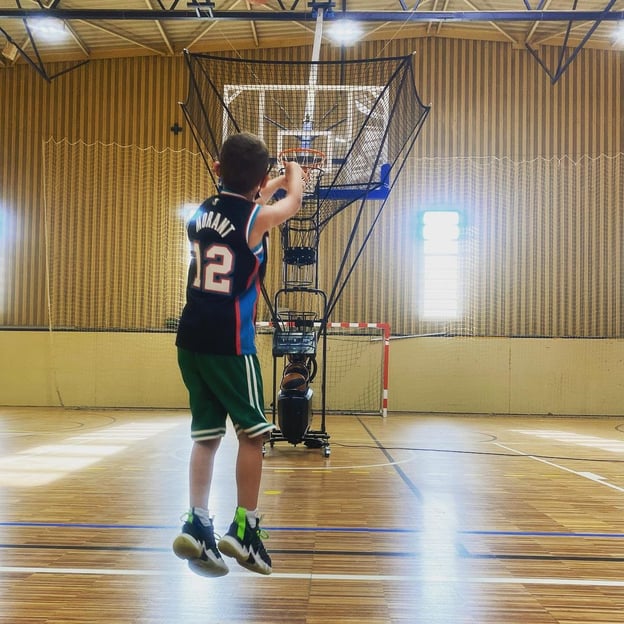 Image via @xavi_espin/IG
The Dr. Dish CT is the complete training solution for teams, coaches, players, trainers, and parents. It allows for multiplayer mode drills to track individual and group stats for up to five players at once, build and save unlimited custom drills, access to 150+ interactive drills from pro trainers and WNBA/NBA players, and features a 15.6" touchscreen (twice the size of the Rebel+ and All-Star+)
Simply the best! My son is getting up 500 shots in 30 minutes vs 100 shots in the same amount of time without the machine. He has been watching his shot percentage improve since day one of owning the machine." -Joshua J.
We love our Dr. Dish CT's!! We organized a fund raiser this past summer and our school purchased 2 Dr. Dish CT machines for our program. We are using them in our High School and Middle School gyms for all grade levels (High School and Middle School), boys and girls teams. They are easy to set up, easy to use, and they provide us with a great tool Read more about review stating We love our Dr. Dish CT Shooting Machines!!to help develop our players shooting ability. Huge thanks to Dr. Dish for working with us to make this happen!!" -Paul Bradshaw, Varsity Boys Head Coach St. Mary Catholic High School, Neenah, WI
Very high quality and so many great options for any workout you are looking to do. Once you start playing, you don't want to stop since always looking to improve your shooting percentage one more time! Customer service is excellent and very responsive to your needs. Normally when you purchases something, communication is done, but love that they k

eep you up to date with new workouts available and other options for continue to expand your training. It moves very easily in seconds from under your hoop to the side so you can still work on lay-ups, etc. Overall, we are very happy with this investment and will be enjoying this for many, many years to come. I cant think of anything to even suggest to change, since it is very sturdy, high quality, easy to adjust, easy to use and super fun! Highly recommended to anyone who loves basketball!!" -Darrelee K.

---
Still not sure which model is right for you? Check out our buyer's guide to help you make the right decision for yourself, a player, and/or program. Read all customer reviews here.