Why the University of Utah Basketball Upgraded to Dr. Dish
by Nick Bartlett, on Jun 20, 2017 8:22:36 AM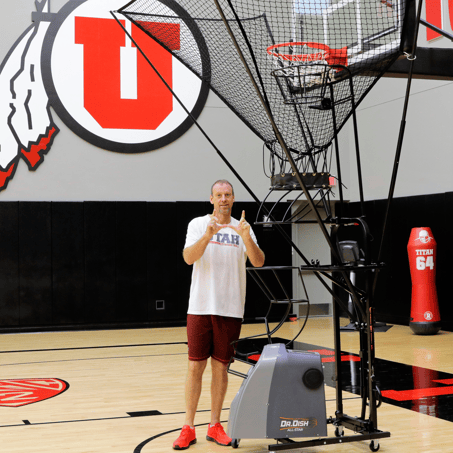 At Dr. Dish Basketball, it's been an absolute blast working with the most progressive coaches and programs around the country and the entire world who are upgrading to Dr. Dish. It's clear that more coaches are understanding how the advancements Dr. Dish has made will help translate into faster skill development and ultimately more wins.
This past season, the University of Utah and Coach Larry Krystkowiak jumped on board with Dr. Dish after doing their research.
The Utes have been very successful in the 6 seasons under Coach Krystkowiak and we are thrilled to have them as a part of the Dr. Dish family!
We were able to catch up with Coach Krystkowiak recently to talk about why they upgraded to Dr. Dish and how their machines have been running for the program.
Ease of Use
When we designed our newest Dr. Dish Smart models, one of the top priorities was to make sure it was easy to use and intuitive. While we infused technological advancements like the Dr. Dish App and our Training Management System, we wanted to make sure it was simple for anyone to use. Coach Krystkowiak mentioned:
"One of the first things that stood out to me was how much smaller and more portable the machine was than the competition. It's very easy to setup and I can tell the players look forward to using the Dish. Programming workouts is also simple and the phone app has worked seamlessly to track workouts."
Versatility
One of the other priorities we had when designing the Dr. Dish All-Star was to make it more than just a standard shooting machine. That's why we designed the swivel net system to allow the machine to be pulled away from the basket to make game-location passes and also work the inside game with finishing reps. This was also a big factor to Coach Krystkowiak:
"In the past, we've only ever used shooting machines for outside shooting. When I heard Dr. Dish could also train our post players and pass from game spots with the swivel net, I could definitely see the value in upgrading."
If you think about an actual basketball game, only a fraction of passes are made from directly under the hoop. That's why we broke the mold of providing a machine designed only to sit under the rim. With the Dr. Dish All-Star you can train virtually every offensive action and work on finishing as well.
Customer Service
At Dr. Dish Basketball, one of our core values is "Fanatical Customer Service." We take the most pride in making sure that every customer feels appreciated and do our best to go above and beyond when it comes to service and providing resources to maximize the use of our machines. Coach Krystkowiak touched on this point as well:
"We've been very pleased with the Dr. Dish so far. The reps have proactively made sure we're getting the most out of our Dr. Dish All-Star and are extremely responsive. Overall, we're very happy that we upgraded to Dr. Dish. With their new launch of Skill Builder, our staff is excited to start sharing workouts to our players."
We want to sincerely thank Coach Krystkowiak for taking the time to chat with us and we wish him and the Utes the best of luck moving forward. We're honored to have them as a part of the Dr. Dish family!
If you're already a part of the Dr. Dish family, please let us know how your machine(s) is/are running! If not, it's time to jump on board! Click here to learn more about our 3 different models and let us know how we can help get a machine in your gym.
---
The game is evolving, is your training equipment? Find out how shooting machines are evolving too!