2 Simple Ways to Gain an Edge on Your Competition
by Nick Bartlett, on Jan 26, 2017 4:52:02 PM
Whether you're a coach or a player, you're always looking to gain an edge on the competition. At the end of the day, if you're doing the same thing as your competition (or less), there's no way to gain a competitive advantage. So what can you do differently as you prepare that many others are overlooking?
Here are two things you can implement today to your practices and/or workouts to start training smarter than your opponents:
1. Practice More Game Scenario Reps
It's something we always stress at Dr. Dish Basketball. Of course getting up maximum reps is important, but when you're practicing always ask yourself:
"How game-like are these reps?"
Whether you're practicing with or without a shooting machine, if the passes are coming from directly under the hoop and being passed to a shooter standing still, it's likely not very game-like.
Game Shot, Game Spot, Game Speed
Think about how your shots typically come during games. This is likely different from team to team, but are your players usually shooting off down screens, flare screens, flex cuts, pick and pops, post ups, etc.? Whatever your answer is, those are the actions that MUST be simulated in training and practice situations!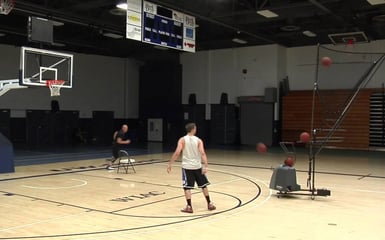 Now, if you are using a shooting machine, many of these actions are impossible to simulate when the machine is under the basket (at least when training individually). That's why we designed the Dr. Dish All-Star. With the All-Star, users can pull the machine away from the basket to work on post entry passing, game-location passing, finishing, and virtually every action in your offense.
Also, it's essential to move at game speed as well when you're shooting. Too many players think they're great shooters because they can make comfortable shots around the perimeter. But come game-time, they don't understand why they're missing shots when they come off-the-move. Practice how you play!
For game-like basketball drills, click here.
2. Embrace Analytics and Technology
Taking this a step further, a big part of practicing game-like shots is embracing analytics and technology. As mentioned above, it's important to practice at game speed and under game-like fatigue. But how can you assure this happening?
Heart Rate Tracking
More and more teams are embracing the use of heart rate tracking with their training. This is a great way to have a metric to directly correlate hard work and game fatigue. If you have access to a heart rate tracker, definitely use this to your advantage and push the pace that you or your players work out.
With Dr. Dish, you can use the Polar Heart Rate strap that's provided with every Smart Machine to sync directly to the machine. Now you can track how each player is shooting under game conditions (typically 70-80% of their max heart rate).
You can also set the machine to speed up or slow down based on what heart rate range you target. This ability is a complete game changer that will undoubtedly add a competitive edge if used correctly.
Location Tracking
All players have hot and cold spots on the floor. Do you know yours?
With programs like Krossover, you can track location shooting statistics in games. This is very valuable information to gain insight on where your players are shooting successfully and unsuccesfully from.
But what if you had shooting data like this from practice as well?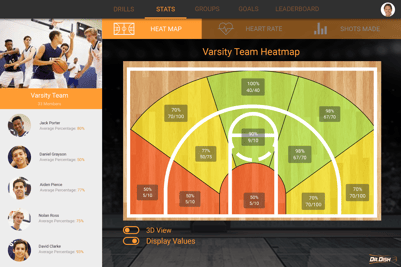 For example, what if you knew that your star player shot 20% from the right corner 3 point line when training, but 50% from the left corner? Would you make different coaching decisions?
I hope the answer is "Yes!"

With the Dr. Dish Training Management System, you can track each players stats and how they're shooting from each spot on the floor - all on your mobile device!
Not only can you focus on getting your player shots at his/her hot spots, you can also have that player work on his/her weaknesses to hopefully turn them into hot spots.
Once again, this data is a complete game changer and will certainly add a competitive edge if utilized.
---
Again, whether you're a coach or player, always think of how you can make your practices or training sessions more game-like. As Jeff Hornacek, Head Coach of the New York Knicks, says:
"Shooting 100 game speed shots is more valuable than 500 lazy shots. Lazy shooting is a waste of time."
Also, by taking a hard look at data and analytics, you can definitely gain an edge on your competition. Whether you're tracking heart rate to ensure game speed training, or tracking shots by location (or both!), you can surely analyze information many of your opponents are not looking at.
Stop training like your opponents! Think and train different and the results will come!
---
Looking for shooting drills? Download the Dr. Dish Drill Book with 30 FREE drills powered by our partners at FastModel Sports!