3 Multiplayer Basketball Drills To Try
by Jefferson Mason, on Nov 30, 2022 10:58:51 AM
Dr. Dish Basketball shooting machines (the CT and Home) are the only machines in the world that offer Multiplayer Stat Tracking - where you can track multiple players' shooting metrics at once and save them to their unique profile. Multiplayer not only increases friendly competition but get's more players engaged in a drill!
Since we released this feature, we see a ton of players in a gym or home setting taking advantage and training together but we sometimes hear that people are looking for some ideas for drills. Check out these 3 drills and try them out on your Dr. Dish Home and CT to track multiple players - OR any Dr. Dish shooting machine to get more players involved!
Closeout Shooting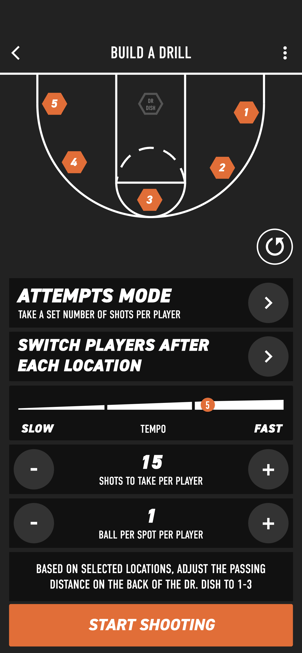 2+ players
Switch players after each location (Passing Style)
Attempts Mode, 5 spots around the horn mid-range 2pt, tempo 4-6
15 shots per player, 1 ball per spot
In this competitive shooting drill one player will start near the Dish and the first shooter will start at the first location. The player near the Dish will sprint out as soon as the pass is kicked out. That player will close out and become the next shooter at the same location. The shooter will attempt their shot and sprint to the Dish and become the next defender closing out. After the second shot rotates spots and continue until the drill is complete. The player that makes the most contested shots and has the highest percentage wins the drill.
3 Shot Shooting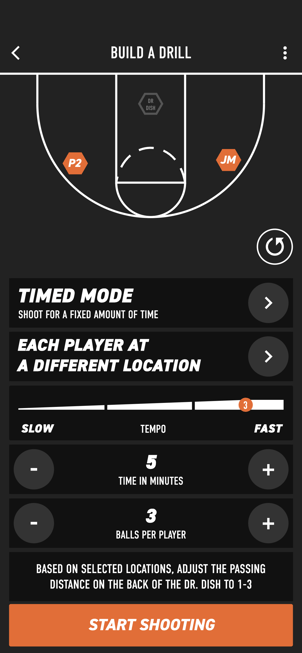 2+ players
Each player at a different location (Passing Style)
Time Mode, 5 min total, mid-range wings, tempo 2-3
3 balls per player at location
This drill focuses on three different types of shots. Mid-range jump shot, one dribble pull up left and last one dribble pull up right. Each player will attempt these three shots before the Dish rotates to the next player. Continue this pattern for a total of 5 minutes. The player with the highest shooting percentage after the time runs out wins. Increase the tempo for more game-like reps if needed.
10 Star Shooting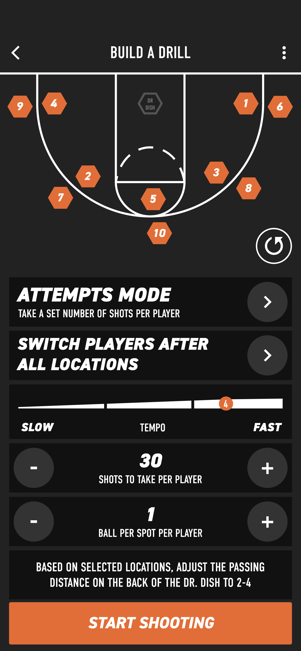 2+ players
Switch players after all locations (Passing Style)
Attempts Mode, 10 locations (5 star pattern 2pt and 3pt), tempo 4-5
30 shots per player, 1 ball per spot
This competitive shooting drill combines 2pt and 3pt shooting in the same drill. Players will shoot in the 5 star pattern from mid-range (corner/wing/wing/corner/top) and then from three point range for a total of 10 shots. After the first player attempts their 10 shots the next players will repeat the same shooting sequence. Each player will go through 3 times rotating turns for a total of 30 shots. The player that makes the most at the end of the drill wins. Give these drills a try and let us know with the hashtag #drdishfam or @drdishbball what you think!