3 Ways to Make a Shooting Machine Affordable
by Kendra Franck, on Oct 4, 2021 5:00:00 PM
Having a shooting machine is a valuable asset for any basketball program. Dr. Dish shooting machines give programs/players access to 200+ on-demand workouts, the ability to create and assign custom workouts/drills, put up 1,500 shots per hour, track stats and progress over time, multiplayer mode, and instant analytics.
All of these features help hold players accountable, provide game-like training, and ultimately advance players' games. At Dr. Dish, we know that purchasing a machine is an investment. To help provide solutions for any budget, wanted to share 3 ways that programs can make a shooting machine affordable.
---
1-Financing
We are proud to offer interest-free financing to schools so their programs can get reps now and pay over time. In order to be approved for this option all school programs need to do is pay half down and shipping up front. There are no monthly payments, no hidden fees, and no interest. All schools need to do from there is pay the remaining balance by 12 months from the date of purchase. Looking for more information? Call us today at 888-887-7453 for more information.

2-Fundraising
Fundraising for a shooting machine is a great way for players, parents, and coaches to get involved in the process of elevating their programs. Below are a few unique ways for teams to raise money.
Free Throw Shooting/Pay per shot
Host a free throw competition where players each get to shoot 100 shots. The weeks leading up to it, players can have friends, family, classmates, teachers, etc. pledge a dollar amount per shot made during the event. For example, if family member pledges to pay $1 for each free throw made and the player makes 65/100 free throws they'll donate $65 to the program.
Silent Auction
Host a dinner where players, parents, friends, and coaches pay an entry fee and enjoy great food, conversations, and bid on items donated. You can also host an online auction that is open for a specified time and when bids close the money goes to the program.
GoFundMe Campaign
Setting up a GoFundMe page is a great low lift way to bring awareness to your program and share how a shooting machine will help your team improve! Gofundme allows for easy social and email sharing of your campaign. It also takes the hassle out of collecting money.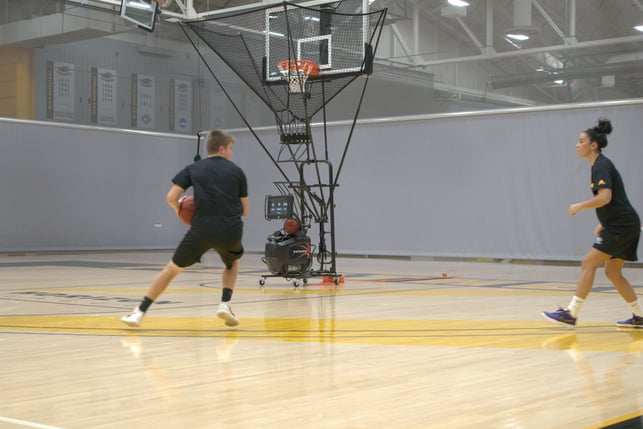 3-Split cost between programs
Another great way to make a shooting machine more affordable is by sharing it between programs. Splitting the cost ensures you'll stay budget friendly and help elevate both teams' games.
The great news is that if your programs see a need for more than one shooting machine we offer great multi-unit discounts to make sure your gym is fully equipped and ready to take your training to the next level.
Make sure to explore each of these options to find out which one works the best for your program whether it's taking advantage of our interest-free financing for schools, organizing a fundraiser, and/or splitting the cost between your programs.
---
Are you ready to start training like a champion this upcoming season? Check out our championship resources for coaches, parents and players and write your own championship story.