4 Tips for a Successful Sweat at Home
by Emily Stiemsma, on Mar 18, 2020 9:03:52 AM
There's no question with the current state of the world, that people everywhere have been taken out of their routines (for good reason). Many of which are like you - parents, players, and coaches that no longer can play/watch/coach the game of basketball. So what does this mean for you? Check out this blog post for our take on why still working out is so critical right now, and our tips for doing so.
Most of us know that exercise has been shown to improve your mood and decrease feelings of depression, anxiety and stress. It also produces changes in the parts of the brain that regulate stress and anxiety. Relaxing (you know.. Netflix) during this time is good, but we strongly encourage you to get even the smallest amount of exercise (15 - 30 minutes) in daily.
While it would be ideal to have a driveway or small area with a basketball hoop to get a basketball workout in, we know that is not the case for most. All you need to for a HIIT, Ab, or dribbling workout is about a 5'x5' area. Find an area, clear it of any items for safety and dedicate that area as your at home workout space. This is one of the hurtles that we can set forward to overcome right away.
MAKE AN APPOINTMENT YOU'LL KEEP
No matter what time of workout you are going to do, dedicate a time you are going to do it and stick to it. Working out with a friend or teammate in person is likely not an option, but I encourage you to do choose one of your friends to be your virtual workout buddy for accountability. This will help you stick to your goals of staying active.
Rotate Your Workout Type
If you have a hoop at home, we'd love for you to continue to get reps up and do this joyfully with your family members. A quick game of PIG, 21, or 1v1 suffices. If you don't have a hoop, but you have a basketball, find an area with a flat floor and work on your handles. We have been seeing our Dr. Dish customers using their machine like crazy - check out our IG stories for a taste!
But wait... what if I have neither?
That's OK too - if you search online for HIIT, bodyweight cardio, or Ab workouts and find one you like. If there is anything that there isn't a lack of, it's workout plans and videos online.
KEEP YOUR Phone OUT OF REACH
I highly suggest keeping your phone out of reach when working out. It is so easy to quickly check social media or email. Keep it only close enough to follow along in your workout or change your music, but please... don't let it distract you!
Put on Your BEst Threads
When leaving the house is highly discouraged, it's pretty easy to want to stay in your PJs all day. We encourage you to get up and get dressed, brush your hair and teeth as if you're headed off to school or work. This will boost your mood and energy, making your workout more successful.
--
We hope these 5 tips help you stay active while you're at home. For basketball training ideas, check out our Youtube Channel, and follow us on Facebook, Instagram, and Twitter!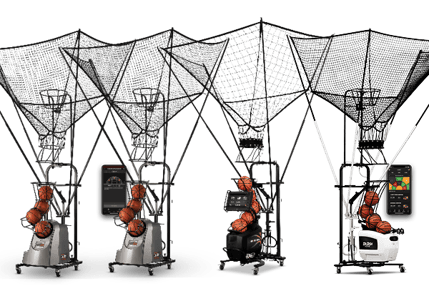 Have any questions or want to learn more about pricing? Call us at 888-887-7453 and we'll be happy to help walk you through your options!
Click here for more info on Dr. Dish basketball shooting machines.
For drills and workouts using Dr. Dish, click here: https://www.drdishbasketball.com/resources
Follow us on social media for daily basketball drills, tips, and inspiration!
https://www.facebook.com/drdishbball
https://www.twitter.com/drdishbball
https://www.instagram.com/drdishbball
(featured Photo by Polina Tankilevitch from Pexels)