Basketball Coaching Clinics: George Mason University Notes
by Jefferson Mason, on Oct 15, 2016 2:35:57 PM
Dr. Dish Basketball had the opportunity to head to Fairfax and was thrilled to attend George Mason University men's basketball coaching clinic. Coach Dave Paulsen did an amazing job breaking down his basketball practice plan before going through an intense 2 hour practice with his team. Attending coaches and trainers were able to ask Coach Paulsen specific questions on his coaching strategies before and after the practice.
George Mason men's basketball team competes in the Atlantic 10 conference and finished last year with an overall record of 11 wins and 21 losses. It was a tough season, especially since George Mason is a top notch mid major basketball program. This upcoming season GMU's roster will include eleven players that will be either freshmen or sophomores. Having so many young players makes for an interesting and sometimes frustrating preseason. Before practice started, Coach Paulsen spoke about getting the most out of each of his players and he reiterated that by saying, "Standards don't change and I expect my players to overcome the challenges required to meet those standards." It was a powerful quote that stuck with all the coaches and trainers in attendance that day.
ONE TEAM-ONE GOAL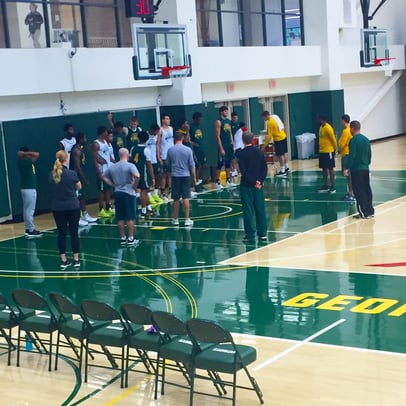 Basketball coaching clinics are a great way for coaches and trainers to add to their basketball toolkit. Each coach is unique in what they do, but can learn from other great coaches. The first part of practice started with coach gathering the players on the baseline. All the players were either holding a teammates jersey or had their arms wrapped around a teammates shoulder. This was a sign of team camaraderie and it was also a sign of togetherness. Coach Paulsen spoke about having trust in one another and knowing every player had each other's back. He said that each player needed to buy into the team and make sure they executed their personal assignments. He also took the time to go over the positive and negative things from the previous days practice and he challenged them to learn and grow from this. He noted that every player has the opportunity to be better then the previous day.
Coach Paulsen also spoke about mastering the things he and the players could control. He said they couldn't control the way the ball bounced or shots going in or out, but they could control their emotions, effort and energy. Basketball is a game of mistakes and usually the team that makes the least amount is going to win. Basketball is different from other sports like baseball in which one error or missed play can cost you a game. In basketball there are many missed assignments and mistakes made. Each player has to quickly forget about a bad play or call that may have happened on the last play and focus on whats up next.
FOCUS FOR THE DAY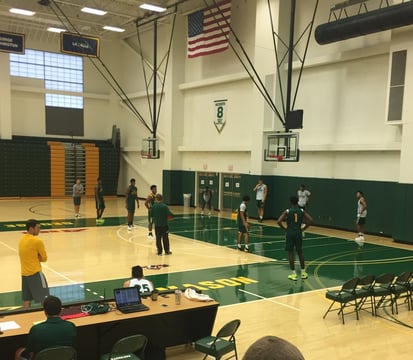 Some of Coach Paulsen's focuses for the day were transition defense, making the easy offensive play and also playing hard. One of the high school coaches in attendance asked why coach had success in his transition defense and what he did special with it. Coach Paulsen said that his team was good at whatever they focused on in practice. He could have said there was some sort of special scheme, but it's more so that they work on it continually and focus on the details in practice. In the second picture here, you can see the players lining up against each other. White is offense and green is defense. To start the drill coach will pass the ball to a player on the white team and the green defender across from them will touch the baseline which will force the defense heading the other way to scramble and maintain until that player gets back on defense. Coach Paulsen put a few minutes on the clock and the team with the most points at the end of the drill wins. The green or white team will score points when they scored on offense and also get a stop on defense coming back the other way. Coach stressed that scoring was only meaningful if a team was able to get a stop going the other way.
Train with Dr. Dish Shooting Machines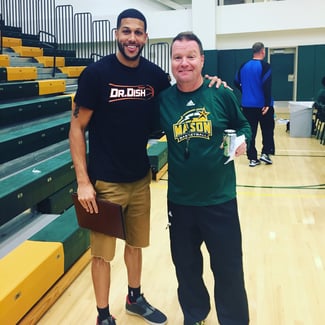 Coach Paulsen understands his team is young, and they face a unique situation with breaking bad habits and training the correct way. Coach wants each player to be vocal, play hard and also playing smart. These are values Dr. Dish basketball is synonymous with. It's important to continue training at a high level throughout the season, but Coach Paulsen noted one must be smart doing it. He said that he didn't want to run his young players into the ground early in the preseason because that would lead to them having dead legs and exhausted bodies towards the end of the season. He said it was important to get the most out of each training session and to be efficient. This is what Dr. Dish stands for and it was great to hear from Coach Paulsen that the players and coaches absolutely love training on their Dr. Dish All-Star shooting machine! Combining the incredible drive and work ethic the coaches possess and the unique training capabilities Dr. Dish shooting machines have, the sky is the limit for this young basketball team!
---
Looking for basketball drills to use with a shooting machine? Click below!