Basketball Drills: The 1st Dr. Dish Drill of the Week
by Nick Bartlett, on Sep 16, 2016 4:46:09 PM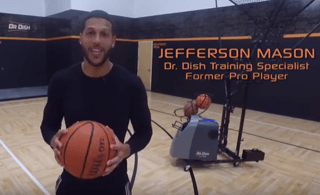 Our training specialist, Jefferson Mason, has been hard at work creating useful basketball drills to use on our Dr. Dish basketball shooting machines! We're thrilled to launch our first installment of the "Dr. Dish Drill of the Week" at our very own Dish Lab.
Check out the first video below where Coach Mason goes over a great drill that incorporates both outside and inside principles. One of the best parts of this basketball drill is that it never gets redundant. There are so many options when attacking the basket as well as posting up.
Dr. Dish Drill of the Week - Attack the Basket
Attacking the Defender
As Coach Mason first catches the ball from the Dr. Dish at the top of the key, it's important to catch in a triple threat position to put as much pressure on the defense as possible. In this drill, we have Coach Mason attacking with his right hand. As he hits the elbow area, we're simulating a defender staying in front of him and pressuring. To counter the pressure, he performs a step back move.
This is where the first decision comes into play. If you create enough space, you can knock down the jumper right away. If the defender continues to push up, a quick change of direction and attacking downhill will be very difficult to guard. Practicing different actions is critical to have mutiple ways to beat your defender.
Attacking the Basket
After performing the stepback action and changing directions, you've hopefully gotten the defender on his/her heals. From here it's important to be explosive as you attack the basket. Depending on how the defender recovers, and help defense, you can either get all the way to the basket or pull up quickly to get a jumpshot. As you can see in the video, Coach Mason works on a couple different finishing moves. Always try and simulate game-like actions so that you have multiple creative finishes to perform at the rim.
After getting your own rebound, you can throw a simple outlet pass back into the Dr. Dish and get ready for your post move.
Post Up
Once you receive the 2nd pass from the Dr. Dish in the post area, again you have many different post moves you can perform. Starting with a simple drop is a great way to start. Also, facing up to the basket and working on the mid-range jumper is a great way to put a lot of pressure on the defense. If you're able to knock down that shot, you'll have more opportunities to attack. Great counter moves include spin moves, up-and-under moves, "shimmy" moves, or basic hook shots. As Coach Mason says, you can work on anything but make sure to be a multi-faceted scorer and not just a one-dimensional post player.
Again, this is a great basketball drill that incorporates much more than just catching and shooting. The best part is that ANYONE can work on this drill by themselves with the help of the Dr. Dish All-Star shooting machine as we're able to bring it away from the basket to throw true game-like passes.
If you like this basketball drill, you'll definitely want to subscribe for more as Coach Mason has much more content coming!
---
Want a Dr. Dish basketball shooting machine but don't know how to afford it? Check out how Western High School made it happen with smart fundraising!