BYU Women's Basketball Team Jumps on Board with Dr. Dish
by Jefferson Mason, on Dec 20, 2016 12:01:00 AM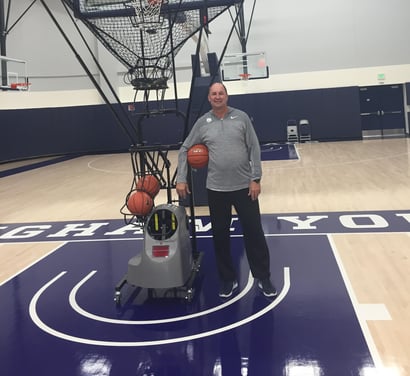 Dr. Dish Basketball has taken the basketball world by storm with its innovative, technology based shooting machines and first class training! We pride ourselves on making sure training is efficient and that players are accountable in their training!
Recently BYU men's team purchased several Dr. Dish All-Star basketball shooting machines and the women's team had the chance to check out and use them as well. After seeing the advantages and potential the All-Star shooting machine provided, Coach Jeff Judkins and his staff made the decision to get several Dr. Dish All-Stars for the women's team as well.
Dr. Dish is excited to have the opportunity to work with BYU women's basketball team moving forward! We know that our All-Star shooting machines will help maintain the unbelievable continued success BYU women's team has had!
Dr. Dish shooting machines are in gyms all around the world and we often meet new coaches that want to jump on board with Dr. Dish. It's been great hearing from coaches that the decision to choose us has come from other coaches recommending Dr. Dish. The secret is out about how excited players, coaches, and trainers are and we want to make sure to exceed those expectations in every way. Coach Jeff Judkins knew that Dr. Dish was the clear choice after he and his staff decided to get shooting machines.
"The decision to choose Dr. Dish shooting machines was an easy one to make after doing our research. The polar heart rate monitor allows us to correlate shooting percentage with intensity level. This gives us valuable knowledge come gameday!" -Jeff Judkins
Coaches and players at every level know that their training equipment must be up to date and relevant to what is actually happening in a game. Dr. Dish makes sure to incorporate players at every position and makes sure to provide reliable, state of the art equipment to our customers!
---
Do you use your shooting machine during the season? Here's how you can maximize it!