Basketball Tips: Importance of Goal Setting Throughout the Season
by Jefferson Mason, on Dec 8, 2021 10:00:00 AM
One of the more important things coaches and players can do during the season is goal setting. Most of the time, coaches and players set goals before the season starts but a lot of those goals need to be adjusted and/or added to during the season.
Let's talk about what planning and executing these goals looks like and what the positive effect it will have on your team!
Goal Setting for Coaches
Each year coaches sit down with their staff and discuss how they can better equip themselves and their players for the upcoming year. This includes evaluating the past year and separating the good from the bad. The hope is to build on the good and identify areas of weakness/opportunity. Oftentimes this includes areas of skill development for players and also things like communication from coaches. Setting these goals on the front end is great but it's just the start.
As the season continues, there are many obstacles that can derail goals and require change. When this happens, coaches may need to reevaluate and adjust to get teams back on track. One example would be team shooting percentage goals. How can coaches reevaluate if their team is struggling with shooting during the season? One way to correct this would be providing players with more training tools, like Dr. Dish shooting machines, to get better faster. These training tools help get players in the gym more, track their success and also have fun training. In turn, this can help shooting percentages go up and ultimately get the team back on track.
Another way to help team morale is adjusting some goals to become more attainable. As coaches we want the best for our team and also want to see the best in them. These high hopes can lead to lofty goals that aren't achievable. Sometimes adjusting these goals and reevaluating during the season can be helpful to both players and coaches. Whenever you're setting goals, make sure they are SMART: specific, measurable, adaptable/attainable, realistic, and time bound.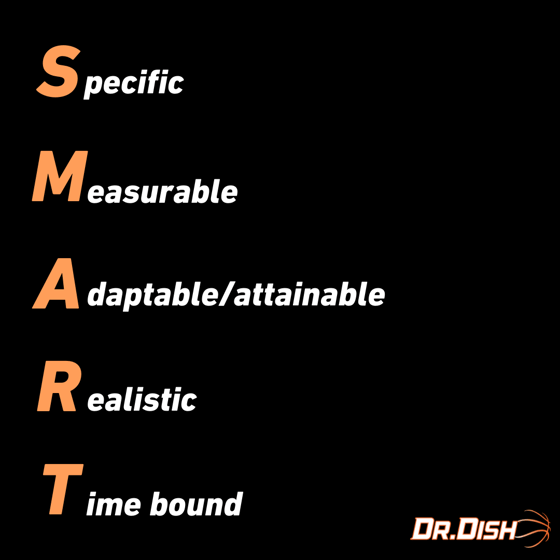 Goal Setting For Players
Tryouts and the beginning of the season are initially by far the most exciting part of the season. For most players, this is an opportunity to show the growth and work put in over the course of the offseason. It's also a chance for players to redefine themselves and increase their roles on their teams. Players also often set ppg, rpg, apg and other individual statistical goals for the year.
Just like coaches, a slow start to the season or a reduced role can throw a wrench in a player's set goals. It's important that coaches and parents help players work through these moments to help get them back on track. Check out our FREE goal setting template to help players set and hold themselves accountable to the goals they set for the season.
When personal or individual goals fall short or are unachievable it can really mentally affect athletes of all ages. Anger, resentment, lack of confidence and other emotions easily creep in and affect an athlete's mindset. This leads to a lot of players quitting or added stress on their team. Although this is part of growing as a player, it's important to understand that athletes can also reevaluate and adjust their own goals to get the most out of their season.
A player can have a goal to be the starting point guard on their team. They may instead be the 6th man and first person coming off the bench. A shift in goals (or an additional goal) could shift to "become the best 6th man in the conference or league". Working towards this goal may still help that player achieve their original goal of starting without them even thinking about it. It's simply a mental shift that helps players focus more on what they can control.
---
As a former high school, college and professional basketball player myself, I can understand the disappointments of not achieving a set goal. It happened to me at every level, but I was able to work with great coaches and have supporting family that helped motivate me along the way. Again, adjusting goals and reevaluating during the season is a great way for coaches, players, and teams to get back on track during the year. Along with training tools like Dr. Dish shooting machines which can help build confidence and accelerate skill development at any time during the year!