Basketball Tryout Tips For This Season
by Jefferson Mason, on Oct 15, 2019 1:46:10 PM
The high school basketball season is right around the corner. For most it comes with excitement surrounding tryouts and a fresh start to the basketball year. To ease the stress, we've listed a few things that every player can do to help prepare for a successful season!
Attitude + Effort + Energy
Every year, I work with several youth and high school programs on developing their tryout process and help players prepare for tryouts. What I've found is that most kids don't understand what a coach values and will set them apart from a group.
Talent is a great way to stand out, but often talent alone is not enough.
My favorite things that I see by players is positive effort, attitude and energy. None of these involve basketball talent. Yet, every coach wants kids on their team with these attributes.
As a player, if you enter tryouts in Cadillac cruise control, it will have a negative effect long term. You may make a team and behave this way, but eventually may get benched or have a lesser role on the team.
Respect
On or off the court, to other players or coaches respect is incredibly important. Be patient and understanding of players who may not be at the same level of talent as you. Introduce yourself to the coaches/evaluators when you get there, shake hands, and let them know you're excited to be at tryouts and appreciate their help. I personally love when kids do this, it's a quick way for me to remember them. In the end it may pay off more than you think.
Sleep, Mental Preparation + Hydration
I can remember staying up the night before tryouts because my mind was racing with all the things I wanted to show my coaches. Sometimes, I would even psych myself out and overthink. With experience, I learned to compartmentalize each aspect of tryouts. This allowed me to be confident and focused. When the time came to shine I was always rested and ready because I was focused only on the task at hand.
Naturally, hydration is also key to stay in tip top form. Many times times I've had kids end early because they cramped up or were dehydrated. Stay hydrated the days leading up and eat a healthy carb-full meal the night before.
We hope you have wonderful tryout this season! Remember to be confident yet respectful! Bring energy and prepare in the days leading up by fueling your body and mind.
----
If you enjoyed this blog post, check out this post on Being Ready For Season!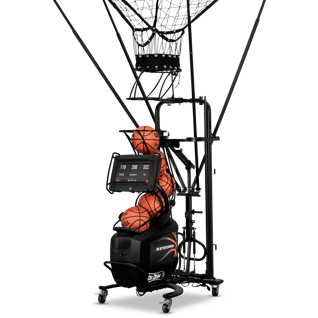 Click here for more info on Dr. Dish basketball shooting machines.
For more drills and workouts using Dr. Dish, click here: https://www.drdishbasketball.com/resources
Follow us on social media for daily basketball drills, tips, and inspiration!
https://www.facebook.com/drdishbball
https://www.twitter.com/drdishbball