Benefits of the Dr. Dish Training Management System Featuring the New Skill Builder
by Jefferson Mason, on Feb 13, 2017 12:11:53 AM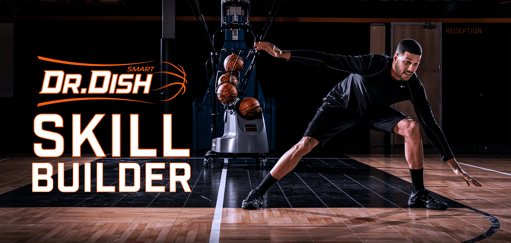 Coaches and Trainers around the world are always looking for the best solutions when it comes to training their players efficiently. Time, rules and regulations are often obstacles many coaches face throughout the year. Basketball has become a year round sport and if your players aren't training efficiently, they will quickly fall behind the curve. Dr. Dish Training Management System featuring the new Skill Builder provides coaches, trainers, and players advanced analytical feedback at their fingertips and is now the trusted solution for coaches and trainers around the world.
With Skill Builder, coaches and trainers are now able to create or select workouts which can be shared instantly to players. Players are then able to push the workout to their Dr. Dish shooting machine using Bluetooth with the click of a button! Dr. Dish shooting machines will track 3pt, 2pt, and free throw percentages by location and can also correlate that with intensity by way of our polar heart rate monitor that is integrated with our machines. Our workout library includes 3pt/2pt shooting drills, ball-handling drills, footwork drills, strength drills, and conditioning drills created by some of the best trainers and basketball players in the world.
PRESEASON TRAINING
Preparations for the upcoming season are exciting but usually come with stress and anxiety. Coaches want to make sure they are heading into the season the right way and the preseason is the last stop before it's showtime. This is the time of the year when coaches are concentrated on the structure of their team and also the strengths and weaknesses their team may possess to start the season. Coaches have limited time to figure out exact drills and workouts for each individual player's needs. To solve this problem, Dr. Dish Basketball created Skill Builder which allows coaches to select or create workouts in minutes with the ability to share with players.
Skill Builder gives coaches the ability to create or simply select workouts that will be specific to the needs of individual or groups of players. Players can now get on the court, train with a purpose while focusing on weaknesses and their coaches can track all this without being present using our Training Management System. This will help players work on skills and accelerate performance to start the season and can be done without taking valuable time from coaches.

IN-SEASON TRAINING
Finding a balance between maintaining and training is tough for most high school and college coaches during the season. Coaches are typically focused on offensive/defensive strategy and scouting the opposing team, so individual training is often put on the back burner and left solely for the off-season. This is even more so for high school coaches who typically won't have more then one assistant coach. Coaches will tell players to get into the gym and get extra shots up, but these reps typically aren't game speed and are definitely not tracked. Once again Skill Builder is able to close the gap and allow the opportunity for any player to efficiently work on specific skills and needs. If a player needs individual work before or after practice they are now able to do so easily with Skill Builder and Dr. Dish Training Management System.
At every level, players go through slumps during the season which include shooting the ball poorly and loss of conditioning. Coaches cannot spare team practice time to work on each players individual needs especially since they are focused on perfecting and adding team plays, scouting opposing teams, and working on game time situations. With Skill Builder, coaches can push a workout to a player before or after practice that includes any or all of the weaknesses they may need to work on. Players can then simply look through the workout and hit start on the Dr. Dish app and work on skill development. The coach can then look into the stats provided on the Training Management System and track that players progress.
OFF-SEASON TRAINING
During the off-season, coaches at every level have restrictions on the amount of time they can work with players. On top of that, high school coaches have players that also play multiple sports so contact is limited. Colleges and high school coaches usually send paper summer workout plans which typically are lost and disregarded. Packets of paper getting destroyed, inaccurate data written down, and unmotivated training lead to wasted summers and stunt the growth of players and their basketball program. Coaches and trainers are able to put together weekly or monthly summer off season workouts that can be easily shared to players and tracked online. This eliminates paper work, lost workout plans and inconsistency in training.
Lack of accountability can be detrimental to any program and is a problem that some coaches struggle to solve. Dr. Dish Training Management System paired with Skill Builder is the solution every coach has been looking for. Coaches and trainers can select or create workouts for the off season and track their players progress through our Training Management system which eliminates inaccurate data and coaches will know if a player hasn't completed a workout.
Dr. Dish teamed up with some of the best NBA trainers, college and high school coaches to create workouts that focus on accelerated skill development for players of all levels. Dr. Dish continues to innovate and push the envelope when it comes to basketball training and player development. Breathe new life into your basketball program and like we always say, make sure to train hard, train smart, and train with a purpose!
For more information or to schedule a free demo, please contact Dr. Dish Basketball at 952-873-2633.
---
See why basketball coaching legend, Bob Hurley Sr., uses Dr. Dish for his skill development!