Building a Successful Program with Coach Donyes of Link Year Prep
by Jefferson Mason, on Mar 11, 2019 10:27:41 AM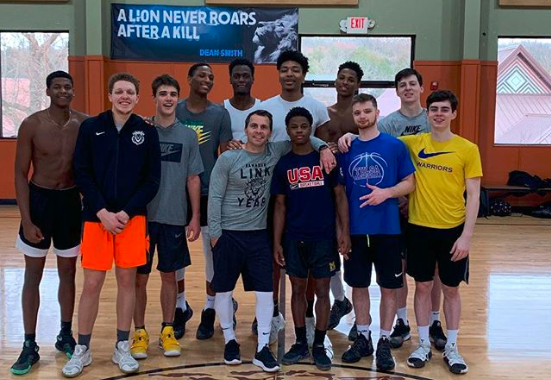 I was very fortunate to have the opportunity to interview and connect with Coach Adam Donyes who is one of the best coaches in the country. He's currently the head coach at Link Year Prep and has now been there for 4 years. He's also a first generation Dr. Dish user and he has fully integrated Dr. Dish shooting machines into his team's skill development work.
Coach Donyes's Journey
Coach Donyes has made plenty of stops along his coaching journey and has been successful at each location. Donyes started his coaching career in (2003-2006) as an assistant at Hollister High School (Hollister, Mo) and then became a head coach in (2007-2011) at Kansas City Christian Academy. There he lead the team to a .800 win % in 4 seasons. He's accumulated 3 Sub-State Finals, with a State Final 4 finish which was the best season in the schools 64 year history.
Coach Donyes has had an abundance of former and current players earn collegiate basketball scholarships. Currently Coach Donyes has players on full rides at Arkansas, BYU, UNCG, Jacksonville, JBU, CCU, EIU, UCA, Stetson, UNT, and Kent St. Oftentimes coaches gauge success by the amounts of wins or players that receive scholarships. Coach Donyes definitely checks all those boxes but also has a unique approach in teaching his young players on and off the court.
His philosophy at Link Year Prep has been "Ball is not life." This is opposite of what we see in many youth hashtags these days but there is a reason behind his thinking. When speaking to Donyes his reasoning was this, "Simply put, life isn't just about basketball. My goal is to help my players learn that basketball is a platform that can help lead to future success. Basketball is a tool for me to help young men become great leaders, husbands, fathers and employees."
Over the years we've heard countless stories of team transformations and success and it's been a pleasure to hear how Dr. Dish has played a part in it. We had a chance to sit down and ask Coach Donyes a few questions on how he implements Dr. Dish into his teams training and how our shooting machines have helped take Link Year Prep to the next level!
Check out the highlight video below of Link Year Prep's practice and training sessions.
Q&A with Coach Donyes
How has Dr. Dish positively affected your program?
While at Kansas City Christian Academy 2 out of the 4 years we had the highest FG % in the state from 2pt and 3pt. The confidence we built was due in part to the time we put in on our Dish. The players were comfortable in every situation and it showed in the box scores.
How often do you use the Dish and in which situations? In the summer? Before/after practice?
We use the Dish nearly every day in practice to increase reps. Our players use it every evening to get up even more reps. In the off-season I use the Dish with individual workouts 5 days a week putting them through a shooting routine that improves their floaters, mid-range, pull-up off the dribble, catch and shoot, and 3-Point shooting. Our goal is to maximize training and it's efficiency for players and Dr. Dish helps us achieve this every day.
Would you recommend Dr. Dish to other programs and what do you appreciate most about Dr. Dish?
Without a shadow of a doubt!
The versatility and the ability to use it in multiple drills is huge for our program. Everybody knows the importance of game-like training and Dr. Dish is built specifically for this reason. It doesn't have to be stationary underneath the goal so we are able to train our players all over the court. This has really helped us develop our post players and skills around the rim.
What does success look like to you and why?
My goal is to help boys become young men of character and also help them change the trajectory of their lives by assisting them in getting full ride scholarships to get their college tuition paid for. Wins are merely secondary to that!
What's the most important thing you try to teach your players?
Accept Responsibility
Work Hard
Eliminate Excuses
Serve Others
Open to Coaching
Minimize Distractions (Girls, Parties, Games, etc.)
Effort and Energy in all you do!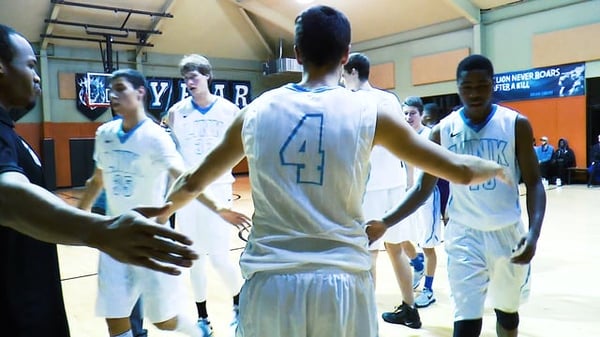 Once again we appreciate Coach Adam Donyes being part of the Dr. Dish family and also taking the time to chat with us. We wish him and Link Year Prep the best of luck going forward and look forward to following their progress.
---
For more information on how Dr. Dish shooting machines can help take your program to new heights visit our website and subscribe to our YouTube channel.
Most importantly make sure to always train hard, train smart, and train with a purpose!