The Benefits of the Set Shot and Jump Shot
by Jefferson Mason, on Sep 4, 2020 11:47:35 AM
Basketball is a constantly evolving sport. Skills and moves that were essential years ago may or may not be relevant today. However, there's one skill that will always remain essential to the game of basketball and that is shooting.
There are so many moving parts when it comes to shooting that determine a player's rate of success on the court. Shooting is a premier skill because it opens up the floor for not only individual players but teammates as well. When there is space and the floor is spread, attacking the hoop becomes so much easier for players.
There are many ways players can shoot the basketball but let's focus on the set shot and jump shot which are two simple types of action. These two types of shots are simple in nature but can be used for better or for worse in multiple situations on the court. Let's take a deeper dive on the pros and cons of both these types of shots.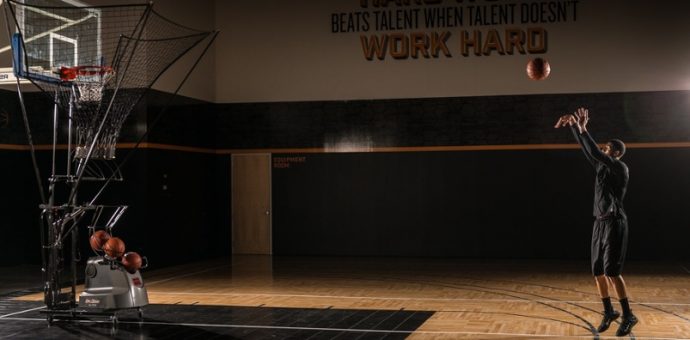 Set Shot
The first shot we'll go over is the set shot.
Shooting a set shot requires much less energy and can be quicker than a jump shot at times. Typically set shots are attempted when players are spaced out, relatively far from the rim and waiting to receive a pass on the drive and kick.
Most of the time, players are able to stand still, square up, load their shot and exert less energy to knock this shot. That's part of the benefit with a set shot. Their feet are usually still on the ground as the basketball is leaving their hands.
Great set shooters tend to be pretty good at jumps shots as well. However, there are a lot of players that practice only set shots which affects their rhythm and timing when they need to execute a jump shot. It's extremely important to work on both shots because they are required at different points in time during game play.
Jump shot
The jump shot is different from the set shot in multiple ways. The release point of the basketball is usually higher and is released when the player has elevated off of the ground. The ball release is usually at the peak of the shooter's vertical path. This is a big contrast from the set shot.
The jump shot requires more power and energy and is oftentimes utilized on the move or attacking the basket. Many players do shoot jump shots from deep and also on the quick out. In any instance, this causes them to use more body and core strength to get the shot off and may take a little more time from deep when compared to the set shot.
When attacking space, a jump shooter can knock down shots over taller players. Players who only rely on jump shots may struggle through periods of fatigue or inconsistency during games. The set shot requires less energy so it can be performed easier when tired.
To be a great jump shooter especially from distance, players need to work on their conditioning and also consistency with their vertical movement into the shot. If a player is very tired or not conditioned well they will often be short on shots because their strength needed to generate the vertical motion is limited.
So Which one is Best?
One of the most popular phrases/concepts that we hear and even promote on our end is, "Great shooters shoot the same way every time." While this is true in a sense that consistency is key with mechanics, it also isn't possible as different game scenarios call for different types of shots (mid-range vs. long range, off the catch vs. off the dribble, contested vs. non-contested, etc.).
In the end, players should work on both their set shots and jump shots. Both of these will be used in at different times throughout a game. Developing consistency with both types of shots is difficult because they require different speeds and rhythm. The challenge pays off as we see some of the best shooters in college and pro basketball master both shots and are threats from anywhere on the court. The best way to develop a great set/jump shot is to get a lot of reps up and to practice game like scenarios.
And of course (shameless plug) a Dr. Dish shooting machine is the best piece of training equipment to work on reps, and accountability through shot tracking. Be sure to put in the time and effort to knock down set and jump shots and become a threat from anywhere on the court!