How Debbie Antonelli Raised Over $120,000 for Special Olympics
by Jefferson Mason, on Jun 10, 2020 7:55:24 AM
We at Dr. Dish Basketball had the privilege of partnering with ESPN analyst Debbie Antonelli for year two of 24 hours of Nothing But Net. Once again, Debbie pledged to make 100 free throws every hour for 24 straight hours while collecting donations nationwide.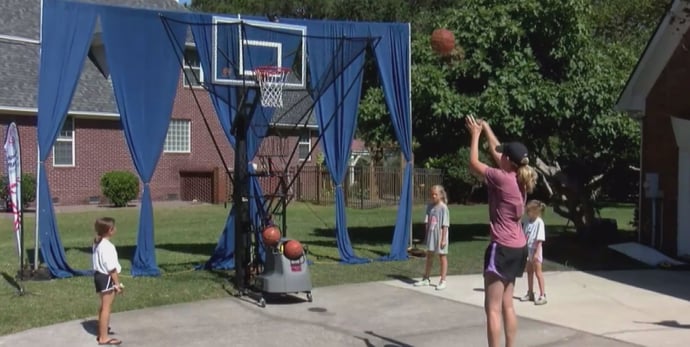 Image by Colin Cody via WJBF News
Last year Debbie was able to raise more than $80,000 dollars for Special Olympics and special needs kids. The organization is near and dear to Debbie's heart because of her son, Frankie, who is a Special Olympics athlete competing in swimming, golf and basketball. Debbie put in more hard work training this year in hopes to achieve even more success for Special Olympics.
Image by Frank Mansfield via post and courier
Commitment to community
This year we wanted to partner with Debbie again and we took it upon ourselves to take our commitment to the next level. Our company understands how difficult training conditions have been for coaches, players, and parents around the world with the COVID-19 pandemic. Many kids are stuck at home and not able to train or play basketball as they normally would. We wanted to do our part by donating a machine on behalf of Debbie for this amazing cause.
Our shooting machines are by far the best in the world when it comes to functionality, technology, durability and basketball training. We've specifically designed the machine to help effectively and efficiently train players. The machine we donated, the Dr. Dish Home, was launched late last year as we saw an opportunity to help more players train at home.
Free Throws and success
The event itself was an absolute success as Debbie was once again able to make 2,400 free throws in 24 hours as promised. She utilized her very own Dr. Dish shooting machine at home to help rebound and pass as she set out to accomplish this goal. Debbie was hopeful but cautiously optimistic going into the event about reaching her goal to raise more than the year prior. With the pandemic and unemployment of many it seemed like a reach. However, the community rallied and came out in full force. The event was able to raise over $120,000 in donations, which was beyond expectations. This was indeed a fantastic event and a show of community support!
Again we want to thank Debbie for giving us the opportunity to partner and work with her on such an amazing cause. Be sure to check out her website and also our website for more information on how Dr. Dish shooting machines can take your game to the next level. Most importantly make sure to train hard, train smart and train with a purpose.
Debbie is still collecting donations here.