Basketball Coaching: How To Build a Cohesive Team This Season
by Jefferson Mason, on Oct 25, 2017 1:41:46 PM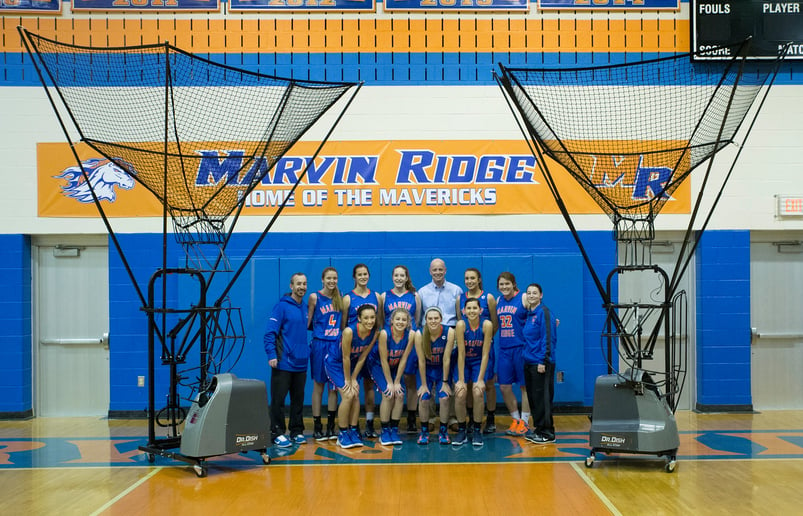 Understanding how to build a cohesive team is essential for basketball coaches at every level. One of the hardest things for coaches to do is bring all the players they have, from different backgrounds, together for one common goal.
Every player has personal goals they want to achieve and sometimes this gets in the way of team goals. When there is discord among players and coaches, this leads to a separated team on and off the court.
Listed below are three ways in which coaches can help build a cohesive team. This list could be much longer, but this is a great starting point for every basketball coach.
1. ESTABLISHING TRUST & HONESTY
Players must have trust in each coach and also each player on the team. A great way is to over-emphasize how each player on the court plays an integral part on the offensive and defensive sides of the court. Each player represents a link within a strong chain and one weak link can easily break and separate the chain. Together though, that chain is extremely strong, reliable, and can be a force to reckon with. Each player has a responsibility in every sequence up and down the floor.
Coaches: Make sure to point out players having each others back on defense and also when they make the right play offensively. The best teams have players who trust their teammates will make the right play AND will also have their back if mistakes are made on the court.
Your word is more important than gold to your players. If you say something to a player, make sure it is truthful and don't over promise anything. The worst thing a coach can do is go back on their word. Always be upfront and honest with players during the season whether it is something they want to hear or not. This doesn't mean rag on players, it means have meaningful conversations that are respectful and true.
Coaches: Hold yourself accountable just as you hold your players and make sure to lead by example. If you do this then players will naturally want to follow and will never doubt your dedication to the team and winning.
2. TEAM BUILDING
Team building is a great way for players to bond and have fun on and off the court. Try to figure out unique ways to get your players together outside of basketball. You'd be surprised how many relationships are built and made this way. You'll also be surprised at the combination of players that will have similar interest with each other. Team building also helps players open up and also makes for a fun outing. Obstacle courses in which players must work together or fun games that allow players to lean on one another to win make for good memories and also bring players together.
Another great team building activity is fundraising. Not only are you getting players out in the community but once again they are working towards a goal in which they all win. This is a great way to see who your leaders are and the players that are willing to take charge. These are the players that can be your voice when times are tough and they can also be a coaches greatest ally.
3. TEAM GOALS
Making sure to set goals and post them visibly is a tremendous way to continue to remind players what the team goals are. This will reinforce playing as a team rather then focusing on individual goals. Make sure players understand that the greatest players in the world are always winners. College and professional coaches always want to be associated with winners. If a basketball scholarship is a player's individual goal, winning as a team should still be priority number one.
Set high goals within the team that may not seem achievable at first. This will show the team that you as a coach believe in them. Also set goals that are more realistic to your team and sub-goals that are more day-to-day or week-to-week so that the overall goal doesn't seem too overwhelming. This will help build momentum and also be extremely helpful if your team struggles or isn't talented. When team goals are set and achieved, it's a great feeling for all and everyone is truly a winner.
With the Dr. Dish Training Management System, it's easy to set short and long-term goals. This is a perfect way to motivate players to continually work hard during the season and throughout the off season as well!
---
These are just three simple ways to help create and build a more cohesive team. I can promise you that it will help make for a great season even if the win column doesn't have as many tallies as you would like. At the end of the day, the goal is to build strong young men and women that will learn great things in a team setting in which they can apply to school and their daily lives as they get older.
Lastly, coaches make sure to go above and beyond even when you are mentally and physically tired. Remember that when you are exhausted, your players likely are as well. They will appreciate your efforts in the long run and you will as well!
---
Subscribe to the Dr. Dish Channel on YouTube and visit our Drills and Videos page for more great content. Always make sure to train hard, train smart, and train with a purpose!