Dr. Dish Basketball Visits Pure Sweat in Los Angeles
by Jefferson Mason, on Oct 19, 2017 11:59:33 AM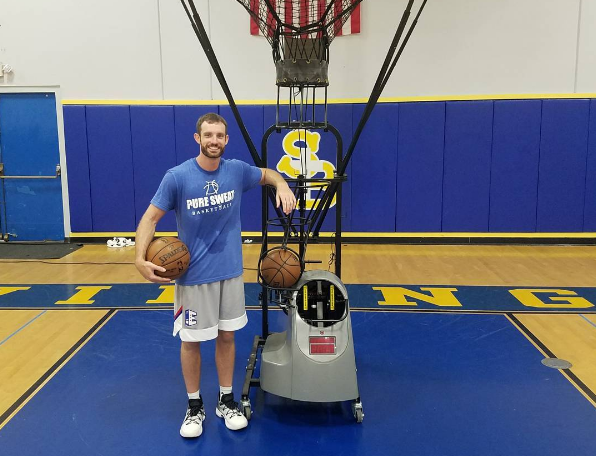 Dr. Dish Basketball recently had the chance to head to LA and visit with our partner Drew Hanlen and Pure Sweat Basketball. It was an amazing trip that included several high level NBA training sessions and also a visit to our Dr. Dish family members over at Loyola Marymount University!
Dr. Dish shooting machines can be found all over and in the most prominent basketball teams at every level across the world. To be the best, you must train with the best equipment available and Dr. Dish is the proven solution for coaches, trainers and players around the globe!
Check out our recap below!
During our trip to LA we were able to visit Venice Beach and there we learned about the local basketball history and had a chance to play on the legendary blue courts featured in films like White Men Can't Jump and American History X. The basketball culture and talent is rich in the LA area. Every year this area produces some of the highest level talent in the country.
Drew Hanlen focuses his summer trainings in LA which is where a good number of NBA players reside and also like to travel to. Whenever these high level players get a chance to work with one of the best in the business they jump on the opportunity. Drew has had a direct stamp on some of the top plyaers in the game like Bradley Beal, Joel Embiid, Jason Tatum, Andrew Wiggins, Kelly Oubre Jr., Meyers Leonard, Langston Galloway, and Zach Lavine. Drew's unique ability to understand the game at the highest level has brought him credibility amongst the best in the business!
Dr. Dish is proud to be partnered with Pure Sweat BAsketball and its skills coaches all around the country and we are pleased to provide them the best training equipment in the world. Our goal is to give every player the opporunity to maximize their potential and also give coaches a complete Training Management System in which they can create workouts specifically designed for their players and also provide statistical feedback that will help lead to success on the court. The goal is to be better everyday and and Dr. Dish shooting machines will not only help with this but also breathe new life into any basketabll program.
Check out some of Drew Hanlen's exclusive basketball drills using the Dr. Dish All-Star shooting machine on our YouTube page.
Like always say, make sure to train hard, train smart, and train with a purpose!