Dr. Dish Fam in the College Semifinals
by Jeremy Rushing, on Mar 30, 2022 4:30:00 PM
It's been a big month for our Dr. Dish Fam in the men's and women's college tournaments, and we're proud and excited to have representation in this weekend's semifinals on both sides!
---
North Carolina
After eliminating Cinderella St. Peter's in the men's Final Eight, the Tar Heels now find themselves with the glass slipper heading to New Orleans. The 8-seed is by far the lowest ranked team remaining, but don't call them underdogs. En route to the semifinals, UNC knocked off Marquette by 32 points, dethroned the defending national champs Baylor, and topped fellow blueblood UCLA.
The Tar Heels are averaging 82.5 points per game, easily the most of the four remaining teams.
They play ACC rival Duke Saturday at 7:50 p.m. CT from the Caesar's Superdome in New Orleans or on TBS.
louisville
The Cardinals' women have proven to be worth every bit of the No. 1 seed they've carried. While nearly every other remaining team has been close to elimination at least once to this point, Louisville has been dominant. A 9-point second-round win over Gonzaga is their closest margin of victory so far, and the Cardinals punched their ticket to Minneapolis with an impressive 12-point win over Michigan.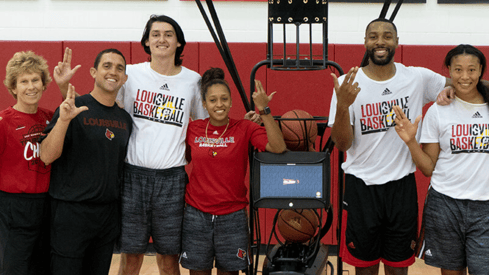 Louisville averages more than 6 threes per game, and are 15-0 when they hit that average.
The Cardinals take on fellow No. 1 seed South Carolina Friday at 6 p.m. CT at the Target Center in Minneapolis or on ESPN.
Cameron Brink
Just a sophomore, Cameron has already won a national championship and her team is chasing another one in 2022. She's led her squad to the semifinals averaging more than 13 points, 8 rebounds, and an astounding 4 blocks per game in the tournament. In addition, the forward is shooting 60-percent from the field over these last five games.
Her semifinal matchup takes place Friday at 8:30 p.m. CT on ESPN.
---
Good luck to our Dr. Dish Fam this weekend!
---
- Learn more about Cameron Brink's partnership with Dr. Dish!
- Heading to Minneapolis or New Orleans this weekend? So are we! Check out where we'll be.