College Basketball National Champion Cameron Brink Joins the Dr. Dish Family
by Kendra Franck, on Mar 29, 2022 11:45:00 AM
We are proud to officially announce our partnership with Cameron Brink (Stanford University), Sophomore Forward and National Champion. We're excited to add a player and person of Cameron's caliber to the Dr. Dish Family!
Cameron is joining our team amongst the ranks of some of the highest level female players in the world, 5x WNBA All-Star and gold medalist Skylar Diggins-Smith and 3x WNBA All-Star and WNBA Champion Allie Quigley.
Learn more about Cameron Brink and how her team is chasing after another chance to bring home a national championship title below!
---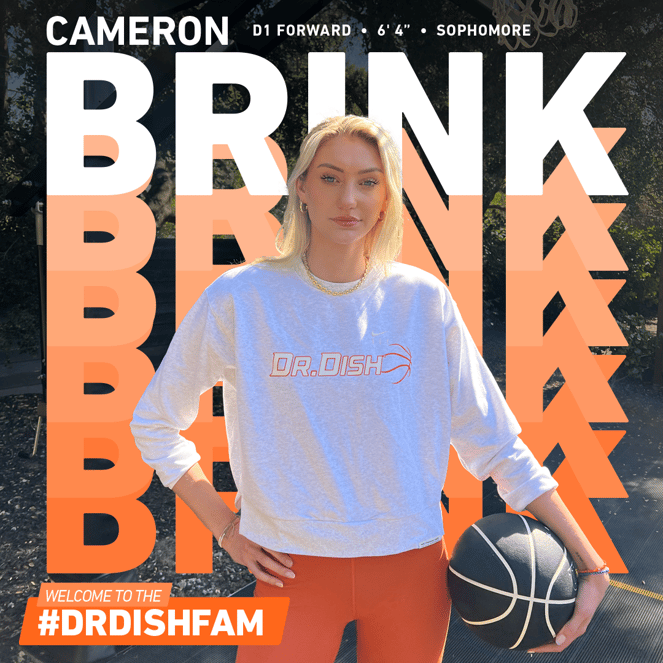 Basketball dna
Cameron's initial interests leaned towards arts versus sports. Basketball seemed inevitable since Cameron's parents met and played basketball at Virginia Tech with Sonya and Dell Curry. Reluctantly, one summer she decided to give basketball a try at Dell Curry's camp just to stay active.
After that summer, Cameron tried out and made a 6th grade team as a 5th grader. From there, basketball became Cameron's everything. Her consistent training and hard work earned her 3 varsity seasons at Southridge High School in Beaverton, Oregon, 2x Gatorade Oregon Player of the Year, 2x State Champion, and rated No. 3 prospect of her recruiting class.
Now a Sophomore in college, Cameron remains a leader on the court receiving numerous team and personal accolades.
Cameron's accolades
NCAA champion (2021)
2x Pac-12 champion (2021-22)
2x Pac-12 Tournament champion (2022)
Associated Press All-America Third Team (2021-22)
Naismith Trophy Semifinalist (2022)
Wade Trophy Watch List (2022)
Wooden Award Late Season Top-20 (2022)
Pac-12 Player of the Year- Media (2022)
Pac-12 Defensive Player of the Year- Coaches and Media (2022)
2x All-Pac-12- Coaches and Media (2021-22)
Pac-12 All-Freshman Team
Naismith Trophy Player of the week (Feb. 8th, 2022)
Overall career statistics...averages 11.7 PPG (750 points total), 166 blocks, 44 steals, over 450 rebounds (offense and defense).
Cameron is now chasing dreams of playing in the WNBA and is paving the way for future generations of hoopers.
As someone who is always putting in work and looking for ways to hone my basketball skills, I'm excited to partner with Dr. Dish. This new partnership will give me access to a variety of drill content, help me keep track of my progress and ultimately support my journey in becoming the best player I can be." -Cameron Brink
We are looking forward to watching Cameron and her team compete in the semi-final games on Friday, April 1st against UConn for a chance at taking home another championship title!
---
We've got tons of awesome content planned to share with you featuring Cameron so be sure to stay tuned and follow us on social (Instagram, Twitter, TikTok, Facebook, LinkedIn, YouTube, Pinterest) Ready to join Cameron in the Dr. Dish Family?! Check out our models and see which one is the right fit for you!