WNBA All-Star Allie Quigley Chooses Dr. Dish
by Emily Stiemsma, on Oct 22, 2020 9:43:40 AM
Here at Dr. Dish Basketball we have a plethora of high-level players and coaches using our shooting machines. But, it's always a special day when we get a WNBA All-Star like Allie Quigley training on a Dr. Dish Home.
Keep reading to learn more about Allie and all of her accomplishments as a pro player, and why she chose Dr. Dish to get up reps.
Allie Quigley, WNBA veteran has been on the Chicago Sky for the last 7 out of 11 years of her career and has made a huge impact. As a shooting guard she has not gone unnoticed. In her 2019 season Allie led the WNBA with 70 three-point field goals, the first Sky player to lead the league in this category and the first player not named Taurasi, Latta, or Moore to lead the league since 2002!
In addition to her influence on the Sky, she has also had multiple recognitions by the league, those including:
3x WNBA All-Star (2017, 2018, 2019)
2x WNBA Sixth Woman of the Year (2014, 2015)
2x WNBA All-Star 3-Point Contest champion (2017, 2018)
Set a record for most shots made in an All-Star three-point competition across both the NBA and WNBA (29 points), sinking 20 of 25
This summer, before the WNBA bubble was established, Allie decided to get a training solution for her home in Chicago and we worked together to get her a Dr. Dish Home. Shortly after, she headed to the WNBA bubble in Orlando, but was able to get reps up on her machine before she left for her overseas season in Russia. Due to the cooler weather on the way, and her outdoor set up, she transported the machine to her practice facility.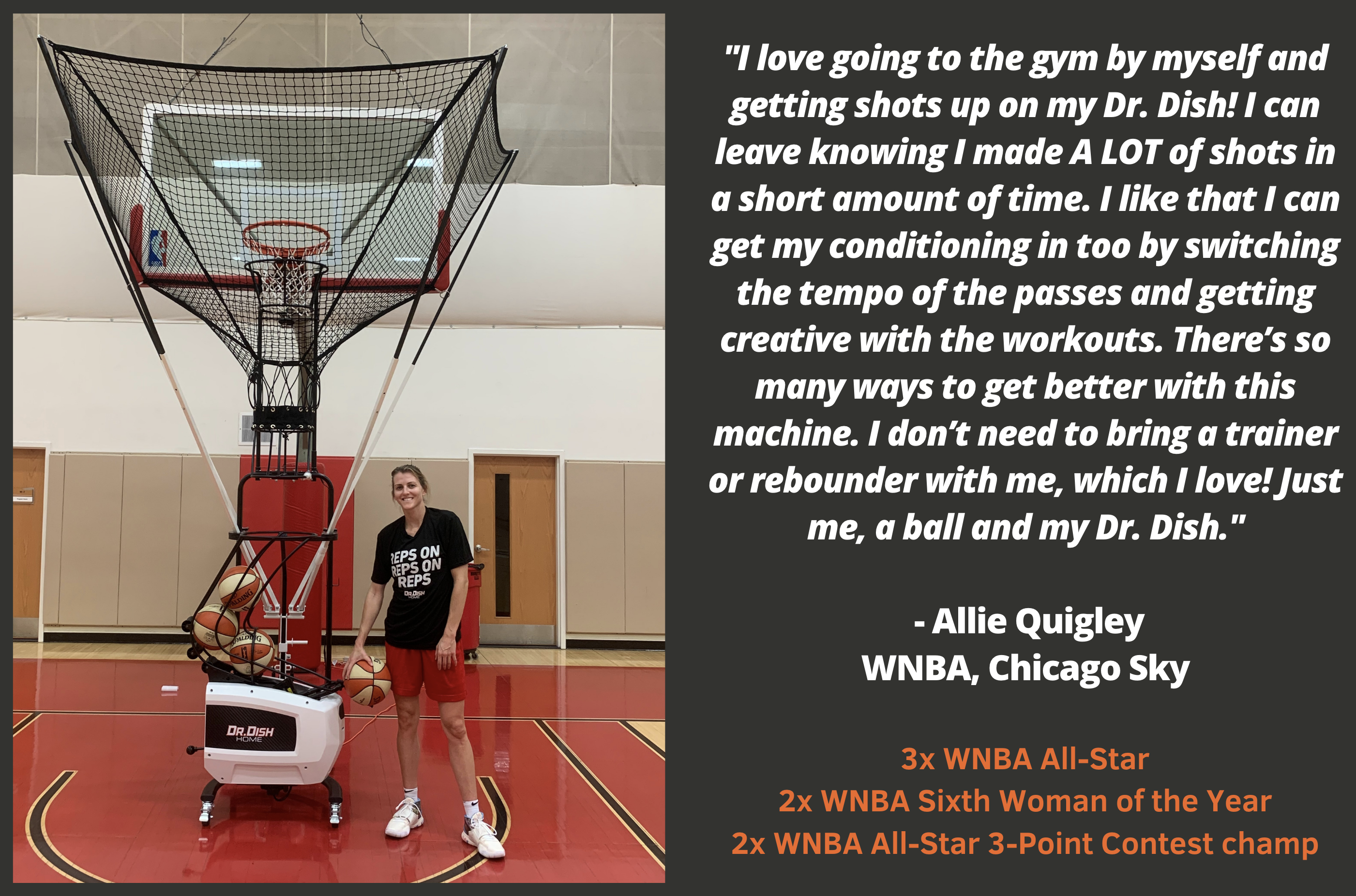 We're super excited to have a player like Allie Quigley choose Dr. Dish because of the convenience, ease of use, and transparency into her shooting analytics. If anyone knows what it takes to be a standout shooter, it is player like herself!
Welcome to the family, Allie! #drdishfam