Dr. Dish iC3 and SIQ Smart basketball Make the Perfect Pair to Improve Your Shot
by Emily Stiemsma, on Jul 25, 2022 1:06:10 PM
Dr. Dish Basketball and SIQ Basketball are teaming up to bring players training on their Dr. Dish iC3 not just more reps, but also more insights into how they are shooting to advance their game.

There is no question that there is synergy in players who train with Dr. Dish iC3 and use the SIQ smart basketball. Both are looking for results and to advance their game quicker. That's why the two have come together, and aligned on a mission to help players get better, faster

Dr. Dish basketball's VP of Experience, Justin Royer, shares, "We couldn't be more excited to collaborate with SIQ. We're huge fans of their product as it allows iC3 users to see results of their training in real time; helping them level-up their game even faster."
The Dr. Dish iC3 increases shooting reps by 300% with up to 16 shots per minute while simultaneously developing muscle memory and better shot trajectory. SIQ offers the next step when training with the iC3, and that's tracking your results and data.
The SIQ smart basketball has unlocked the secret to becoming a better shooter. It's the only certified game ball that automatically tracks:
Makes, misses and swishes
Release time, release angle, spin rate
Shot distance
Shot situation (lay ups, relaxed, dribble and off-the-pass)
All data is instantly sent to the shooter's phone or tablet. SIQ's patented technology is hidden inside the ball and doesn't affect the weight or flight of the ball at all. That's why the pros train and play with it.

"We use the Dr. Dish iC3 in our own shooting lab to increase efficiency," says CEO of SIQ, Erik Anderson. "A great shooting workout requires reps and data, and there's no better way to accomplish both than by pairing Dr. Dish with SIQ."
The two brands will co-create content using both products, collaborate in future partner collaborations, and offer each other's audience exclusive offers on both products.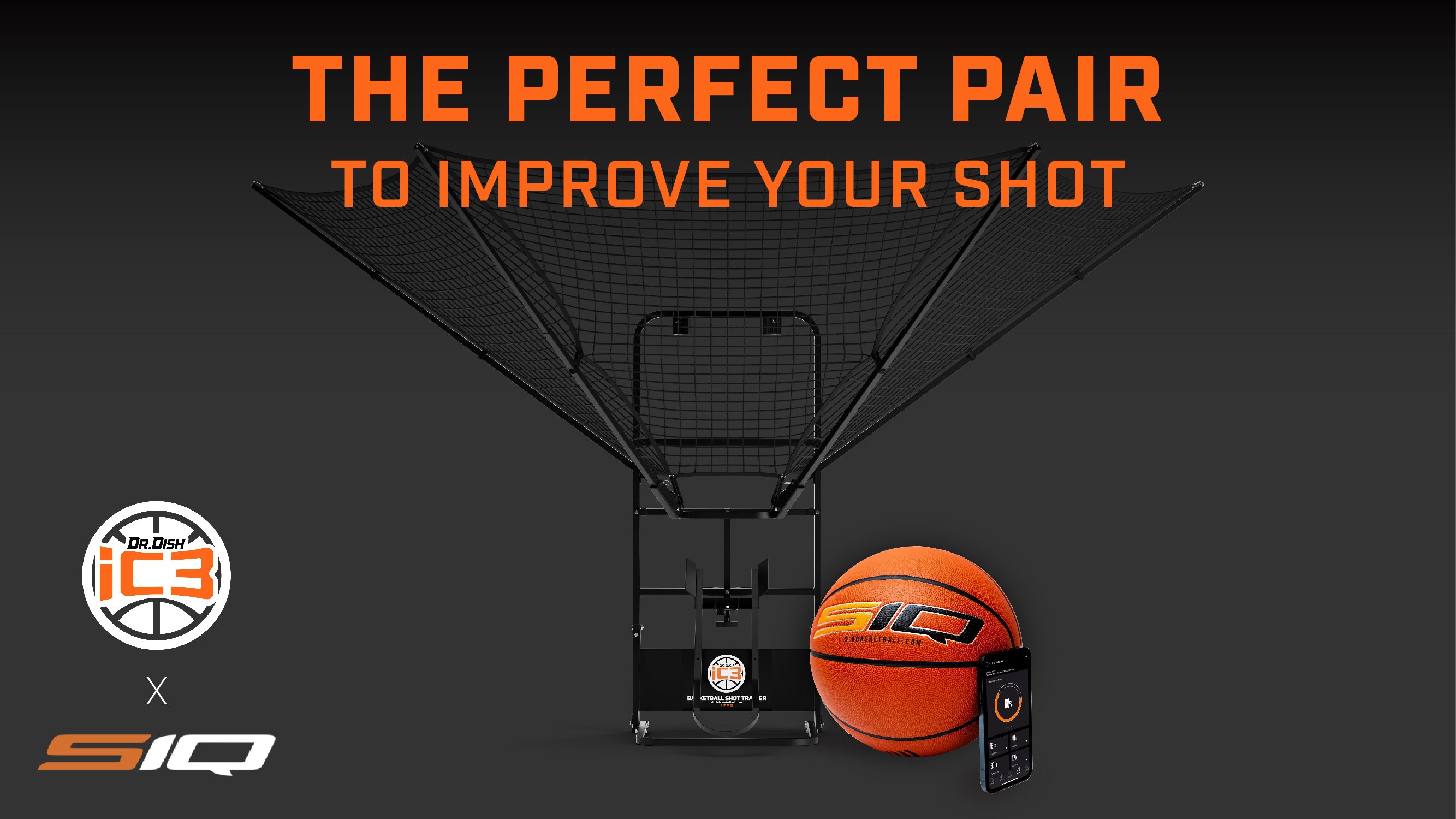 ABOUT DR. DISH BASKETBALL:
A division of Airborne Athletics, Inc., Dr. Dish Basketball is the premier provider of basketball shooting machines and offers the most versatile and technologically advanced training solutions in the world. As leaders in innovation, the Dr. Dish training experience allows players around the world to quickly improve their skills via real-time analytics as well as training content from world-class professional trainers. Dr. Dish provides training equipment for many of the top basketball programs around the world including the Philadelphia 76ers, the University of North Carolina, Real Madrid, the NBA Global Academy, and countless other teams and professional basketball players in both gym and home settings.
For further information about Dr. Dish Basketball, visit drdishbasketball.com or follow Dr. Dish at: facebook.com/drdishbball, twitter.com/drdishbball, instagram.com/drdishbball, youtube.com/c/DrDishBasketball
ABOUT SIQ BASKETBALL:
Founded by Finnish professional basketball player Harri Hohteri, SIQ Basketball (pronounced "S-I-Q") has brought the world's first FIBA-approved smart basketball to fruition, allowing users to access personalized metrics and advanced analytics with a simple tap of their smartphone. In real-time on the SIQ app, players can track over 192 data points, including consistency, quickness, swish percentage and more with every shot they take. With the same bounce, weight and size as a standard basketball, SIQ's technology allows players to improve shooting skills without compromising on gameplay. For more information, visit www.siqbasketball.com