Road to the NBA: Dr. Dish Visits the 2019 RBA Showcase
by Jefferson Mason, on Aug 30, 2019 12:09:12 PM
Dr. Dish Basketball was fortunate to recently attend the RBA showcase for the second straight year in 2019! We followed several players through their basketball journey's as they continue to pursue their professional careers.
Check out the highlights of John Petrucelli, Luke Petrasek, and Shane Richards below and in the featured recap video.
John Petrucelli
John Petrucelli's professional career has continued to take off after an amazing year in the NBA G-League. Last year playing for the Lakeland Magic, Petrucelli averaged 12.1 ppg while shooting over 44% from the three point line. This summer he showed out at the NBA summer league making numerous high level plays on both ends of the court.
This upcoming season Petrucelli is taking his talents to Israel to play in the top league for Beer Sheva. We had a chance to help prepare John this summer with training at the RBA showcase and also his use of the Dr. Dish CT shooting machine. There is no mistake why he is successful and shoots the lights out every year. His work ethic, training and desire to be the best will continue to lead him throughout his professional career.
Luke Petrasek
We've followed Luke Petrasek for two years now and it's been great to see the development and growth in his game. This past season Luke played in the NBA G-League for the Greensboro Swarm. There he played in 41 games averaging 6.2ppg while shooting 40% beyond the arc. In this years RBA showcase Luke showed flashes of toughness, athleticism and his beautiful three point stroke.
This upcoming season Luke will take his talents to the Geissen 46ers in Germany's top league. The German league has quickly become one of the top destinations for professional basketball players around the world. We look forward to following his progress over the course of the season.
Shane Richards
Shane Richards is another sharp shooter that effortlessly scores the basketball. He proved this playing basketball at Manhattan college and also this past summer at the RBA Showcase. We had a chance to workout with Shane this summer and at one point rattled off 15 straight three point shots!
Shane spent this last season in Poland playing for Spojnia in the top league. In 21 EBL games he averaged 6.4 ppg. We look forward to seeing where he lands this upcoming season and also the progress he makes in his young professional career.
---
Once again we appreciate BJ Bass and his staff for putting on an amazing event and giving Dr. Dish Basketball the opportunity to be apart of something special. Good luck to our guys and all the other participants this past year at the showcase!
Like this blog post? Check out How pro-trainer Jordan Lawley has built his basketball empire!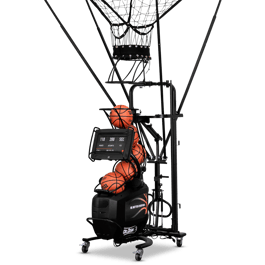 Click here for more info on Dr. Dish basketball shooting guns / machines.
For more drills and workouts using Dr. Dish, click here: https://www.drdishbasketball.com/resources
Follow us on social media for daily basketball drills, tips, and inspiration!
https://www.facebook.com/drdishbball
https://www.twitter.com/drdishbball
https://www.instagram.com/drdishbball/