An Inside Look Inside Coach Mason's Dunks and Motivation
by Jefferson Mason, on Feb 20, 2017 7:56:01 AM
Coach Mason here with Dr. Dish Basketball! I want to first say I appreciate all the love social media wise I have received about some of the dunks I've done in the past and even the ones I have done here at the Dish Lab. Dunking has evolved over the years as players are becoming more athletic at a younger age. It still remains the most exciting part of a basketball game for me and most others. Big-time dunks can be game changers and also can be career changers for players. It's an important part of the game and is something that most young players hope to be able to do.
I often have players message me about dunking and how to become more athletic. I also have players ask me when I started to dunk and what was my best dunk ever. I think most of the answers I have will surprise most because they fall between the lines of what a typical answer would be. For me, figuring out three things was key in not only dunking, but becoming the best player I could be.
The above picture is one of my personal favorite dunks because it came against a rival time and also happened in a packed gym. I can still remember the faces of my teammates and coaches after I threw the dunk down. After that dunk, the game was over because everyone in that gym knew the other teams confidence had been destroyed. I personally don't think this is my best dunk but it was definitely one of the better ones!
MINDSET
The most important thing for me in my basketball career was the mental aspect of the game. I found out a young age that my mindset was what was going to separate me early on from the other basketball players my age. I was never the tallest, fastest or most athletic player but at the same time I wasn't the worst either. I always knew that my work ethic and understanding of the game would take me to the next level. I will always remember what 2 of my AAU coaches told me growing up. My first AAU Team I played for was called Hoop Junkies and I can still recall one of the first things Coach John Swan told me. He told me I had all the skills necessary to become a good player, but it was on me to mentally figure out how to make them all work together. That statement on top of knowing that someone seen my potential, made all the difference especially at a very young age for me.
The summer of my junior year in high school I was constantly laughed at and clowned for missing dunks terribly and attempting a dunk before my junior year wasn't even an option being that I could barely touch the net. In games I would be on fast breaks and I would get hung on the rim, fall over and do a somersault. It was embarrassing but I really didn't care too much because it was something I wanted to do badly. I knew I was athletic enough, but I just couldn't put it together and it was something that was mentally draining me at times. Luckily for me, my second AAU Coach, Rome Williams, said something that would stick with me as a player forever. I can remember him telling me at one of our first tournaments in Kansas that if I wanted to play college ball my mindset had to change. He said that I had to think about what I wanted to do, then just do it. He told me that if I didn't let my mind hold me back, I would release my full potential as a player. I have no idea why that meant so much to me, but immediately after that I told myself I was capable of doing anything on the basketball court. That tournament was a coming out party for me personally and I played some of the best basketball and I also was doing things I hadn't done before like dunking on guys and making plays I hadn't done before. My mindset immediately changed to believing I was the best player on the court even when that wasn't the case sometimes. This made me fearless on the court and took my game to the next level.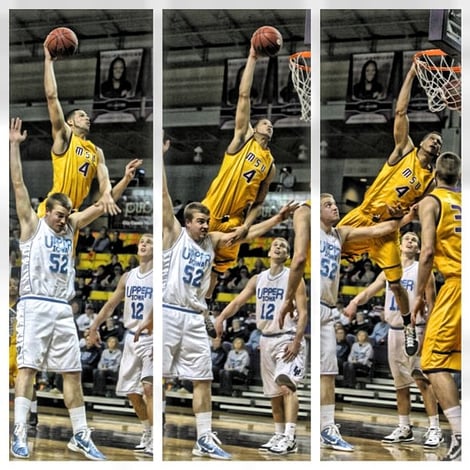 BE FEARLESS
Having the right mindset was crucial for me as a player and leads right into the desire and will to be the best. Throughout my career I kept the underdog mentality because I never wanted to be complacent. I knew there was always someone, somewhere around the world trying to take my spot. Not only did I want to be the best on the court, my will to do whatever it took to win made me a better teammate and player in general. Having the desire to accomplish something like dunking is great but if you don't have the will power to make it happen it won't. Dunking was only one of many things I wanted to master within my skill set. I was never afraid of failure and to this day I look at failure as a learning tool to better myself. On the court if I missed a shot, made a bad play, or missed a dunk even, I knew there was something to learn from it and I wanted to try my hardest to not make that mistake again. As a player I wanted to be the one to take the last shot or shoot free throws in crunch time even if I had struggled early in the game. I knew that if I failed then I would be ridiculed to a certain degree, but in my mind the flip side of succeeding totally outweighed fear of failure.
PROPER TRAINING
I can remember being a 9th and 10th grader dreaming about dunking. I was average height but extremely lanky and long. I honestly looked like a baby deer just being born when I was out on the court and I definitely looked like this when I attempted to dunk the basketball. I knew that at some point I had to start training properly and efficiently. I couldn't just run around in the gym throwing random shots up. I had to train with purpose and I also had to work to get my body coordinated and to peak potential. I really took a turn my junior summer when my teammate and friend Jermain and I said we would dedicate the entire summer to nothing but basketball. We put a strength and workout plan together and also tried to get as many meaningful shots up in the gym as we could. We tried our best to eliminate anything that could distract us from our goal to be two of the best players in the state. That summer paid off and we had a tremendous senior year that led to us both earning college scholarships and also the most successful year to date for our high school basketball program.
SKILL BUILDER
When I was in high school and college we didn't have the training options and technology we have today. Accountability was dependent on the players and training hard was something that only happened when motivated. Dr. Dish Training Management System and Skill Builder allow coaches to track progress and monitor their players growth throughout the year and most importantly when they are not around. As a high school player, I took the game seriously and I was motivated but I can remember a lot of players on my team cheating drills and not working hard. It wasn't necessarily because they didn't want to get better, but mostly because we were young kids that didn't have enough direction in our training. Our Training Management System including Skill Builder is the solution every coach and trainer is looking for and not only will this help the players, it will also be a breath of fresh air!
For more information on Skill Builder or for a free demo please give us a call at 952-873-2633 or visit our
website
today!
---
Read how this Ivy League school is innovating with Dr. Dish!