How much Does a Dr. Dish Basketball Shooting Machine Cost?
by Emily Stiemsma, on Sep 12, 2023 11:54:14 AM
The cost of a basketball shooting machine can vary widely depending on several factors, including the brand, model, features, and whether it's new or used. When considering all of your options, you'll also want to look for things such as financing or payment plans to help make the product more affordable for you or your basketball program.
The first thing to consider when asking, "How much?" is where you plan to use your machine, because whether it is for your average family's driveway or a D1 university's practice gym, will greatly impact the price! For those reasons, let's break down this questions based on where your machine will be used.
Training at Home
Entry-level basketball rebounders for home use can cost anywhere from $30 to $600. These types of more affordable rebounders often have limited features and are suitable for individual or small-scale practice. Assume that these rebounders will always rebound makes, but only sometimes rebound misses. They also will return the ball back to you, but in different ways. Some popular types in this range are:
rebound nets
gravity rebounders (only return makes)
Net and rebounder combos (returns makes and misses)
The most advanced rebounder in this price category is the Dr. Dish iC3 Shot Trainer, which rebounds makes and misses and returns the ball back to you with a manually rotating gravity ramp.
For a more advanced at home solution specifically for home, they average right around $3,000, but range between $2,000 and $6,000. These machines offer more advanced features, better durability, more automation and increased shooting capacity. Not all offer all of these features and it is important to do your research on the following features when shopping:
portability and weight
number of balls usable
ball return speed and distance
number of spots the ball rebounds to
stat tracking capabilities
One example in this category is our Dr. Dish Home basketball shooting machine. It is the only machine in this price range that is completely automatic - meaning it can be programmed to rotate and pass out basketballs at the same time, while recording all player shooting statistics. Learn more about Dr. Dish Home here.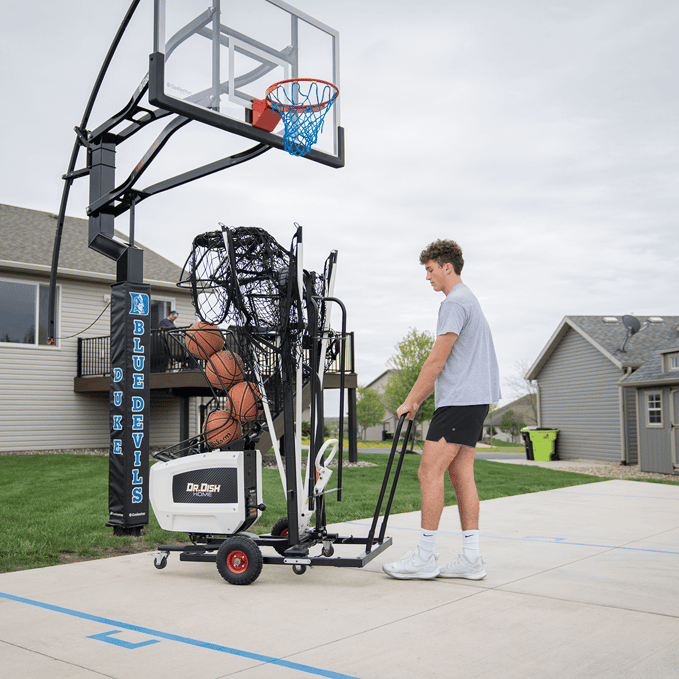 Machines For Schools or Facilities
Professional-grade basketball shooting machines used by top-level athletes, colleges, and NBA teams can cost $5,000 to $11,000 or more. These machines offer advanced technology, precision, and durability.
The biggest factors when selecting a shooting machine for one of these settings is how much tech and efficiency capabilities you want it to have. The machines on the lower end of that price range are unlikely to have stat tracking or advanced software capabilities (like Multiplayer Mode, Advanced Analytics, or On-Demand training). But, it is certain that they can distribute balls out at different speeds and to different locations - but how that happens could be different.
When considering a lower-end automatic machine make sure to compare:
How you control the tempo of the balls being passed out
How you control the distance the balls are passed out
Size, weight, and portability of the machine
Higher-end professional machines, which will be on the upper end of the range shown above, will offer substantially more training capabilities and options for Coaches, Players, and Trainers to enjoy. When shopping these, make sure to compare:
Stat tracking capabilities
Advanced features like Multiplayer Mode
Swivel net options or alternatives to traditional machine training
Custom drill creation options
Pre-programmed drill libraries
There are a lot of other things to compare, and it's usually best to chat with a sales rep who can help you make a decision. We also offer comparison charts and tools to help in this process. Just be careful when you are provided with comparison documentation from certain sources, as competitors are not always honest in their reviews.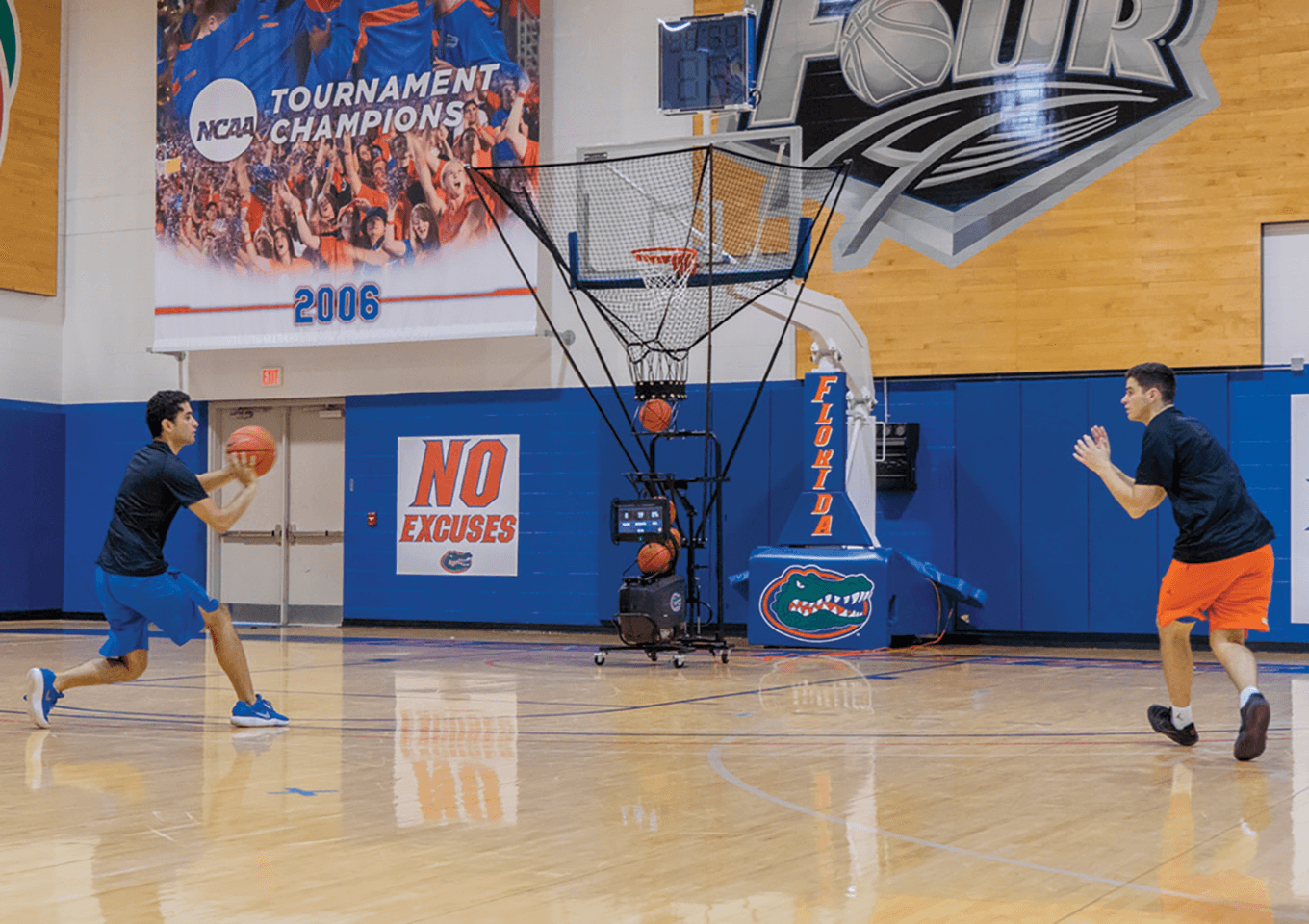 WAYS TO MAKE MACHINES MORE AFFORDABLE
Financing, payment plans, and used or refurbished basketball shooting machines impact pricing and help to make machines more affordable.
For Facility owners or those looking to start a basketball business, we offer leasing programs which greatly reduce the upfront cost of the shooting machine so your business can scale with you. You can learn more about Dr. Dish FCLTY here.
For schools, we offer low monthly payment options, which only requires 50% down before we ship the product to you!
Lastly, for homeowners, we offer Affirm Financing which allows some buyers to qualify at 0% APR and/or for different monthly payment options.

Just Remember,
It's essential to research current prices and compare different options to find the best basketball shooting machine that fits your budget and needs. Additionally, consider factors like warranty, customer support, and maintenance when making your decision.