How To Build Fan Engagement in Your Program
by Jefferson Mason, on Dec 17, 2018 8:14:22 AM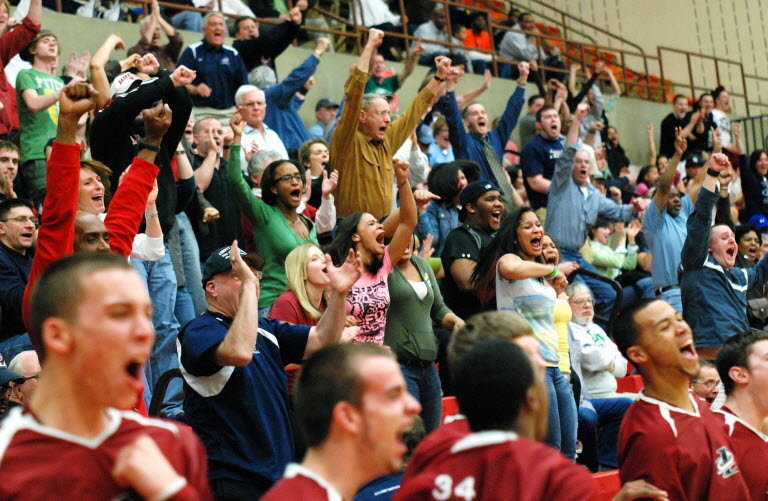 For high school basketball players one of the best things they can experience is walking into a gym that's packed with incredible supportive fans.
I remember as a player thinking I was the coolest guy around when I stepped in the gym. Knowing there were people who came out to watch and support me and my team was an amazing feeling and it definitely helped me play harder on game day.
For some programs, building fan engagement can be easier because of their winning tradition. However, this isn't the case with many programs that have to build their tradition from the ground up.
On the other hand, most would assume that supportive large crowds come when a team is successful and winning games. This also isn't necessarily always the truth and in fact it can be the other way around. Below we'll discuss several ways to help your team build a supportive fan base that will show up to games no matter how talented your team may be!
Big vs. Small Towns
There are some communities that are small and secluded from local larger cities and you would think these teams would have low fan engagement because of sheer numbers. Although the population is low, many times these cities have the most fan support at athletic events. The reason is that everyone knows everyone in the town and people love supporting family and friends.
The bond and relationships are there with the players and coaches and this leads to a feeling of inclusion. These relationships are crucial for every program of any size. Sometimes in more populated cities there are multiple schools in one city and this forces fans to split between different teams.
If you're looking to get your community on board then you must figure out ways to allow the fans to feel engaged and part of your program.
Extend the "Close Knit Family" Feel
Most coaches look at their team as a family unit and want to keep that family unit tight. That's how you build trust within your team but sometimes it leads to exclusion of fans and can develop a rift between the two. It's important to be aware of this and think of ways to help engage the fans and players together.
Some great ideas are meet and greets. These can happen before the season, after games, during practice time, after the season or when ever there is a chance too. This helps the fans see the players as more then just athletes and often times will build unexpected bonds. Different types of fan appreciation and halftime events during games will help drive excitement and build an atmosphere that fans want to be present for.
Support Other School Teams/Programs
Another great way to promote and build fan engagement is to support other teams at your school or university.
Coaches: Have your players head to a few volleyball, football, and soccer games this year and be engaged at these events.
I can tell you it will mean a lot to those players and they will likely return the favor when your season comes around. It's essential for players to support one another and build positive relationships throughout the year. When you finally get the community and fan base rolling, it'll be a tremendous boost come game day!
Conclusion
Building a loyal following and consistent engagement within your program takes time and a lot of hard work. If you're looking for additional ideas, check out this great article for 7 more tips.
Today, many times having a winning program isn't necessarily enough. However, by being active in the community, online, and within other school functions you'll definitely see your fan engagement grow which will lead to increased fundraising and a more fun atmosphere on game night!
---
For more great coaching tips and basketball drills be sure to subscribe to our YouTube channel but most importantly make sure to train hard, train smart, and train with a purpose!
---
For more articles and tips like this, make sure to subscribe to our blog newsletter!
For more info on Dr. Dish basketball shooting machines, click here.

Follow us on social media for daily basketball drills, tips, and inspiration!

https://www.facebook.com/drdishbball
https://www.twitter.com/drdishbball
https://www.instagram.com/drdishbball/