Innovation Never Stops: Dr. Dish Launches New Away From the Basket Technology in Skill Builder
by Emily Stiemsma, on Jul 2, 2018 10:45:46 AM
(Made possible through use of the Dr. Dish All-Star Machine swivel net technology)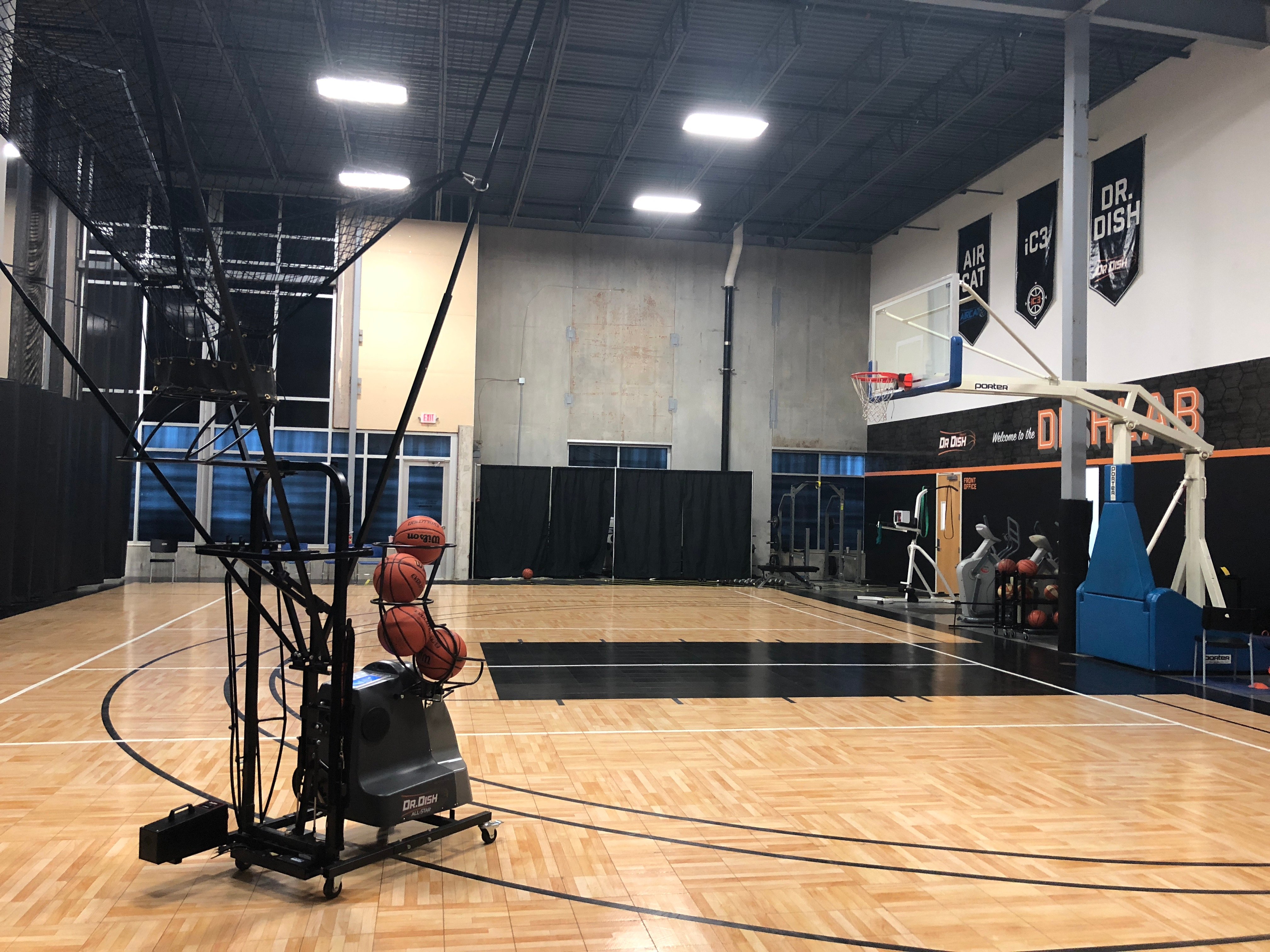 At Dr.Dish we preach to players and coaches to Be Better Every Day. That mindset is no different within the team here. On a monthly basis we're always adding new features through new research and by listening to the feedback of our customers, separating ourselves even more in the industry. Only one of the many reasons D1 programs such as University of Maryland and University of South Florida continue to jump on board the Dr. Dish family.
The "Away from the Basket" feature is not a new feature of the Dr. Dish All Star machines, but the ability to build workouts in Skill Builder utilizing that technology is! You can now choose the location of the Dish All-Star within skill builder, pick the passing locations, and maximize this feature. Prior to today, workouts could only be built with the machine under the basket. This feature is great for post entry and "game-like" passing - truly elevating your training!
It's yet another tool for your program to benefit from. We are really excited about the launch of this new feature and will explain it in more detail below.
Using the Dr. Dish TMS Skill Builder is as easy as 1 - 2 -3: Assigning Your Custom Workouts to Your Players
Choose the Location of the Dr. Dish for Your Workout

Name & Define the Drill(s) in Your Workout. (This includes choosing your drill name, type, goal, pass locations, and attributes)

Assign the workout to players on your TMS roster with the click of a button
. . . . .
What's this process look like in Skill Builder?
When you log into your TMS Profile, and navigate to Skill Builder the process will be very similar as before, but you will see a few new field options to pick from.
See here: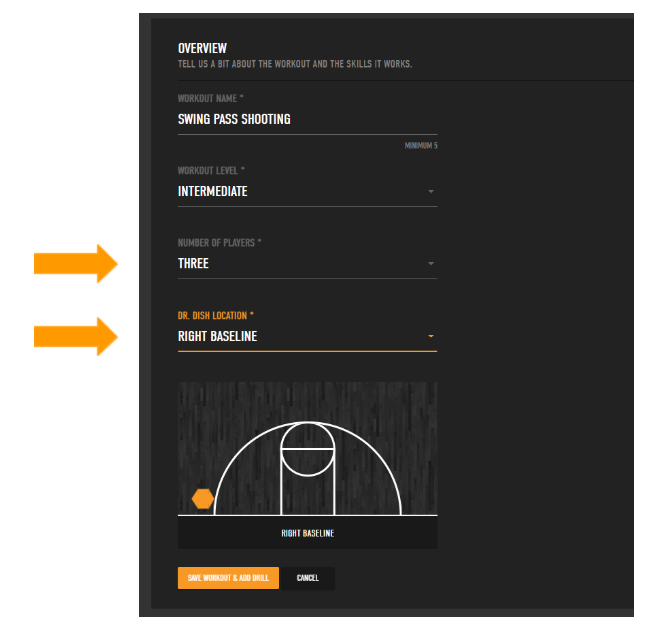 The first new field asks for "Number of Players." This is a classifying tool similar to the workout level for you and the players. It does not make a difference as to how the machine operates, but will let Coach's know how many players are to do this drill or workout.
The second new field is for the "Dr. Dish Location". When choosing this, keep in my this location will remain here for the entire workout and cannot be changed in between drills.

You have the option to pick from the traditional under the basket, or NEW options that read: Right Baseline, Right Wing, Top of the Key, Left Wing, or Left Baseline.
The next screen will remain the same as before, begin to create your first drill in the workout and describe it. The main difference here is that when you choose drill type, your options are only 2 point or 3 point. This will define the passing arc the machine will allow. Not necessarily that it will create a 2 or 3 point shot for your players.


*Keep reading to see an example.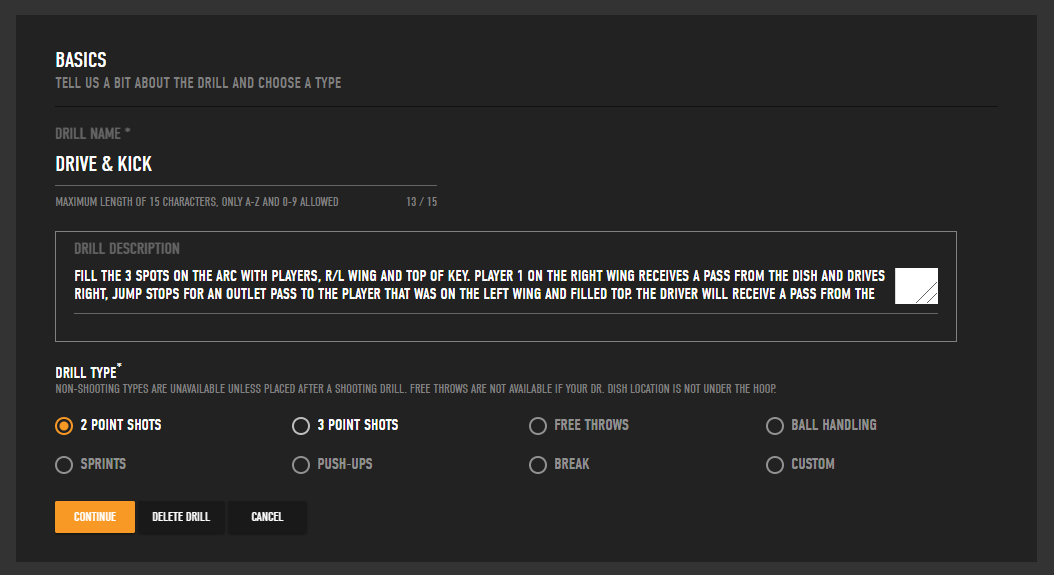 Next, choose your Drill Goal, notice that some options are grayed out and you are only able to select Taken or Timed. This is because you are not able to use the shot tracker in this setting.

The next screen shows a court view where you can give life to your drill! Choose the passing locations for the Dish by clicking with your mouse. See the Arc difference when you choose 2 PT or 3 PT for "Drill Type" in the previous screen.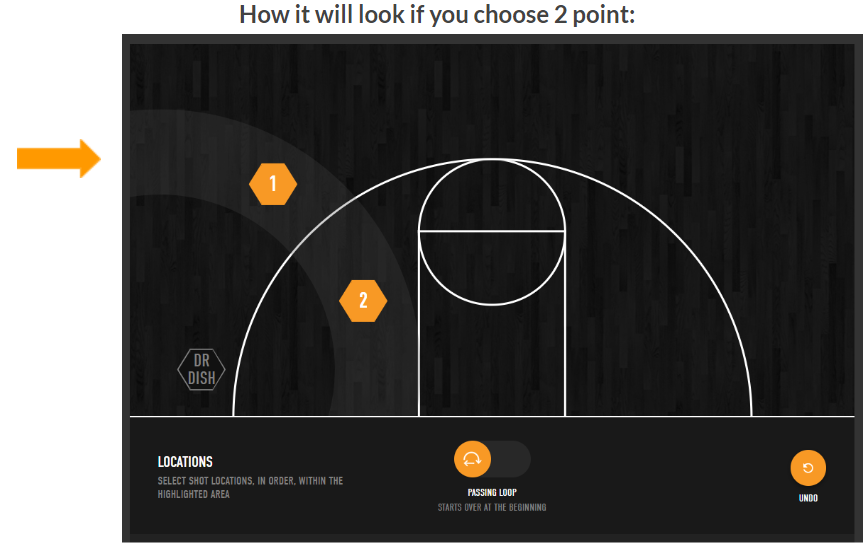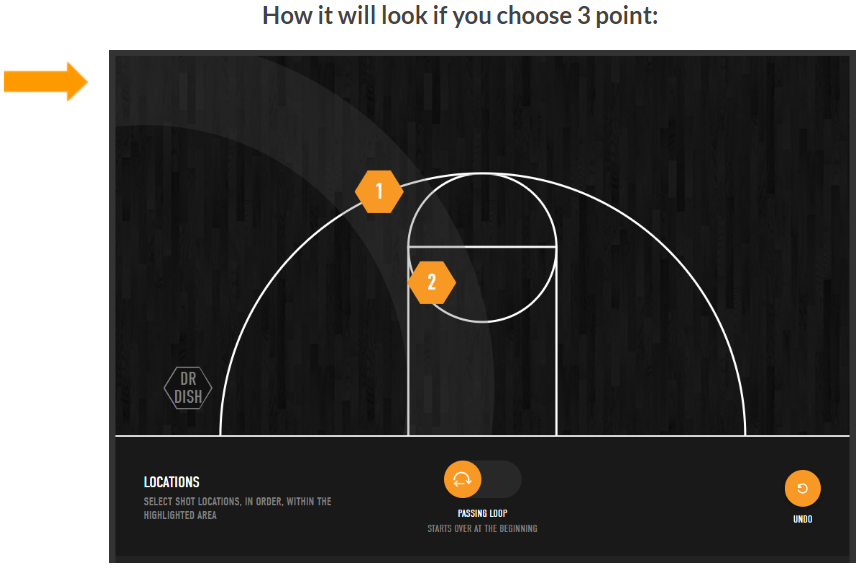 Finish the drill by picking the attributes, and uploading a video if you'd like.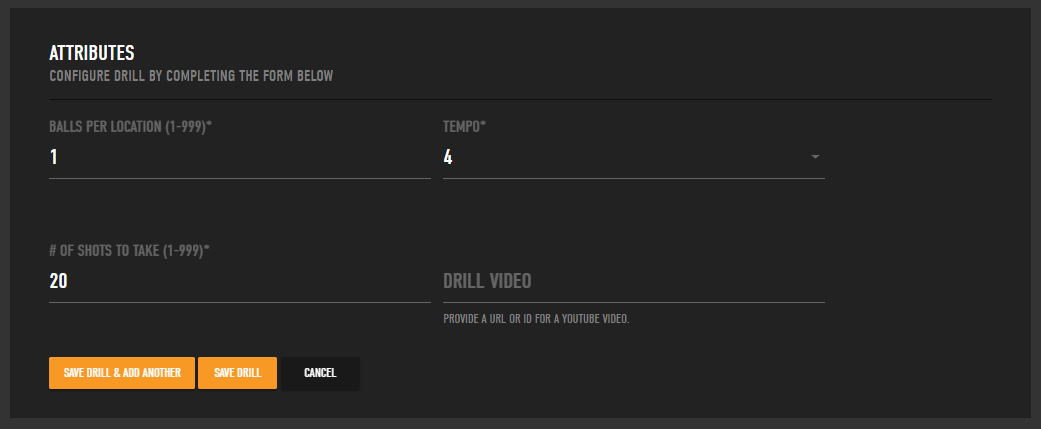 If you click save drill, it will bring you to the workout preview screen below. From here you can add another drill or assign this workout. Keep in mind if you want to add another drill, the machine will have to remain in the same location for this whole workout.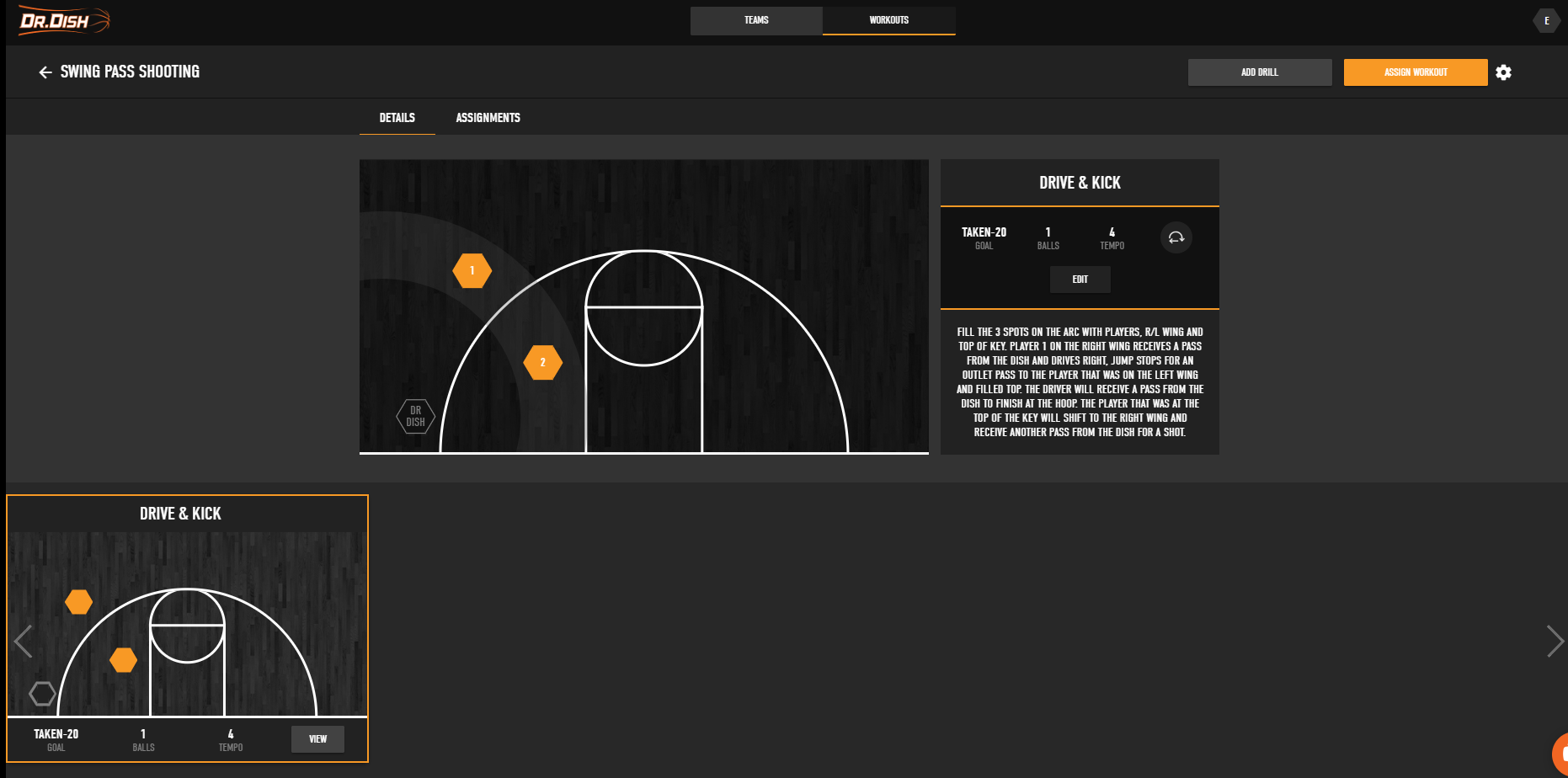 . . . . .
TOP 3 THINGS TO REMEMBER WHEN USING THIS NEW FEATURE IN SKILL BUILDER:
When you create a workout using this new "away from the basket feature" the entire workout must be made in this setting.
When you pick your Dish location in skill builder, know that when you get on the court, face the machine directly at the hoop, pointing straight (otherwise it will not pass properly!) **See images below for reference on setting the machine up accurately.
You can still save these workouts! When using the away from the basket feature in skill builder, you can save the workout and it won't affect your shooting percentage. For example- let's say you complete a workout, the machine will read "0 makes/100 takes" because there is no shot tracking in this setting. When you save these stats, it will NOT affect your overview stats, %, etc. from the overview/dashboard perspective. They simply just don't add to your totals.
If you have any questions about this new feature in Skill Builder please give us a call at 1-888-887-7453 or send us a message.
For Pro/All-Star customers, if you would like a TMS/Skill builder demo please fill out a request a demo form and someone will be in touch with you shortly.
Example of how to set up the machine with a Skill Builder drill built with dish on right wing: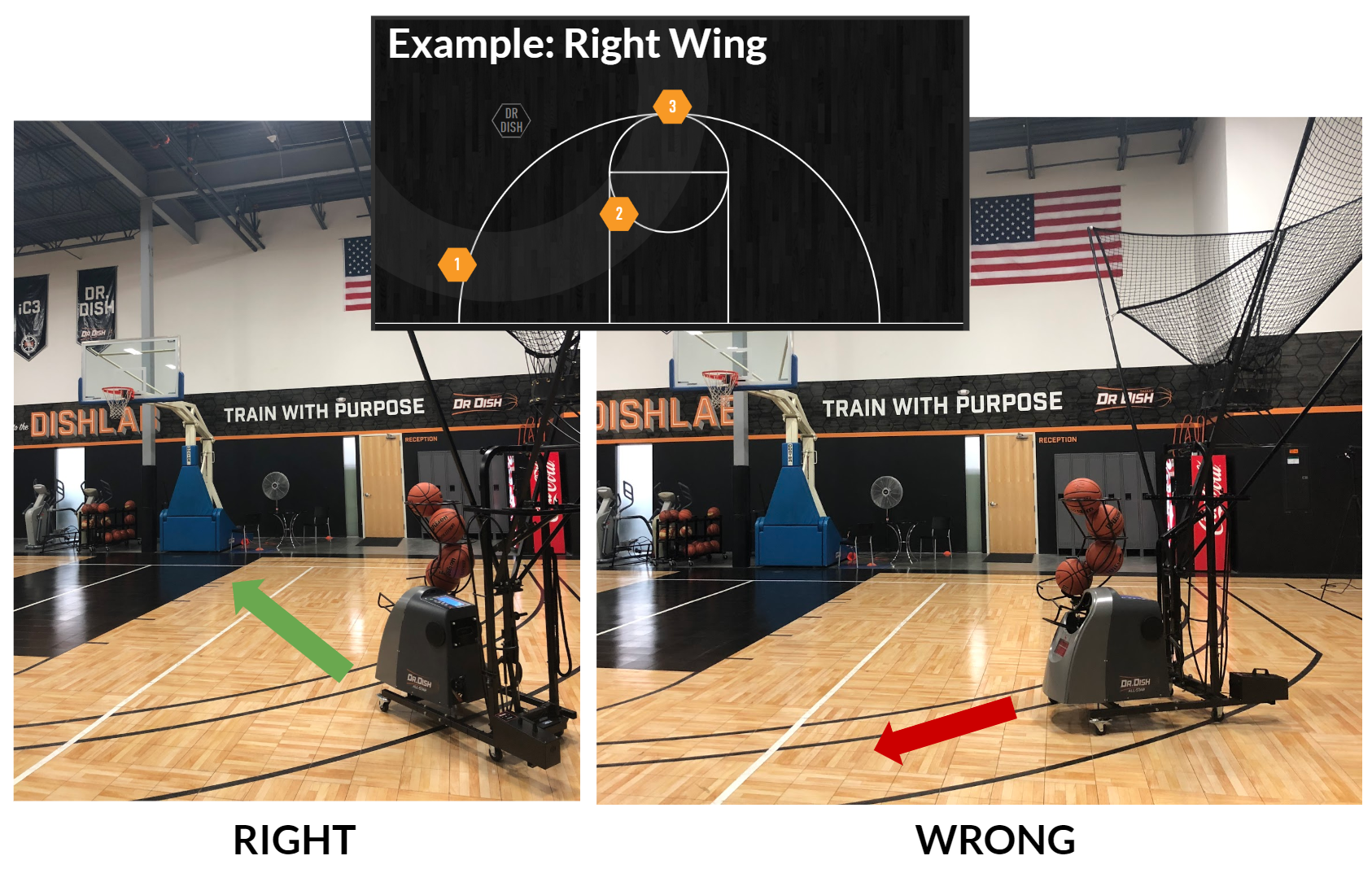 Example of how to set up the machine with a Skill Builder drill built with dish in the left corner: