The Regular Season is Coming to a Close...What's Next?
by Jefferson Mason, on Mar 11, 2022 3:30:00 PM
For basketball players this is the best time of the year. It's the time where dreams become reality and all the hard work and dedication comes to the forefront. Post season and playoff time can be stressful and exhilarating with a bunch of mixed emotions in between.
For the most part players are either on good teams that have a chance to make a playoff run or are on teams that may need a miracle to advance. Let's talk about a few things players on both ends of the spectrum can expect and do to have success in these last weeks of the season.
---
Anything is possible in march
The basketball season can be up and down and most coaches will say it's important to be playing your best basketball at the end of the year. When players find themselves on the back end of a tough season, it's very important to shift mindsets going into the last few weeks of practice before playoffs. Typically a low seeded team will be facing a well oiled machine and that team is typically looking past their first round match up. This is where upsets can and do happen.
If your team is a low seed the piece of advice I would give is there is nothing to lose. No need to play up tight, no need to worry about losing because that's what's "supposed" to happen. The post season is a new opportunity because everyone's season resets then. It's win or go home at this point. Everything that happened throughout the year doesn't matter anymore and this is the time for teams to play their best basketball because anything is possible.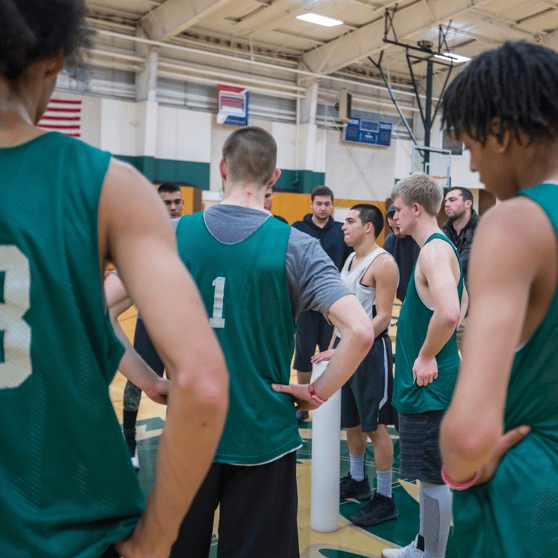 advice for playoffs
One of the best feelings in the world as a basketball player is confidently going into the post season knowing your team is rolling and all on the same page. For coaches and players this is the dream and a playoff run is almost a certainty at this point. With that being said, this mindset can contribute to an early upset if not properly prepared. Coaches must prepare even if they're facing a much lower seed and players must have their foot on the pedal from the jump. lower seeded teams thrive on early confidence within games so the longer a higher seeded team keeps them in it, the more likely there will be a major upset.
Another piece of advice would be to never overlook your opponent no matter what. Even if your team has beaten them already multiple times in the regular season. Lastly, play with the confidence that made your team a top seed. There is no need to play scared or worried because the proof is in the success of the season.
confidence is key
Ultimately the best piece of advice I can give based on my past experience as a player and current role as a trainer/coach is that confidence paired with preparation and execution will always be the largest pieces of success during the postseason. At the end of the day it doesn't matter what end of the spectrum you're on as a team if confidence is lacking. It's the key ingredient to success on any level so make sure that each player and coach has had their motivational chat and is riding high goin into the best time of the basketball season!
What's next?
Confidence can be built and increased during the offseason with game-like training. Coaches and players that are looking to get an edge and build skill need to check out Dr. Dish shooting machines. Having the best training tool at your fingertips is a great way for increased growth, accountability, confidence and long term success.