National Wheelchair Basketball Association Partners with Dr. Dish
by Aaron Lange, on Nov 22, 2021 3:30:20 PM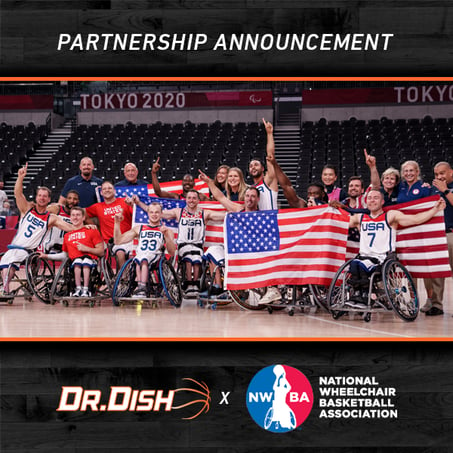 The National Wheelchair Basketball Association (NWBA) is excited to announce a new partnership with Dr. Dish Basketball, as the Official Shooting Machine of the NWBA.
COLORADO SPRINGS, Co. - The National Wheelchair Basketball Association (NWBA) has announced Dr. Dish as the "exclusive shooting machine company of the NWBA", the world's original and longest standing wheelchair basketball national governing organization.
"Our goal at Dr. Dish Basketball is to help athletes around the world build confidence in sports and life. We can't wait to watch the wheelchair basketball teams and players compete and develop their skills on our Dr. Dish machines. Becoming the official shooting machine of the NWBA is an honor, and we're excited to provide new opportunities for members to Be Better Every Day."
- Doug Campbell, Founder and CEO, Dr. Dish Basketball
Through this partnership, NWBA members will be offered exclusive pricing on Dr. Dish products. Dr. Dish will also be creating wheelchair basketball drills and workouts that can be done with or without a Dr. Dish machine.
This partnership was kickstarted by introduction from Nick Pryor, Program Manager at Ability360. Ability360 fields an Adult Division II and Women's Division teams with the NWBA. Ability360 is a Dr. Dish Customer who has seen great development from using the machines.
"I would like to see every program have access to Dr. Dish because there are so many benefits in having one of their machines." Pryor explains the benefits of Ability360 teams having a Dr. Dish machine, "We use our Dr. Dish machine at every practice, and it really helps to maximize our time. I know a lot of NWBA programs and teams don't have a lot of time to practice and it allows us to combine drills and get more repetitions."
-Nick Pryor, Program Coordinator, Ability360 Phoenix, AZ
Please check the NWBA Resource Center at www.nwba.org/resourcecenter for information on NWBA benefits related to Dr. Dish.
For more information on Dr. Dish Basketball products please visit drdishbasketball.com.
For more information on the NWBA, including the 2021 Olympic Gold Medalist team , please visit nwba.org
###
---
ABOUT DR. DISH BASKETBALL
A division of Airborne Athletics, Inc., Dr. Dish Basketball is the premier provider of basketball shooting machines and offers the most versatile and technologically advanced training solutions in the world. As leaders in innovation, the Dr. Dish training experience allows players around the world to quickly improve their skills via real-time analytics as well as training content from world-class professional trainers. Dr. Dish provides training equipment for many of the top basketball programs around the world including the Philadelphia 76ers, the University of North Carolina, Real Madrid, the NBA Global Academy, and countless other teams and professional basketball players in both gym and home settings.
For further information about Dr. Dish Basketball, visit drdishbasketball.com
ABOUT NWBA
The National Wheelchair Basketball Association is the recognized National Organization for Wheelchair Basketball by the International Wheelchair Basketball Federation and the High- Performance Management Organization by the United States Olympic & Paralympic Committee. The NWBA trains and selects teams for participation in the Paralympic Games, World Championships, and other international competitions. The NWBA was founded in 1949, and today consists of 225 teams across seven divisions: Adult Division (I, II and III), Women's Division, Intercollegiate Men's Division, Intercollegiate Women's Division and Junior Division.
For more information about NWBA, visit: www.nwba.org.