The Science of Shooting: Is a Higher Arc Better?
by Chris Jansen, on Sep 27, 2023 9:15:00 AM
Hoopers around the world are always trying to optimize their shot year round, and one of the most important aspects of that is crafting the perfect arc. From a young age, your coach always told you to get a high arc on your shot. It all seems pretty simple: The higher the arc of your shot, the better chance the ball has to go in, right?
Unfortunately, shooting is never as simple as it may seem. Heck, even the best three point shooters in the NBA fail 3 out of 5 times. Below, we explore if a high arc is truly the best option for your jumpshot.
What is Considered "Suboptimal" Arc?
We know that a low shooting arc is typically not ideal for the best field goal percentage, oftentimes associated with being "flat". With a lower arc, there is far less surface area available for the ball to pass through the hoop. This results in slim margins for error, especially from further distances, limiting your ability to make shots from deep at a high rate. Look at Michael Jordan and Kobe Bryant for example, they were phenomenal shooters from the midrange and inside. However, they finished their careers with below-average 3 point percentages, each at 32%. This could possibly be attributed to their low arcing shots, and may have even hindered them as they stepped further out to attempt longer shots. Lower arcs are typically associated with entry angles of 42-degrees or less. You will often see shooters will low arc hit the front of the rim, or bounce it hard off the back of the rim/backboard.
So if a low shooting arc is detrimental to your field goal percentage, then a high arc must be beneficial? Well, yes and no. A high shooting arc is great because there is more available surface area for the ball to pass through the rim at entry. However, higher shooting arcs present issues regarding distance control and aim. With a higher arc, players are less likely to be able to control distances as they approach further ranges from the basket. Players have to generate more force in their lower half to launch the ball at a higher arc, resulting in less control of their shot. Too high of an arc occurs when the ball enters the hoop at an entry angle of 48-degrees or more. Players with a high arc tend to miss short, or have shots bounce out often due to the ball coming down from its "peak" at a fast rate.
What is Considered "Optimal" Arc?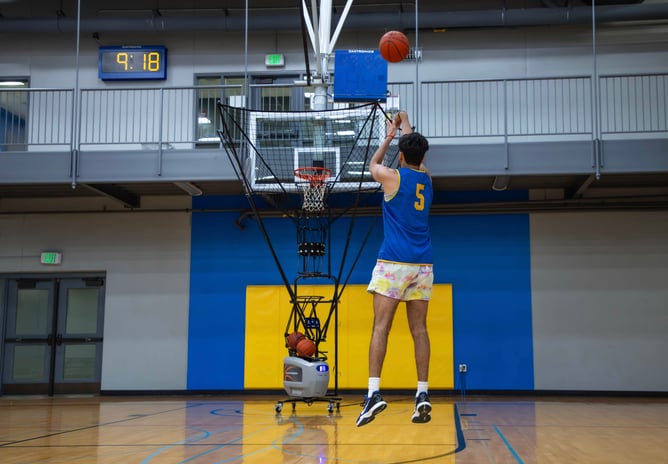 So what is the ideal shot arc and entry angle? Like most things in life, balance is key. A 45-degree entry angle is seen as the best option for most shooters, with 2 degrees of leeway each way (43-47°). Here, players have an ideal amount of surface area for the ball to go in the rim, while not sacrificing for distance control and aim. Oftentimes, a perfect arc will not result in a perfect swish like most think, but rather grazing the back of the rim and going directly in.
It's important to note that while a 45-degree entry angle is considered optimal by many studies and shooting coaches worldwide, there are exceptions. Many players without optimal arc still thrive. Ray Allen had one of the flattest shots in the entire NBA, but is still considered one of the best shooters ever with a career 40% 3 point field goal percentage.
Seperate Yourself
Because most of us aren't Ray Allen, it all comes down to giving yourself the best chance to succeed. At Dr. Dish, we offer a range of shooting machine models based on your training needs to help you perfect that jumper. Our net height is engineered for players to achieve a 45-degree entry angle, which results in building good shooting habits in practice and game settings. Winning on the margins and in the details oftentimes is what separates you from the others. Shooting with the correct arc at least guarantees your shot the best conditions possible to go in.