Dr. Dish Skill Builder: 5 Star Shooting Workout
by Jefferson Mason, on Feb 23, 2017 10:33:58 AM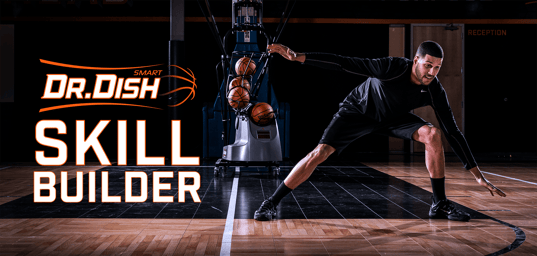 Dr. Dish Basketball is excited to bring you our first Skill Builder workout. Skill Builder allows coaches and trainers to create or select complete workouts that can be shared to players through our mobile app. Shooting stats are then saved and can be viewed and tracked on our Training Management System. Coaches can now see the progression their players are making per workout and over a period of time.

This 5 star shooting workout is centered around shooting on the move. When training, you want to make sure that you're training game-like and at game speed. For most young players it's easy to get into the gym and throw up shots aimlessly and goof around. Unknowingly, players will get into the gym and believe they are training efficiently because that's all they know. Dr. Dish has made players accountable in their training at all levels and has been a breath of fresh air to programs that struggle to get their players to get into the gym to train.
Check out the 5 Star shooting workout video below and see how you can benefit from this complete workout!
5 STAR SHOOTING WORKOUT
This Skill Builder workout focuses on several different skills that are crucial in the game of basketball. It's important for players to be able to shoot stepping into their shot on the move and also from both the left and right directions. Every player uses different footwork depending on how they were taught or are comfortable with. These shooting workouts will force you to turn a different shoulder into your shot each time which is more game-like. After each shooting drill you'll transition immediately into your next drill. Skill Builder allows coaches to sequence multiple shooting drills together or insert a ball-handling or strength and conditioning drill in between as well. The 5 star drill is also a great shooting drill because in game situations players are moving all over the court to get shots and very rarely are sitting in one location the entire time. In these 3 basketball shooting drills you will focus on your 2pt, 3pt, or one dribble pull-up shot. It's necessary to continually shoot a variety of shots so that you are comfortable anywhere on the court.
Ball-Handling
After completing the first shooting drill you will transition directly into your ball-handling drill. In this drill you'll focus on your continuous crossover, behind the back, between the legs triple move. The Dish will display a countdown to let you know how much time you have left in the drill and also to give you a heads up that the next drill will be starting. Make sure to go as hard as you can with the ball-handling. Making mistakes going hard is a part of the game and the only way you know you are working hard during basketball drills. Even the best players in the world can challenge themselves with simple ball-handling moves if they go extremely hard. Make sure to stay low in an athletic stance and keep your eyes up at all times. As soon as the time runs out, toss the ball back to the Dish and get ready to start the next drill!
CONDITIONING
One of the most difficult things to do in training is simulate the fatigue you experience during the game. Skill Builder allows for coaches and trainers to add in specific strength and conditioning drills that will benefit players at anytime of the year. Adding in conditioning between shooting segments is another great way to increase heart rate and simulate fatigue to push yourself even more physically and mentally. In this conditioning drill you will sprint sideline to sideline four times total and as soon as you finish you will sprint to start the next 5 star shooting drill (one dribble pull ups).
Free-Throws
After completing the last 5 star shooting drill, you'll hustle to the Dish and begin your free throw shooting drill. The great thing with Skill Builder is you can program shooting goals by attempts, total makes, location makes, time and also streaks (i.e. make 3 in a row). In this free throw shooting drill you'll make 5 free throws in a row before completing this workout. This is amazing because it adds in a sense of pressure and you cannot cheat the drill with the Dish. It will not stop until you make 5 consecutive free throws which adds accountability and also will help simulate game time pressure situations!

After finishing this Skill Builder workout, you can simply press the stop icon on your mobile device and then press the save icon to upload your stats to the Training Management System database. There coaches, trainers, and players can view the workout and a player's progress over time.

Dr. Dish continues to accelerate player development and also helps make complete training workouts easier and more efficient through Skill Builder. And as usual, always make sure to train hard, train smart, and train with a purpose!

For more information or to schedule a demo on how to utilize Skill Builder please contact us at 952-873-2633 or fill out the form at the bottom of this page.