Top 8 Basketball Training Mistakes Players Make in the Off-Season
by Jefferson Mason, on Jul 30, 2020 7:34:36 AM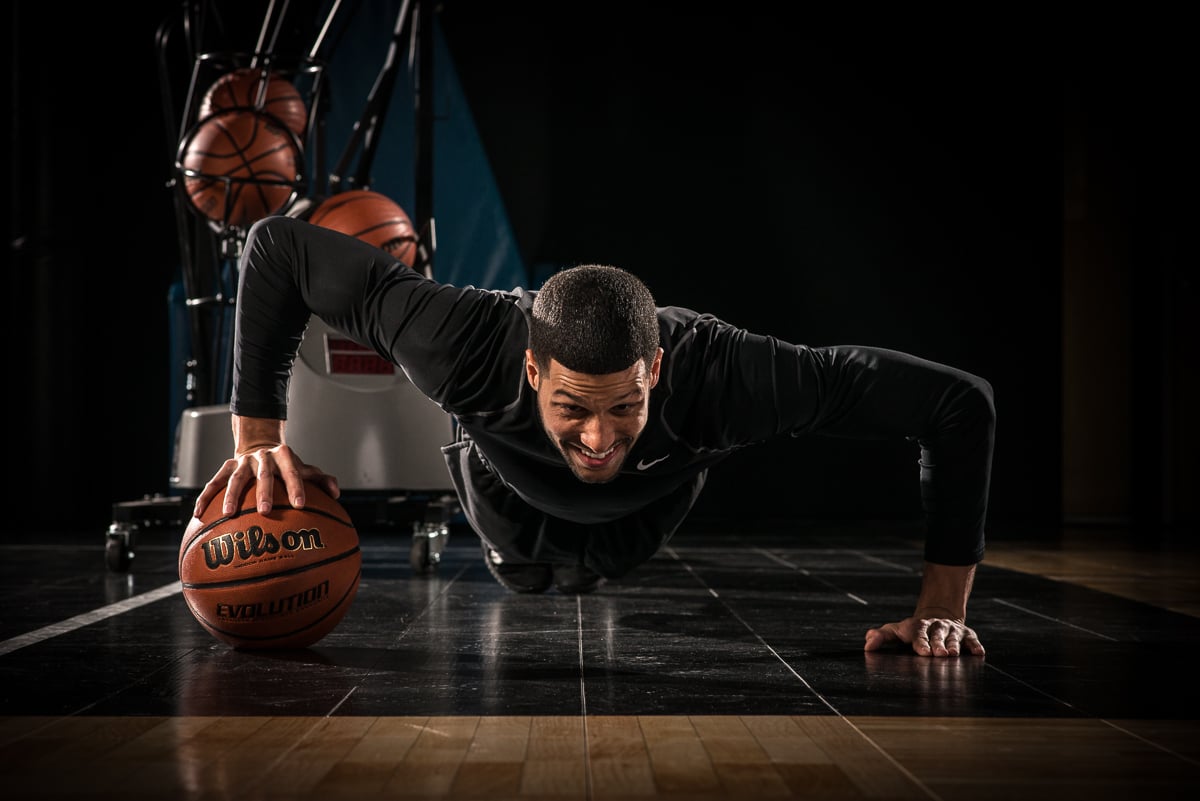 Here at Dr. Dish Basketball we pride ourselves on hard work and dedication. We also preach purposeful training in everything athletes do.
We have all fallen victim to training below our own standards and sometimes these things can be hard to catch or understand. Below we've listed a few mistakes players make when training and working on their shot. Try your best to see which areas you can improve on to become the best version of yourself on the court!
1. Forgetting Form Shooting
One of the first things players forget when working on their shot is form shooting. Many players don't think form shooting is the most fun thing to work on. Younger players want to get into the gym and start launching shots and playing immediately with their friends. Older players that have learned how to train can also forget how important this is while trying to balance working on other skills.
Try to make it a point to start with form shooting or end with form shooting. This gives you a chance to focus and make the necessary adjustments early in your workout or after when you're tired. Form shooting is extremely important when it comes to becoming a great shooter so make it part of your routine and you will see your shot improve .
2. Only Shooting Long Range Shots
Steph Curry came into the league and with other great shooters he motivated players of all ages to become great shooters. It's not uncommon to hear a kid scream "Curry" as they launch a deep three. This enthusiasm is incredible but we must remember that Curry put in a ton of work to become the great shooter he is. Players have to fight the urge to walk into the gym and start launching deep three's or even half court shots.
Start close to the rim to get warmed up and focus on your form shooting. Continue to move out until your form and motion is affected. When your form and motion is affected, your body is telling you that you need to make adjustments to correct your form and consistency with shooting. As you continue to get older and stronger and develop a consistent shot, it becomes easier to take and make three point and deep shots. Develop great habits by following this advice and in the long run it will increase your shooting consistency.
3. Shooting With No Purpose or Goal
One thing I personally get frustrated with is players that shoot and train with no purpose. Getting into the gym is one thing, but training hard is another. Be sure to set goals for yourself so that every day you are training purposefully. These goals can be short term or long term, both play an important role in development and success.
Don't be afraid to challenge yourself and make sure to track your progress towards your goal(s) so you know how to adjust or continue what you are doing. Aimlessly getting shots up will not help with rapid skill development and will hinder your ability to make shots come game time. Make sure to hold yourself accountable and train with purpose every time you step into the gym.
4. Working at One Speed
I constantly preach the importance of pace to basketball players in their training and also during live action. This applies to kids that move at a slow pace or an extremely fast past consistently. Basketball requires players to change direction, pace and utilize agility to get into areas and spots for scoring opportunities.
It's very easy to guard a player that doesn't change pace very often. The hardest players to guard are the ones that can explode on a drop of a dime or the ones that utilize their speed at the right moments. When training make sure to shoot the basketball in a variety of situations and work on changing pace so that its realistic to game action.
5. Eliminating Game Fatigue
If your training or coaching a player its extremely important to eliminate game fatigue. There is never an excuse to be outworked by another person. Players must push themselves with reps and work outside of practice. This will help set the tone and create a mindset of an unstoppable player.
The best feeling in the world is being on the court knowing that you're in better shape then your opponent and also being able to take advantage of that. Eliminating fatigue will also help maintain a consistent shot form which leads to more shots made when it counts the most. If you are working harder then everyone around you in the gym, the results will come.
6. Staying in Comfort Zone
One thing trainers in particular hate is when players try to stay within their comfort zone. Now lets be clear, this doesn't mean try and do random things in games when you haven't prepared. However, it does mean get out of your comfort zone when training so that you can enhance and advance your skill set.
Players have to put themselves in every situation in practice because they may run into those situations come game time. Getting out of your comfort zone also means practicing while tired, happy, sad, frustrated and more. The game of basketball is chaotic and there is no perfect scenario. Get out of your comfort zone while training and it will help you become more comfortable in uncomfortable situations.
7. Focusing on Only "Time" in Gym
The worst thing a player can do is sit and a gym for a few hours just to say they did it. You're better off just working hard for 20 minutes and leaving. Getting to the gym and wasting most of your time messing around and not training with purpose will only hindering developing your skill set.
My coaches always told me to get my work in early and then if I wanted to hangout at the gym or relax with friends I could do that after. Developing bad habits is easy, so be sure to start early and do things the right way.
8. Quitting When it Gets Tough
The easiest thing players and people in general can do is quit when things are tough. It's the easiest route to take and often, gives a false sense of relief. When you quit you never give yourself a chance to see what you're capable of and you sell yourself short.
In the long run you'll regret not taking the chance or persevering and by then, the opportunity will be long gone. Always bet on yourself and never give up, often times we are capable of more than what we think we are.
---
This blog was inspired by a post from our Instagram (pictured below). Be sure to follow us @drdishbball for more basketball training related content!
If you haven't already be sure to check out our Dr. Dish shooting machine lineup to see how any one of our models can enhance your training and practices. We've specifically created these machines to help accelerate skill development which will in turn help players of all ages reach their full potential!