Basketball Shooting Machines: Why BYU Choosing Dr. Dish was a No Brainer
by Jefferson Mason, on Nov 21, 2016 1:57:37 PM
Dr. Dish had the chance to speak with Andrew May who is BYU Men's Basketball Director of Operations, about his decision to choose a Dr. Dish Shooting Machine. We are extremely excited to be a part of BYU's great tradition and very privileged to be a part of their future success. Below is a brief video on why BYU chose to go with Dr. Dish shooting machines after doing their research.
Best Training Equipment for New Facility
BYU has absolutely amazing sports facilities and they just built a brand new basketball facility recently. BYU had the opportunity to purchase some basketball shooting machines and decided to do some research to make sure they were getting the highest quality machine available. Andrew May was tasked to research the options and make the best decision for the basketball program. Andrew was excited about the optional added accessories and features our shooting machines have and how the players would appreciate them. The integrated speaker system which blast music for the players to workout to, is a feature Andrew knew the player would love and utilize. The cordless battery option makes for an easy transition around the court and eliminates the need for an extension cord.
Best Value in a Shooting Machine
It was important for BYU to get the most value for their money. Every college team has a budget they must stay within, so it's essential to make the correct decision when it comes to training equipment. After doing his research, Andrew quickly realized that our shooting machines are by far the most advanced shooting machine in the world. Dr. Dish shooting machines are technology based and our team here is constantly working on the next big thing. The unique training capabilities have truly made our shooting machines the premiere choice among coaches and have also not killed the budget they must follow.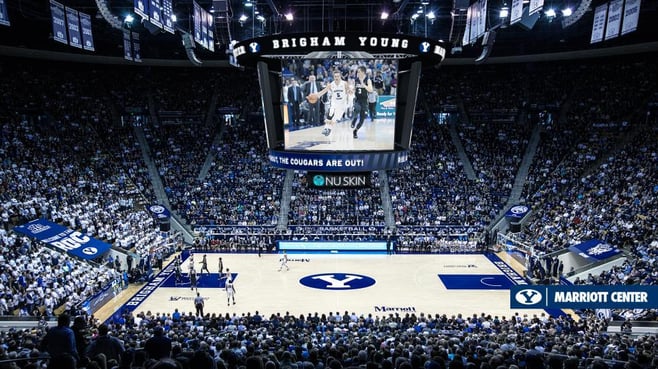 Statistical Feedback and Reliability
Every college program is looking for an edge and having reliable statistical feedback is crucial for this. Everything is mobile these days and players are constantly on their phones chatting and sharing things. This is what makes our mobile app so cool when you consider having stats at your finger tips and also the ability to share it with peers and coaches. BYU was also looking for great customer service and they knew our customer service would always be readily available. Dr. Dish shooting machines are built to last and come with a 5 year all parts warranty. Our engineers make sure the machine is consistent and accurate in everything it does.
Coaches all around the world are choosing Dr. Dish shooting machines and taking their team success and training to the next level! Here at Dr. Dish we always make sure to train hard, train smart and train with a purpose!
---
Want to hear what others are saying about our Shooting Machines? Check out our Reviews Page!