Basketball Shooting Machines: A Buyers Guide (2022 Edition)
by Aaron Lange, on Jan 10, 2022 9:00:00 AM
Introduction
A basketball shooting machine is a training tool that allows players to get up thousands of reps efficiently without having to waste time chasing down rebounds. Our Dr. Dish basketball machines offer that by catching made and missed shots plus provide on-demand training and advanced analytics giving a fully immersive training experience.
We know that a basketball shooting machine can be a big purchase and we're here to help make the process a breeze.
---
Questions to Ask
As you begin your search, you should start off by asking yourself or your purchasing group (coaching staff, booster club, administration, family) a few questions.
Below are many of the core questions to help you get started with the process.
Who will be using the machine? What ages of players, skill levels, etc.?
We work with all ages and skill levels of players. From youth basketball players to NBA teams, hoopers all over the world use the Dr. Dish. When deciding which model is best for your situation, consider the end users. Will it be used by a team, or individual? Do your players like to work on post play? Our various models offer different features, giving you plenty of options.
TIP: We have a variety of accessories that you can add on to your purchase. An All-Terrain cart for outdoor use, custom graphics to show your team pride, a phone mount for displaying workout details, and even a custom bluetooth speaker to pump the jams while you train.
*Please note, not ALL accessories are available on all Dr. Dish models.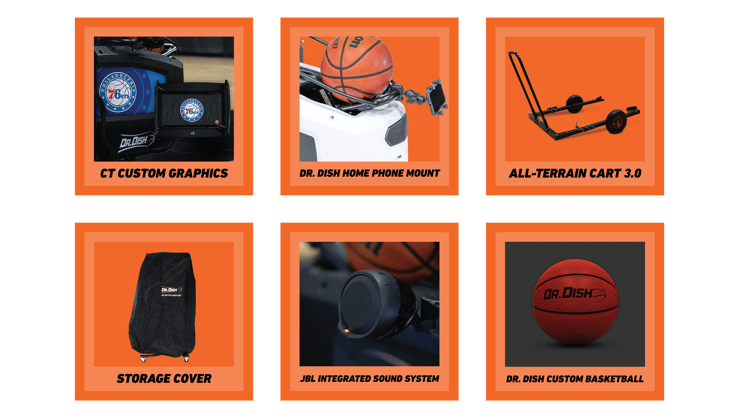 What features of the machine are most important to us?
Shooting machines have a variety of levels in terms of features and functionality. We like to ask customers to think about how much technology they would like to maximize. This is important, as there is no way to add on to a machine to upgrade it after it is purchased.
If you are on the fence, we always suggest more tech rather than less. With our Rebel+, All Star+, CT and Dr. Dish Home machines, the software is updated automatically. This allows you to utilize new features and workouts without you having to do anything required on your end.
Make sure to consider these features when shopping around:
Number of basketballs the rebounder accommodates
Speed of return (number of seconds adjustable between passes)
Passing Distances Available
Distributable locations
Stat tracking ability
Use our online compare tool to help lay out side by side features of 2 Dr. Dish machines.
The links below can help you learn more about our Training Management System (TMS). This is a system designed for Coaches to help them manage their team's shooting activity and workouts.
Dr. Dish TMS -- FREE Account Sign Up AND Dr. Dish TMS Overview Demo
Where do you plan to store your machine when it is not in use?
Consider things like storage and warranty. All Dr. Dish machines fit through a standard doorway and are only 30 inches wide, and a little over 6 feet tall (78 inches). Our professional lineup (Rebel+, All Star+, and CT) have full 5-year warranties, the Home Dish Home has a 2-year warranty and our iC3 shot trainer has a 1-year warranty. This is because the commercial lineup is typically used in higher-rep and usage scenarios.
Our customer service team and support center are great resources to use if you have any issues with your machine and will support you throughout the lifetime of your purchase.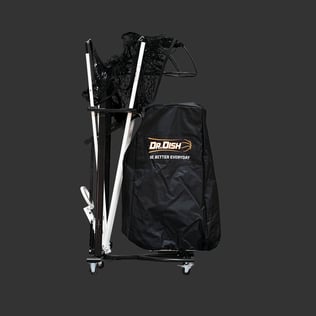 How will we purchase the machine?
We know budgets are a real thing. We've designed our purchasing options to be flexible. Did you know we have interest-free school payment plans? With that, Schools only pay 50% down to get the machine delivered. From there, the school has 12 months with no interest to pay the other half. All that is needed is completing a simple agreement with your Principal, AD, or Booster Club President!
If you're a basketball facility, our leasing model is made for you. Lower your initial investment, and build your business faster than ever before. Dreaming big? If you lease 10 FCLTY shooting machines, we'll give you the 11th one on us. Learn more about our leasing program.
For the Dr. Dish Home and IC3 Shot Trainer, we offer financing through Affirm. Interest rates start at 0%, with monthly payments as low as $118/month. Terms are dependent on your credit score and pre-approval. Your monthly payments could be less than what you are currently paying for a trainer per session, think about that!
Do you have a current machine? If so, would you like to trade that in?
We offer trade in options for any automatic machine, including our competitors models! If you have an old machine, even if it no longer is functional, we will offer a trade in credit towards a new Dr. Dish! If you've used older machines in the past, a lot has changed. Our Dr. Dish machines are lighter weight, easier to use, and offer more technology than anything else on the market. We've prided ourselves on developing specific technology for every type of person in the basketball community.

If you're a parent of a young hooper, a Coach of a high school or college team, or a basketball business owner, we've got something made just for you, so read on!
---
Shooting Machine Models To SHOP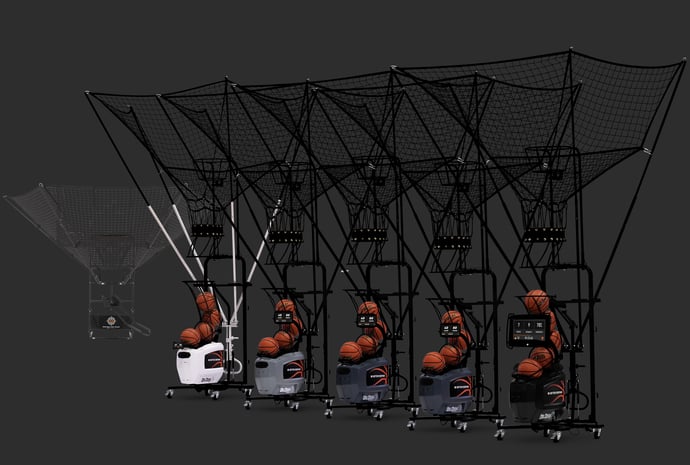 At Dr. Dish Basketball we currently have 5 core basketball shooting machines models with different features and capabilities to best serve the basketball community. Find out more about each models below.
(2019): Complete training. The Dr. Dish CT is the most advanced shooting machine on the market. Offering a 15.6 inch touch screen display, the ability to track up to 5 players at once, and unlimited access to TMS, the CT is the perfect machine for individual or team training.

---
(2021): Next level analytics. The new All-Star plus gives you free access to TMS, the ability to save your stats, and access 50+ built in small group drills. The 2021 design offers an 8 inch touchscreen, and no longer requires the use of a smartphone or tablet to access TMS.

---
(2021): High reps + high tech. The new Rebel plus is a cost-effective option that will track your makes and misses, give you the ability to create your own drills, and more. The new design features an 8 inch touchscreen display to easily view stats and program workouts.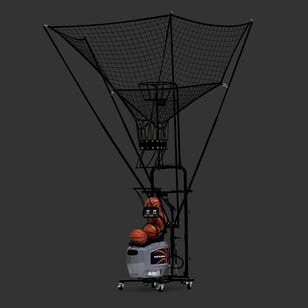 ---
(New in 2022) Meet your new business partner, the Dr. Dish FCLTY. The only shooting machine designed exclusively for facilities, the FCLTY model will help bring your basketball business to life faster than ever before. With customized leaderboards and remote casting to any TV in your facility, this machine was designed with your business in mind. Also, our leasing model helps you lower your up-front costs and maximize your investment, to make your dreams reality.
Take a look at this story to see why Swish 365 upgraded to Dr. Dish for all 5 of their Ohio Facilities.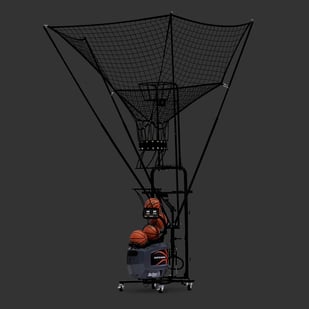 ---
(Residential Use Only - 2019): Pro training, in your driveway. The Dr. Dish Home is the first ever shooting machine designed specifically for home. In addition to offering over 1,000 shots per hour, the Home Dish is powered by the Dr. Dish Player App. Inside the app you can access 150+ on demand workouts, build your own workouts, save your stats, and compete with users via leaderboards. To unlock the full features of the player app, a $39 per month membership is required.
If you're looking for a home solution, be sure to check out our popular 5 Features to Compare When Shopping At-Home Basketball Training Solutions post, that dives deeper in to the comparisons specific to home units.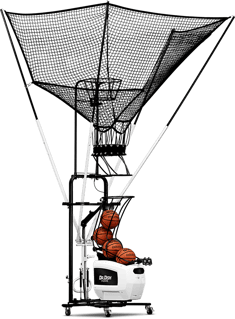 ---
(Non-Automatic Rebounder): Our iC3 Shot Trainer is a "net and ramp" system. With a netting system similar to our automatic machines, the iC3 manually rolls rebounds back to the shooter. It is easy to set up, and can be used in or outdoors.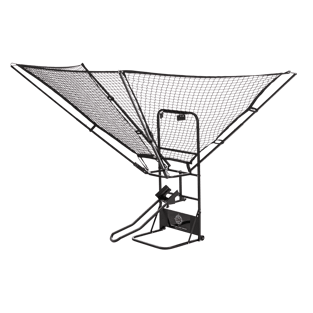 ---
Conclusion
Thank you for taking the time to learn more about our various basketball shooting machine options. We take pride in creating products that will fit the needs of everyone involved with the game of basketball. We'd love to add you to our #DrDishFam and help play a small part in your future success!
---
Contact Us
Do you have any other questions? Our Dr. Dish team is available 8 am - 5 pm CT during the business days of Monday-Friday. Contact us at 1-888-887-7453 or send us a message at info@drdishbasketball.com.
Need pricing on a specific model? Request pricing below, and a member of our team will reach out to get you what you need!