What is a Basketball Shooting Machine?
by Emily Stiemsma, on Feb 7, 2020 3:36:52 PM
Here at Dr. Dish Basketball we usually get two responses when we say we make "basketball shooting machines". One group knows exactly who we are and the details of a shooting machine. As we continue to broaden our reach, we've learned that most need a little bit more info on what a basketball shooting gun is and how it works! Keep reading this blog post for all the details.
What is a basketball shooting machine?
A shooting gun lines up directly underneath a basketball hoop. With an extendable netting system, it captures all made and missed shots taken on the basket. The ball funnels down the system, into the ball feed, and is launched out automatically for a continuous feed of passes.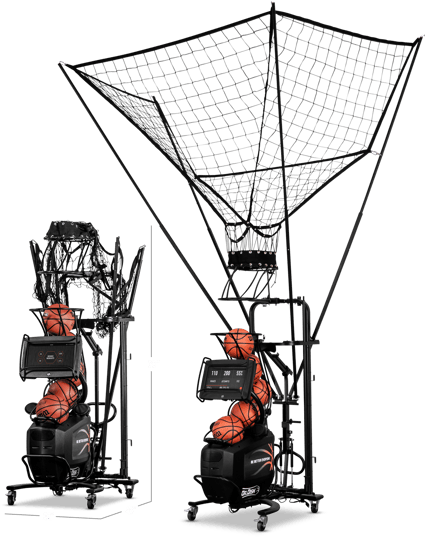 (Here is a video of our all-new Dr. Dish Home shooting machine - designed specifically for home use).
On all of our models the body of the machine rotates automatically 180 degrees, for full court passing. From baseline to baseline, get up shots where ever you want. The unit does need power at all times to operate.

Our system is powered through a feed motor, that feeds the ball down into launch position. A launch arm then uses force to pass out one ball at a time. No, no basketballs are harmed in the process ;).
You can choose your locations, tempo (speed at which the balls pass out), and number of balls per location for a totally customized training experience. Depending on the model, they are programmed by a touch pad, touchscreen, or through a phone/tablet integration.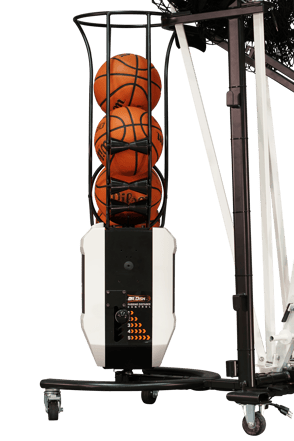 (Pictured here is the passing distance toggle with 5 preset distances on the back of each of our machines, which allows for close or far passes based on preference).

The best part about the Dr. Dish, is it's ability to be custom programmed at 19+ locations. We also offer out of order passing, so players can shoot beyond the sprinkler pattern and into more advanced patterns like the 5 Star.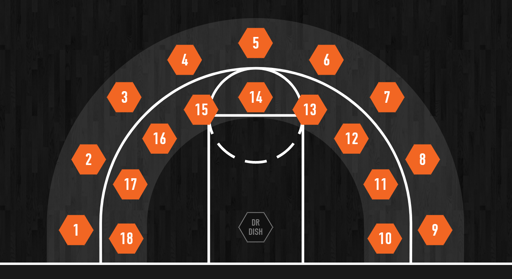 The Dr. Dish Standard
All of our models are built with the same standards and quality and we stand behind all of them with confidence. Machines designed for schools or training facilities are in higher usage scenarios, come with a higher upfront cost and for that reason include a longer warranty.
Our shooting machines can withstand temperature differences, but they need to be protected from moisture. For outdoor usage, we suggest a dry, indoor storage area.
Do I Need Anything Else?
To start training on a Dr. Dish, once it is set up, simply plug it in and gather 2-5 basketballs so that there is always a ball waiting to be passed out.

Here are some other accessories you may want to consider.
Beyond the Basics
Another thing that makes the Dr. Dish training experience unique is our extensive library of preset drills and workouts. With one of our smart models, you can access these 150 pro-trainer workouts through an App or touchscreen. Simply follow along with the video instruction and the machine will automatically program itself.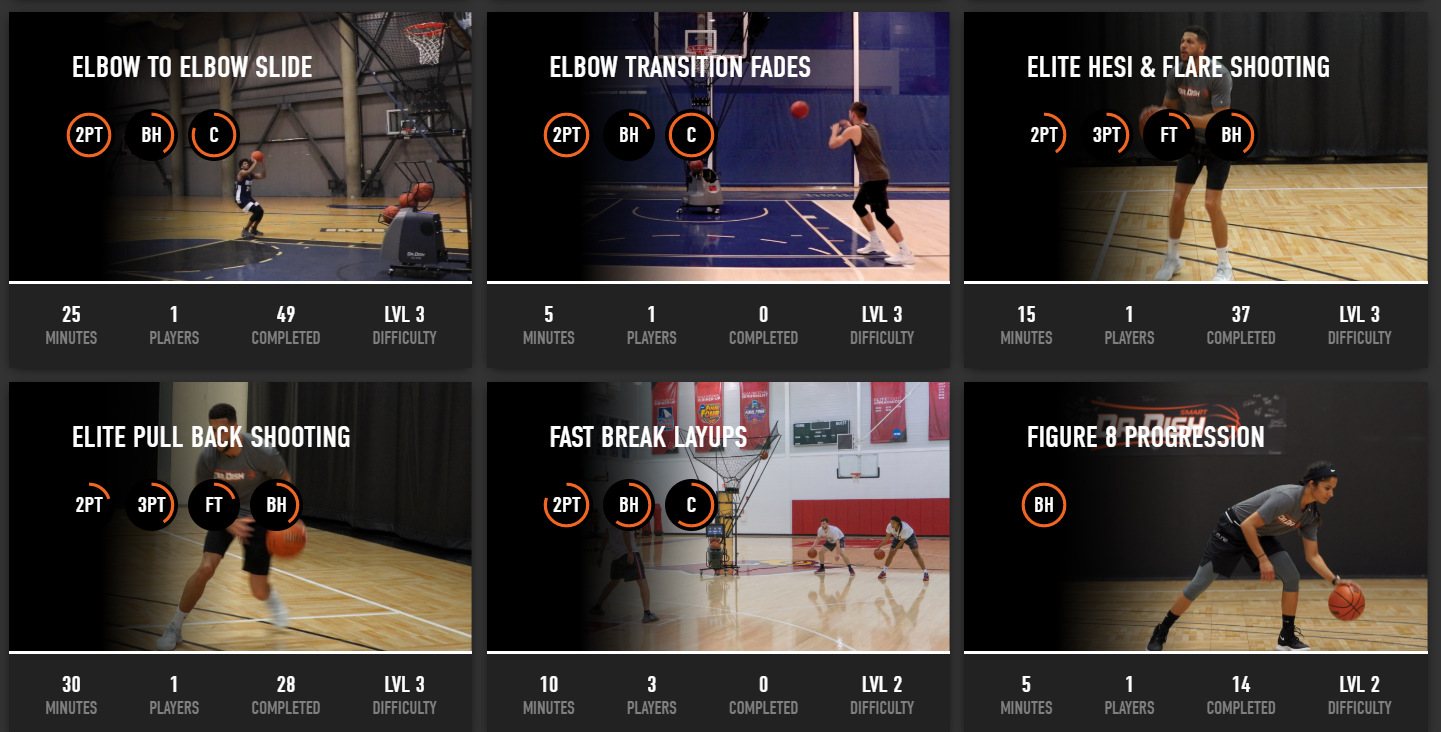 See what it's like to train on our Dr. Dish CT:
* Certain advanced features are not available on the Dr. Dish Rebel and requires Membership on the Dr. Dish Home.
Why train on a shooting machine?
A shooting machine allows you to focus on your shot form through constant repetition, rather than having your training being broken up by chasing rebounds. We call this smart and efficient training. It's a fact that an individual can get up 10x more shots training on a Dr. Dish versus traditional shooting.
It allows allows you to better develop muscle memory and improve shot arch.
Dr. Dish also makes the lightest machines on the market, ranging from 250-290 lbs, compact and lightweight design makes storage easy, and set up and take down simple.
We have thousands of shooting machines in the field that have transformed player's lives, and school programs.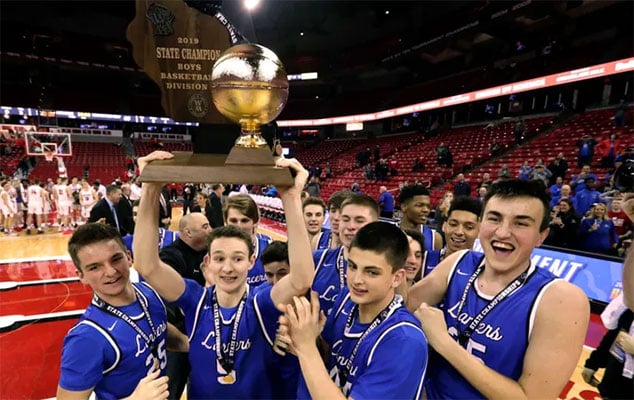 What Model is Best For You?
Deciding which of our 4 models is the best fit for you depends on a few different things such as:
Where is your intended use (School, home, training facility, other)?
Do you want advanced features like unlimited stat tracking and on-demand workouts or do you just want to get reps up?
What is your budget?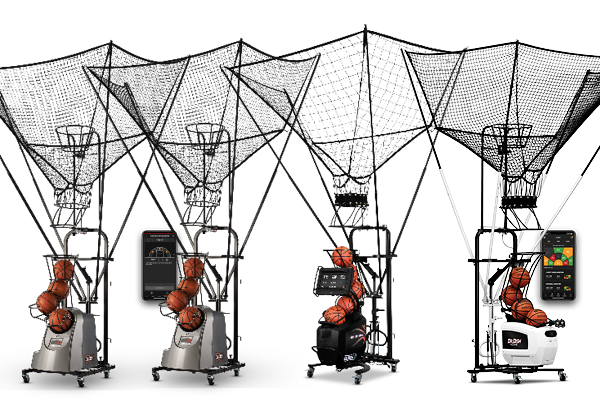 No matter your scenario, we are here to help you navigate through this decision and make you a part of the Dr. Dish Family - the number one choice for a basketball shooting machine!
For more pricing information, current discounts and promotions, tap the button below or give us a call at 952-873-2633.

Like this post? Check out: Why Basketball Shooting Machines Are Becoming a Necessity