Dr. Dish Fam Show Out in the NBA Playoffs
by Jeremy Rushing, on Jun 21, 2022 3:30:00 PM
The 2022 NBA Playoffs have come to a close, and we want to congratulate the Golden State Warriors for taking home their seventh Championship in franchise history and fourth in the last eight seasons. The Dubs proved just how valuable shooting is in today's game!
Our Dr. Dish Fam was well-represented over the course of this postseason, with the Mavericks' Luka Doncic, Bucks' Jrue Holiday, and Bulls' Zach Lavine all advancing past the regular season.
---
luka doncic
Luka took yet another step forward in his already amazing career during this playoff run. The Slovenian averaged 31 points, 9 rebounds, and 6 assists, carrying Dallas to the Western Conference Finals.
In addition to his overall playoff totals, Doncic continued to solidify his legacy of elimination game performances. Down 3-2 in their conference semifinal series with Phoenix, Luka scored 33 and 35 points in games 6 and 7 respectively to lead the Mavs to a series win.
In his three-year career, Doncic averages an NBA-record 35 points along with 10 rebounds and 8 assists in playoff elimination games.
Jrue Holiday
It's been a quite the year for the 2021 NBA Champion, Olympic Gold Medalist, and 2021-22 NBA Teammate of the Year
While Milwaukee ultimately fell short in their journey for back-to-back NBA titles, Holiday did his part in the playoffs to give them a chance, averaging 19 points, 6 rebounds, and 5 assists. He also did the work on the defensive end, holding opponents to the lowest Field Goal Percentage of any defender,
In their seven-game conference semifinal series with Boston, Holiday scored 20+ points four times and nearly notched a pair of double-doubles over the course of the series.
Zach Lavine
LaVine was a vital part of what was a renaissance-like season for the Bulls. Along with Lonzo Ball and MVP candidate DeMar DeRozan, Lavine led Chicago to their first playoff appearance since 2017 and best record since 2014-15.
LaVine's 24 points per game propelled Chicago to a 46-36 record and the 6-seed in the East.
COVID-19 protocol kept the 2x All-Star out of the deciding game 5 of their first-round series with Milwaukee, but LaVine still averaged 19 points and 6 assists over the 4 games he played.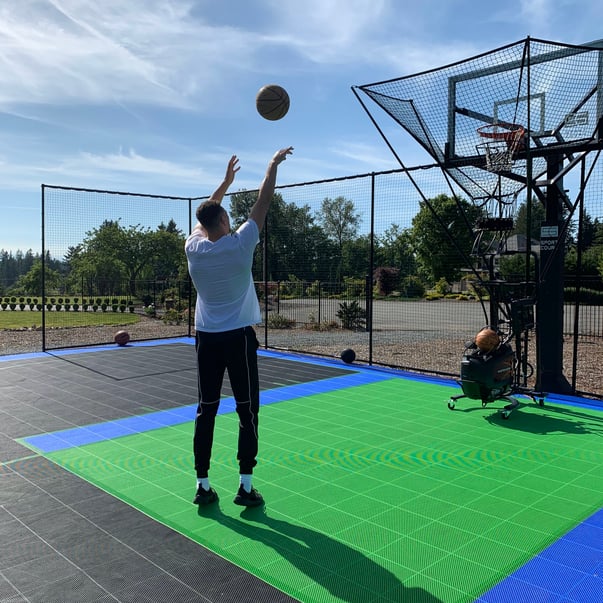 ---
The Warriors' NBA dominance has all come down to one thing, consistent shooting. Do you want to shoot like the pros and learn from an NBA shooting coach? Check out our 6 M's of Shooting clinic from John Townsend and perfect your jump shot!