Dr. Dish's Top Recruits (AKA partners) of 2021💪🏆
by Emily Stiemsma, on Dec 11, 2021 9:28:52 PM
While welcoming these individuals to the Dr. Dish Family this year took virtually no "recruiting" - we couldn't help but use the basketball analogy to recap what a year we have had. In this blog post we showcase how the #drdishfam has grown! It was very difficult to keep this list short, keep reading to learn more about who is training on Dr. Dish.
We continue to be the #1 choice of players, parents, and coaches looking to advance their game and we are proud to have these individuals choose us as their training partner.
LINDSAY WHALEN
Lindsay has collected multiple honors and championships in the WNBA and U.S. National team. She has played with the Connecticut Sun and Minnesota Lynx. She has been named All-WNBA 5 times and finished her career contributing to over 300 victories. In addition, she won 2 Olympic Gold Medals in 2012 and 2016.

SKYLAR DIGGINS-SMITH
We're thrilled to be working with Skylar! Her list of accomplishments is nothing short of amazing! Check out what Skylar has to say about Dr. Dish in this video.
BYRON SCOTT
Former 3x NBA Champion and NBA Coach of the Year Byron Scott is another new partner of 2021 and we are excited to have him sharing his knowledge of the game with all of you. In the video below, he goes through a great shooting drill on the Dr. Dish Home shooting machine called "Run & Shoot".
This progression is all about constant movement into the shot. After every shot, the player will either run to half court or full court (depending on their setup) and then receive a pass from the Dish.
CHRIS JOHNSON
Chris has worked and helped with the development of several NBA Champions and All-Stars like LeBron James, Rajon Rondo, and Dwayne Wade. We are thrilled to have Chris on our team to share his knowledge about the game of basketball with our #DrDishFam.
Check out the video below to see what Chris is looking forward to in his partnership with us and his thoughts on the Dr. Dish CT machine! Be sure to follow Chris on Instagram (@chrisjohnsonhoops), Twitter (@ChrisJHoops) and subscribe to his YouTube Channel (Chrisjohnsonhoops) for more great content!
TIM DUNCAN
We're thrilled to welcome NBA Hall of Famer and one of the most decorated college basketball players of all time, Tim Duncan to our Dr. Dish Family! He recently got a Dr. Dish CT machine. Tim is certainly one of the greatest basketball players of all time with his success as a college and NBA player!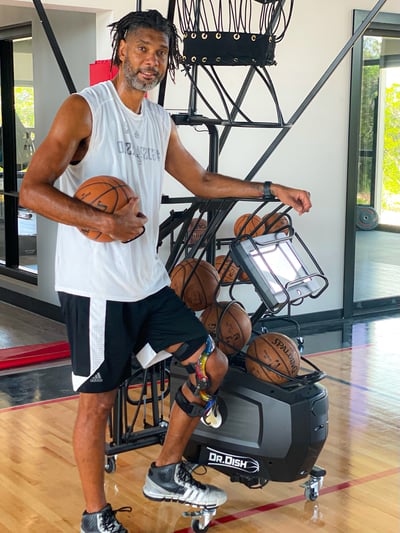 We are proud to have also welcomed many others, not pictured - most notably former and current professional players Cam Johnson (Phoenix Suns), Brian Scalabrine (NBA), George Gervin (NBA), Shane Hennen (Trainer), and Ersan Ilyasova (NBA). Justin Fields (Chicago Bears Quarterback) Kyle Travis (Trainer) and Adam Harrington (Brooklyn Nets Coach) are also new to the #drdishfam.
As you may have heard, Ty TY Washington of the University of Kentucky is the first college athlete to join the Dr. Dish Family.

Ready to join the #drdishfam yet?