Our Top 3 Features Used by Championship Programs
by Emily Stiemsma, on Sep 8, 2022 8:00:00 AM
People love the game of basketball for many reasons, but most share a common goal: To win a championship. While there are many factors that get a program to that elite level, we recognize similarities in those that do. Our favorite of course is their use of tools like a basketball shooting machine to help make practice and open gym time more efficient and focused for players. In this blog post, we will recap our Top 3 most loved features on Dr. Dish Shooting machines by Championship coaches and share some examples of how they are used.

Multiplayer - TRAIN WITH EACHOTHER
To get this started, one of our latest features, Multiplayer is loved by championship programs. Multiplayer allows you to transform what shooting in a group used to look like. Up to 5 players can now track their shooting statistics at once! This feature is exclusive to the Dr. Dish CT, and now also available on Dr. Dish Home for home-training settings. We've had multiple coaches tell us that their players use the multiplayer stat tracking feature in more than 50% of their shooting sessions.The importance of practicing with teammates outside of practice is really important, and Multiplayer encourages that.

Example of how this can be used in practice:
Set up stations of 5 players. If you have more than one Dr. Dish CT, all stations could be performing the same shooting drill and competing against the other teams. If you are limited to one machine, have the players work on post moves, or attacking the basket at the other stations.

TRAINING MANAGEMENT SYSTEM - CUSTOM TRAINING FOR YOUR TEAM
The Dr. Dish Training Management system is the fuel that drives all of our products. Used by Coaches, TMS gives you insight into your team statistics but also allows you to build custom drills that fit into your coaching style. Some programs choose to build out drills ahead of time, save them to their profile, and execute in practice. Others choose to use our touchscreen models to create drills on the fly in practice. No matter your coaching style, Dr. Dish can accommodate.

Another way that Coaches convey they use the Training Management System is through building individualized workouts and assigning them to players. During the season this is a good way to be hands-off outside of practice, while still providing direction for players. *Coaches that have their teams set up in TMS can assign and monitor player workouts.

Championship teams hold each other accountable.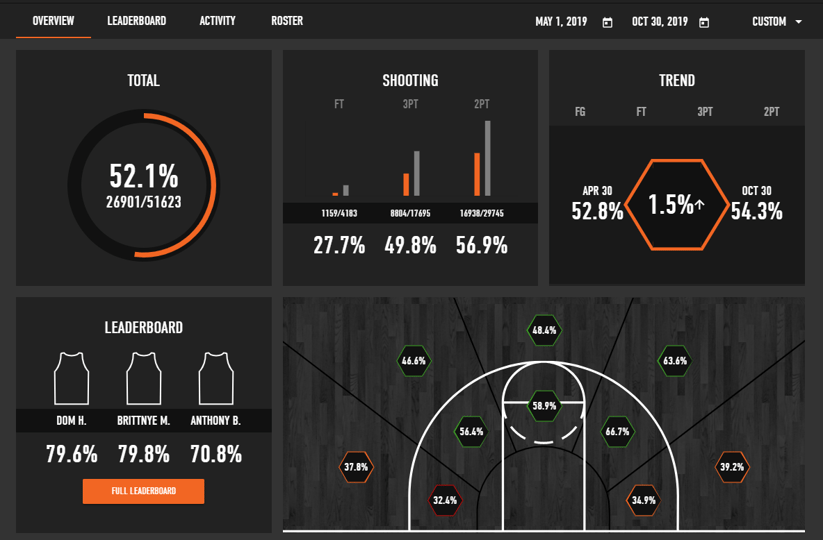 TMS and the Player App also allow for transparency into training statistics. It's one thing to get up a lot of reps, it's another thing to see your results in real-time and make adjustments accordingly. Championship teams don't just guess what is working - they know! Dr. Dish machines showcase detailed workout overviews with heatmaps, shooting percentage summaries, and drill-by-drill breakdowns to help players and coaches both know where improvement is needed.
We have coaches who use the data to create internal competition. Who can shoot the most shots this week? Who can shoot 500 shots with the highest percentage? The best teams make practice fun and motivating.
TEAM LEADERBOARDS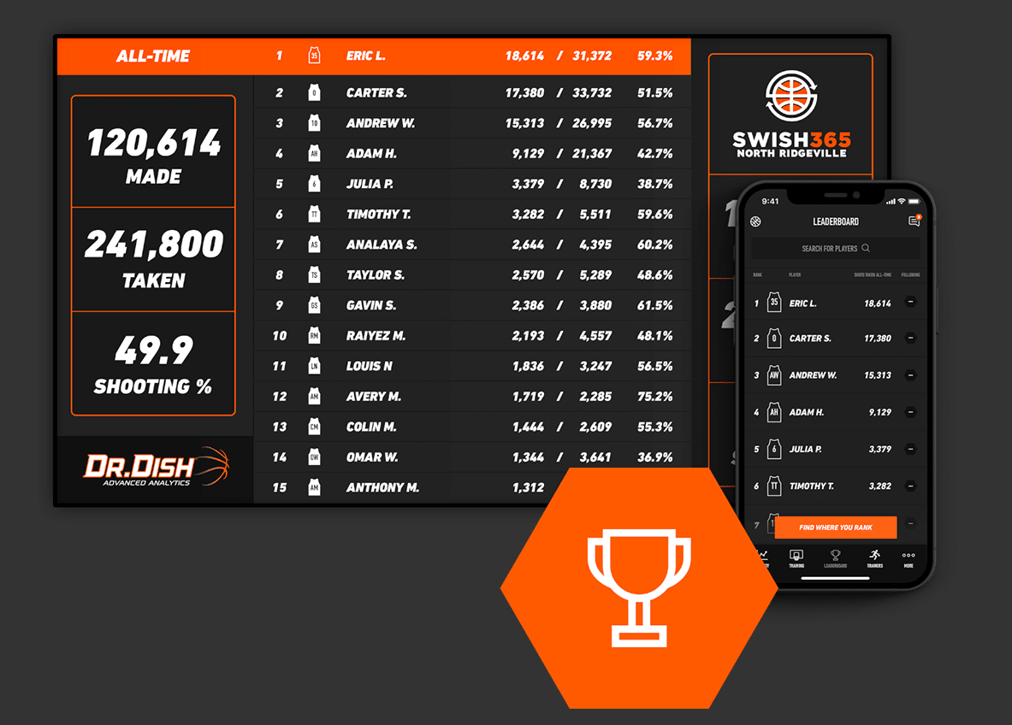 Leaderboards are proven to get players to practice more often - they instill a sense of competition and increase accountability. That's why we're bringing you Team Leaderboards! Cast your Team Leaderboard to any smart TV showcasing all saved data from individual player profiles (exclusively offered on our Dr. Dish CT). Every saved shot by a player on a team can now be showcased publicly, in addition to being easily viewed online in our Training Management System, or within the Dr. Dish Player App.
We hope you'll take Dr. Dish along for your Championship ride this season! Any questions, we are here to help!
Access our Championship Guide for FREE here! Get tips from Coaches on what it takes to become a champion + access our 35-page PDF ebook with tips and tricks for this season.
---

Do you think that Dr. Dish could help you build your championship team? Check out these team's success stories.