7 Things You Didn't Know a Dr. Dish Could Do
by Jeremy Rushing, on Jun 29, 2022 2:30:00 PM
At Dr. Dish, we pride ourselves on staying at the cusp of what's moving the basketball training industry forward and what can continually help our customers become the best basketball players possible!
With that, our machines have a ton of features devoted to player and team improvement. So many that even we sometimes might overlook them.

So, here are 7 things that you may not even know you could do with your Dr. Dish machine!
Note: Not all of these features are applicable for all Dr. Dish models.
1.) Assigning workouts
A coach's dream!
As much as you would like to be there, with your team, every day during the offseason, it's just not possible due to schedules and state regulations. With Dr. Dish, you can actually program and assign drills and workouts for your players to complete on a daily, weekly, or monthly basis.
It's as close as you can get to training your players yourself while still abiding by the regulations and not actually being physically present in the gym.
This is truly a "Next Level" feature that's guaranteed to give you a leg up on the competition during the offseason.
Learn more about Custom Training with Dr. Dish here.
2.) Building and Saving Drills
In addition to the seemingly endless number of drills and workouts available in our Training Management System, the options are truly unlimited when you include the ability to design custom drills with our Dr. Dish "Build-A-Drill" feature!
Select which spots you'd like to shoot from, which order you'd like to shoot in, how quickly you'd like the passes to come out, and decide which "Mode" you'd like to use to measure your success.
The drill can end in a certain amount of time, when a certain number of shots are attempted or made, when you reach a certain streak of made shots, and more.
Not only can you build custom drills, but you can SAVE them as well so you can participate in that drill any time.
Learn ALL about building and saving your own drills here.

3.) Favoriting Drills
Enjoy a particular drill? Want to make sure you can easily find and access it again? No problem!
With Dr. Dish's Player App, you can hit the "star" icon on any drill or challenge and it will add to your "favorites", so you can run through it again any time without having to look!
Get a visual on how to "Favorite" drills on the Dr. Dish Player App here.
4.) Achievements
Everyone needs a goal, right?
You can train all day, every day, but it's hard to stay motivated and see the finish line without an end goal AND certain benchmarks to reach along the way.
Of course, Dr. Dish has a solution for that with our "Achievements" feature!
As you progress through drills and workouts in our Player App, you'll earn badges and achievements along the way that include everything from number of drills completed, shots attempted/made, and so much more!
Training means nothing without goals, and Dr. Dish gives you the opportunity to achieve more goals the more you train.
Learn more about achievements and how to reach yours here.
5.) Leaderboards
Knowing where you stack up among the competition is the best way to gauge your progress, and with Dr. Dish, we offer that through our nationwide leaderboards!
Whether you want to know where your overall number of attempts, makes, or percentage falls among Dish users across the country OR want to know how you stack up in a particular challenge, you can find out through our Player App and Training Management System.
Leaderboards are just one aspect of our unprecedented analytics platform. Learn more about tracking your performance with Dr. Dish here.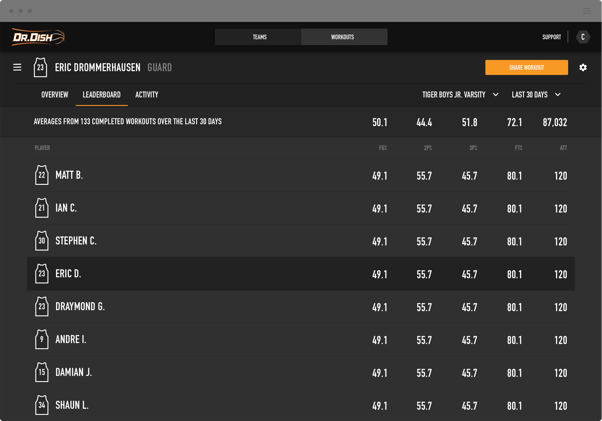 6.) multiplayer mode
Any coach or trainer in any sport will tell you the best way to get the most out of your players is through competition. What do you know? Dr. Dish has a feature for that too available on our Dr. Dish Home and CT models!
Through multiplayer mode, you can compete in drills and challenges with up to three individuals (on the Dr. Dish Home) or five (on the Dr. Dish CT).
Using our Dr. Dish Player App or Training Management System (TMS), each player can have their individual stats saved and recorded to track their progress.
Learn more about Multiplayer mode and how its changing the way teams, friends, siblings, and any group of players train!
7.) Away from the basket
"Okay, that's cool you can train shooting with a Dr. Dish. But what about post play?"

Enter our Dr. Dish CT's exclusive Away from the Basket technology. Our CT machine is the first of its kind to transform into a pass-catcher and ball-feeder so you can use the machine to work on receiving passes from the wing or corner.
This exclusive feature allows you the freedom to work on post play, high-post, and catch-and-shoot with a pass coming from another spot than just from under the basket.
Innovation never stops at Dr. Dish. Read more about how you can use this feature to complete your team's training this offseason.
Have a Dr. Dish and need assistance utilizing some of these features? We're here to help!

What do you wish a shooting machine could do? Let us know in the comments and fill out a form to get a full demo on how a Dr. Dish could transform your program.