Is 1-on-1 Play More Important than Basketball Skills Training?
by Jefferson Mason, on Jan 27, 2022 5:00:00 PM
There has always been a debate between the old school and the modern day hoopers on how to become a successful basketball player. Old school hoopers will swear by playing 1-v-1 in the park or in the driveway, while young coaches now heavily focus on skills training. Which is better? What's the answer to this ongoing discussion? Let's discuss both sides and see what you think!
---
Skills training
Skills training has evolved and changed over the years with new generations getting involved in hoops. There are resources available seemingly everywhere from virtual training, in-person facilities, apps, and more. Basketball trainers and coaches have the knowledge and ability to teach basketball at a high level. We believe they are the key to player development which is why we have Dr. Dish Trainers. Our trainers allow players to workout alongside someone whose style, personality, and knowledge are most compatible with your training goals.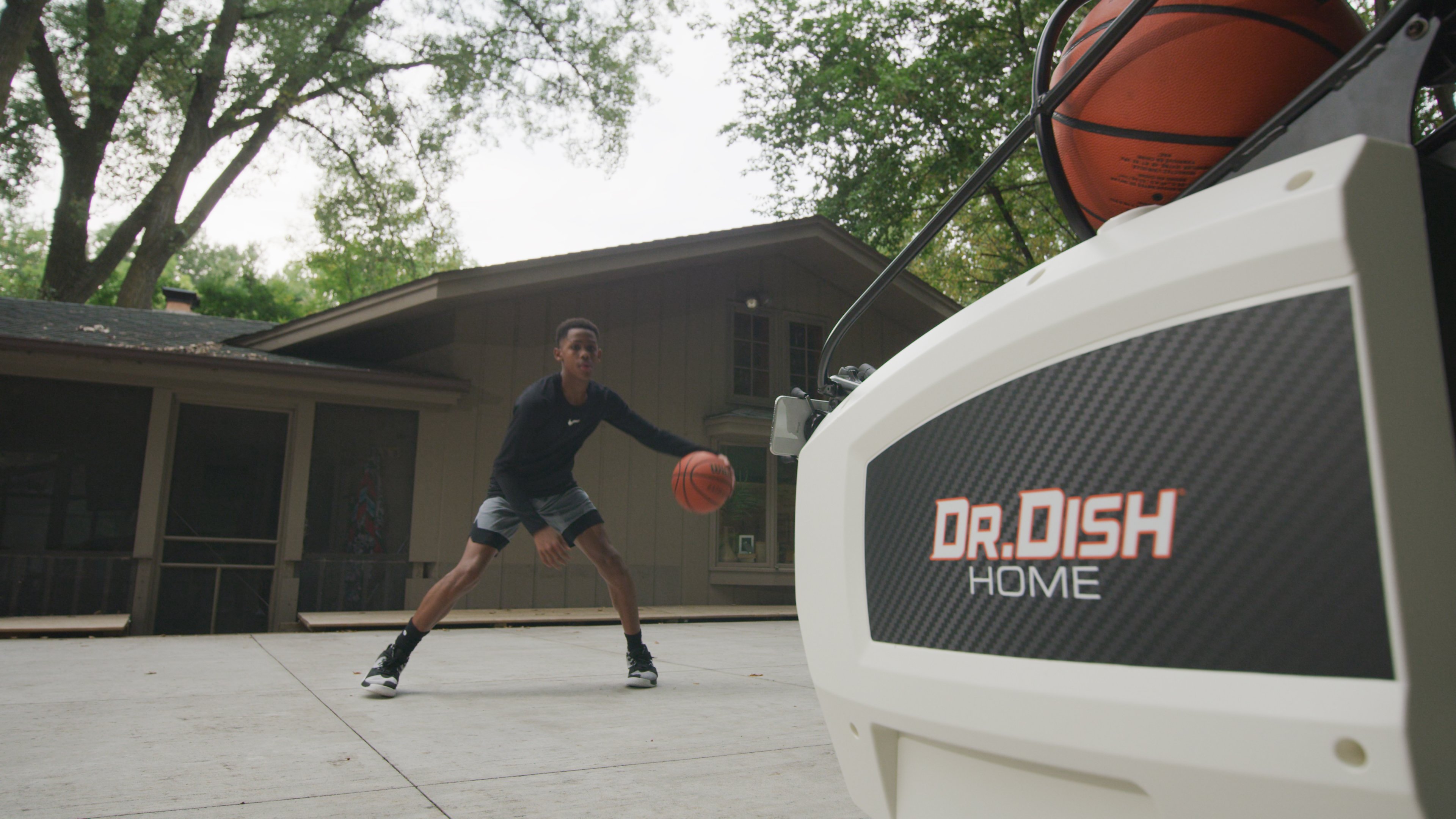 So, what exactly is skills training? Basketball skills training is focused on improving aspects of a player's game to maximize their potential on the basketball court. Most skills trainers will focus on how the player can score in a 1-on-1 setting and also learn specific skills that will help them be successful on the offensive side of the court. Most players are organically put into roles on their team that they may not like and skills training gives players the opportunity to not only be better at their role but also expand that role with time.
Having a Dr. Dish machine allows you to work on perfect specific basketball skills so you're ready for 1-on-1 play or game situations. From agility drills, to ball-handling, and intense shooting workouts/drills, players have the option to customize their training or receive customized plans from their trainer or coach that has a machine.
1-on-1 Play
Playing 1-on-1 basketball is a great way to put your skills to the test. On offense, players get to work on handling pressure from defense, reading the defender, creating space, and their shot. On defense, players are applying pressure, reading the offender, and hustling for rebounds. 1-on-1 basketball is a great way to practice game situations.
Today, players have access to a lot more online basketball resources like Dr. Dish that provide drills, tips, and even virtual camps. I didn't have access to trainers or gyms, but I did have a basketball and eventually a hoop in my driveway. Without guidance and instant access to drills, I naturally gravitated towards competitive play. This was a way for me to advance my skills and experience growth in my game.
Is one better than the other?
Most trainers believe there are benefits to a combination of 1-on-1 play and skills training for players. Some old school hoopers lean towards just "playing" and often say skills training is gimmicky. I understand both perspectives and have lived both sides of this story.
I believe that young players should learn to love the game by simply playing it. This could be with friends, family or people at the local gym. Once a player has shown love for the game and a desire to play, it's a good time to present the option to train with a coach/trainer that will help explain or teach the game. I believe players learn some of the same things organically at the park but they can potentially learn quicker when training with a trainer or coach.
what basketball training should be
The most important thing to remember is that basketball should be fun, competitive, and an opportunity for players to be part of something larger than themselves. The great qualities and traits associated with hard working athletes help down the line within the workplace and family. Every player's path is different and everyone's resources look different as well. Luckily for kids these days there are resources available like Dr. Dish to help players maximize skill development and also provide knowledge at their fingertips.
At Dr. Dish we want to make great products that are accessible for any budget. We offer a variety of products to help players level up their game like the iC3 shot trainer or Dr. Dish Home with financing options for both. Our goal is to help develop complete players so that every player has the opportunity to maximize their potential!
---
For more ideas on how to motivate your players be sure to subscribe to our blog and for more insight on cool, fun and unique basketballs drills and make sure to check out our YouTube channel!