3 Tips for Scoring More Points This Season
by Chris Jansen, on Nov 18, 2023 6:48:27 AM
As hoopers, we're all trying to figure out how we can elevate our game to score more points. Luckily for us, our friend Bjorn Broman - someone who scored over 4,000 points in highschool walks us through some tips for how we can improve our scoring efficiency.
Don't Force Anything
Hoopers get this wrong all the time when trying to score more. Thinking that you need to get every single shot off you possibly can is going to result in less points, and your teammates probably not wanting to pass you the ball anymore.
Instead, focus on taking high-quality shots that are apparent within the offense. Bjorn uses the term "play at your pace", meaning play to your strengths. If you are a high-quality three-point shooter, don't be afraid to take the open shot. If you're a post player and get the ball down low, make a decisive move and lay it in.
We all want to play hero ball at some point, but an increase in points per game is directly correlated to efficiency. So take the efficient shot over the forced one!
Use Your Shot Fake
The next step is getting to that efficient shot over a contested one. Bjorn points to using shot fakes, which is a great way to get the defender off-balance.
After hitting a few shots on a defender, most will want to get up a little closer and make a more concerted effort to contest your shot. This is the perfect time to hit them with a shot fake and either get to the basket, or a better spot to shoot/pass.
To make it look real and draw the defender up, we need to get our eyes "looking at the rim." The more real the fake looks, the more likely that defender is going to bite.
Make Your Free Throws
There is a reason that James Harden is always at the top of the points-per-game leaderboard. This is because he gets to the free throw line, a ton, and makes most of them. Over his career, Harden has gotten to line over 8 times a game and makes 86% of them.
Just getting to the line can be an absolute game-changer for any player, and is oftentimes the difference between a 15 PPG scorer, and a 20 PPG one.
Bjorn points out that every player should strive to hit at least 85% of their free throws. This comes with lots of practice and finding a routine that works for you.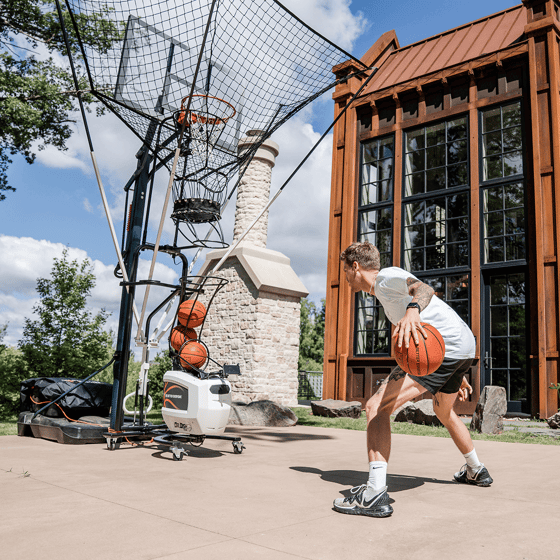 Dr. Dish Machines are the perfect way for any player to get free throw percentage higher, along with every other spot on the court. Take a look at our lineup below to see which model fits you best.
Looking to give yourself even more shots at scoring Check out our 10 Most Undertaught Skills Guide!
If you liked this blog post, you might also like these:

7 Things You Didn't Know a Dr. Dish Could Do
The Importance of Goal Setting Throughout the Season