How Kobe Bryant's Mamba Legacy Lives On
by Jeremy Rushing, on Aug 24, 2021 10:00:00 AM
August 24th is now officially known on the basketball calendar as "Kobe Bryant Day", after his tragic passing in a helicopter accident in January 2020.
During his career, Kobe developed the Mamba Mentality, which in his words means "to be able to constantly try to be the best version of yourself."
Long before his death, many others took inspiration from Kobe and began to apply the Mamba Mentality to their own lives, and now that legacy lives on in a major way through those who have embraced Kobe's vision.
Here are a few prime examples of those who are carrying on the Mamba Mentality in our very own Dr. Dish Fam.
DEBBIE AND FRANKIE ANTONELLI
Debbie Antonelli, mother of Special Olympics athlete Frankie, raised more than $200,000 for Special Olympics this year through her 24 hours of Nothing But Net event.
Her son Frankie is her inspiration, together they are Team Antonelli! Frankie competes in swimming, golf, and basketball.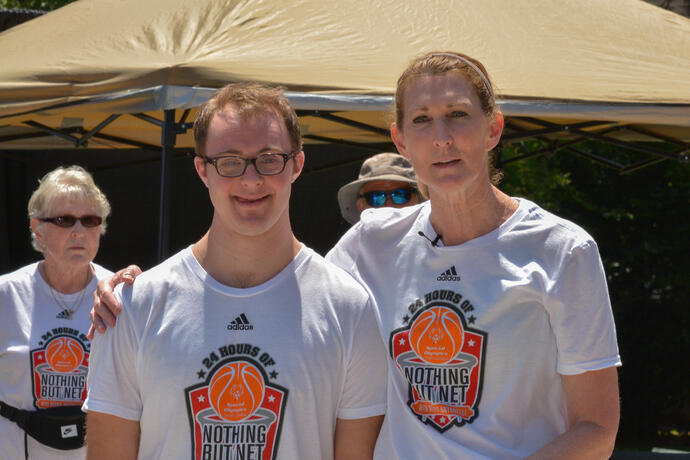 During this event, Debbie makes 100 free throws EVERY hour for 24 hours using her Dr. Dish Home Machine in her driveway. In the three years she's been taking on this challenge, Debbie has averaged 92.33% shooting from the free throw line.
NICK PRYOR
Nick is the program coordinator for Ability360, which provides adaptive sports, recreation, and fitness opportunities. Being an athlete who's also an amputee, Nick found a need for athletic resources for those like himself, and took it upon himself to make it happen.
In addition to his role, Nick plays on an amputee travel basketball team called AMP1. In addition to competing, AMP1 travels the country sharing stories and speaking with students, providing representation for amputee kids who also want to compete in sports.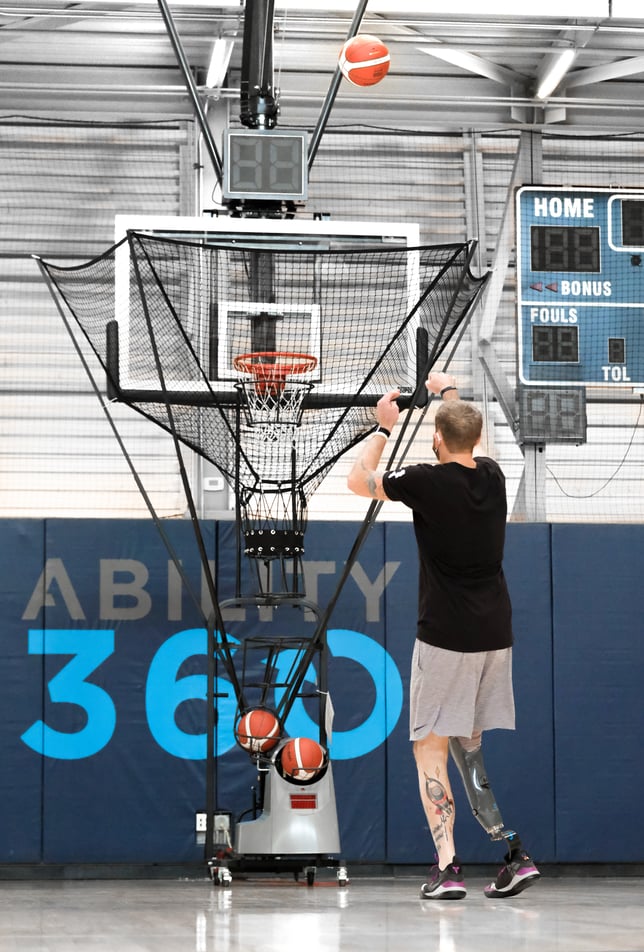 AMP1 has a goal to motivate, educate, and inspire everyone they come across,
I don't want any kids to be left behind. I want kids growing up to know that they can do anything. I look back and think what if I would have had this community growing up? How would my life have been different?"
Nick and the entire AMP1 team are certainly living out the mamba mindset and they are continuing to grow and succeed,
These are athletes training at the highest level. I'd like to help more kids find the community that the sports can provide, that sense of belonging"
BOULTON SISTERS
Mia and Elise Boulton grew up in a basketball family in the very basketball-centric town of Montezuma, IA. Their mother held the 3-point record at their high school, while their father played college basketball at Simpson College.
Needless to say, there was a lot to live up to.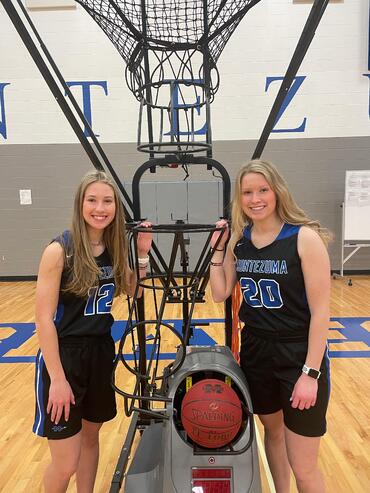 As the sisters approached high school, they knew they needed to take their game to the next level and to improve confidence in their abilities. After their school got a Dr. Dish All-Star to enhance their training, the sisters wasted no time utilizing this new resource to accomplish that goal of upping their game.
Together, the girls logged more than 10,000 three-point makes over one summer, and their team made four straight state tournaments afterward. Elise would go on to win a $15,000 scholarship given to one female senior athlete at the state basketball tournament.
"ONE-ARMED MAMBA" KAT TAN
Born in the Philippines, Kat Tan became a big Kobe Bryant fan at a young age. She even got the chance to meet him a few times when he was in the country for various events.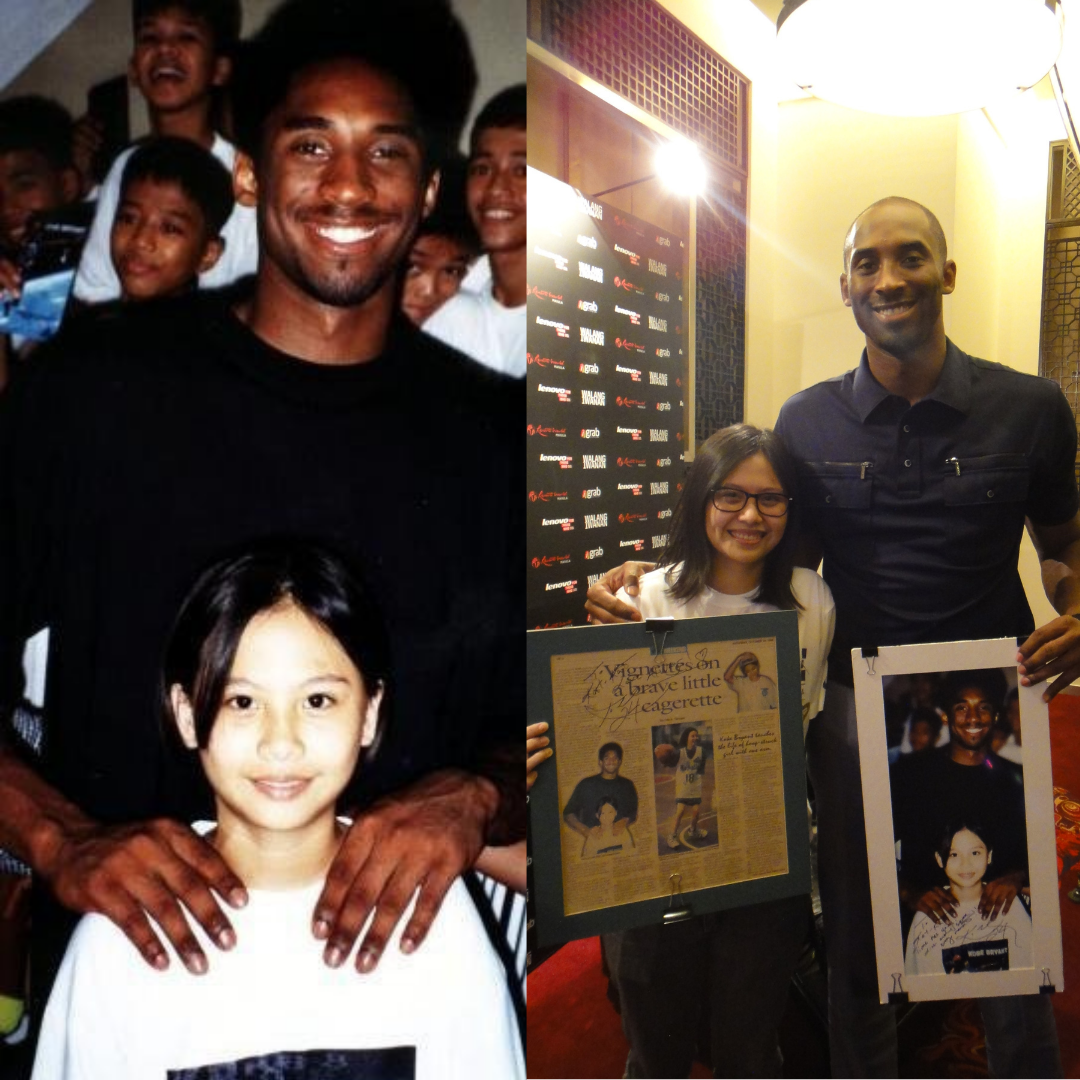 Kat and Kobe Bryant
Inspired by Kobe, Kat pursued basketball but did not make her grade-school Varsity team, her lack of size the reason given by the coaches. Before she could try out again, a life-altering roller coaster accident caused her to lose her arm and changed the course of her sports career.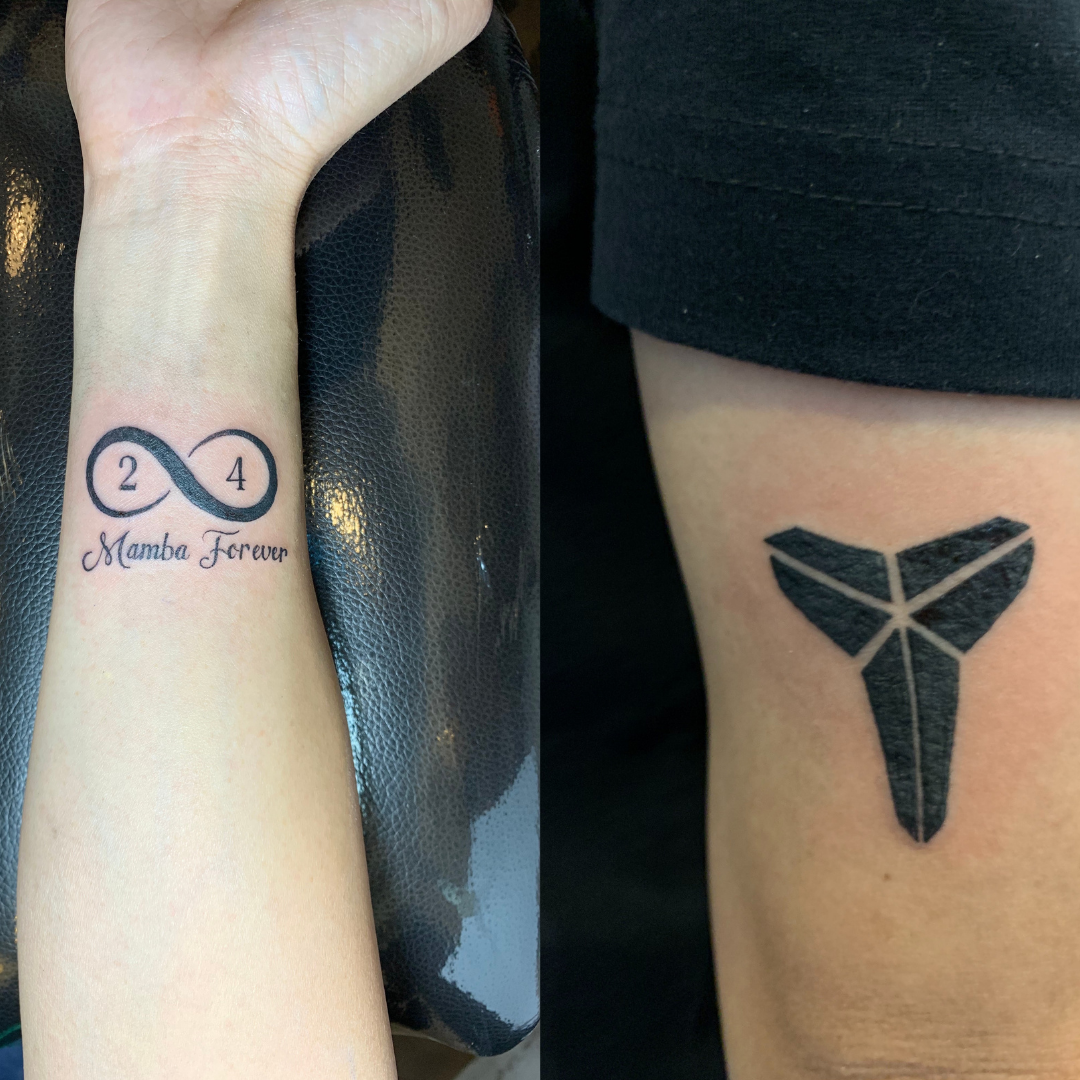 Kat's tattoos inspired by Kobe Bryant
Despite the tragic event, Kat's spirit was never defeated and she used it as motivation to work harder than ever. Two months afterward she began practicing basketball again and ended up making the varsity team at her school.
In 2016, Kat was one of 24 players selected to take part in Kobe's Mamba Mentality Tour stop in Manila. During the camp, she was challenged by the legend to make a three-pointer. If she made it, nobody would have to run. If she missed, she'd have to watch every other kid run a "17".
She made it, and made Kobe proud in the process.
During the pandemic, Kat began training at a facility that had a Dr. Dish All-Star, and loves how she can keep track of her progress.
---
Kobe's legacy continues to live on through the mamba mentality which is all about, "focusing on the process and trusting in the hard work when it matters the most," and Our Dr. Dish Family is certainly living out this mindset.